Turning Your 'He' into Your 'She'
Some feminisation suggestions from Mistress Sidonia
As an experienced Mistress I have found that with a recalcitrant and difficult male/husband/slave that 'encouraged' feminisation is the ultimate way to totally break and control them. Take away everything he has – his identity, name and even gender. Perhaps start by dressing him in stockings and suspenders and some nice frilly or bright red panties. Eventually move onto fully transforming him – make up, wigs, shaving his body, corseting him, using the electric sucking machine everyday on his nipples to develop them and buying him his first gel breasts, which he must wear constantly even being made to sleep in them.
Next he must be made to wear butt plugs, increasing the size over time (ones that can be locked in are available) and a chastity device. The chastity device is essential to help control his old 'male' urges and the butt plugs will help him develop his new 'pussy'. Now it's time to cut up his old male clothes in front of him – show him his old life is gone – forever!
At first when he is being difficult about this new regime I find extended periods of bondage ideal, as once he is fully dressed, you can 'trap' him in his female attire, giving him time to become accustomed to his new transformed 'body'. Also once tied I can practice make up and wigs on him and he can't be too difficult. Some TV's respond to the more extreme rubber transformations with doll hoods and rubber female genitals. Others may require total sissification, you can usually discover what produces the most contrition over time or just dress them up the way you like to see them. Like a lovely human dolly to play with.
All these techniques are excellent for her new body but time must be spent reprogramming her mind, referring to 'him' as 'her' continually, re-naming 'her' and working on 'her' inner femininity – those old arrogant male traits can be the most difficult to remove. Some transformation may need more extreme measures –  pain aversion can be a great Pavlovian device by associating the male behaviour you don't like with CP or electrics etc..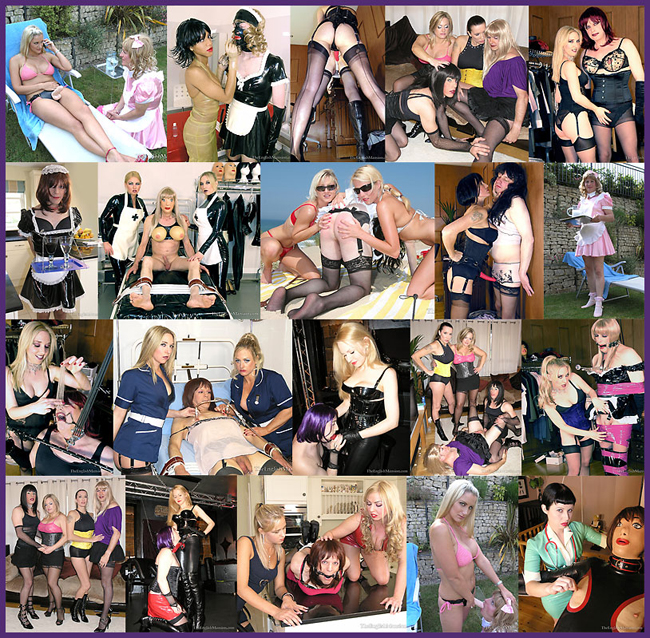 Now it's time to make the change more permanent by showing her off, very humiliating but essential for her training, this can be a little party with some of your girlfriends, she can maid, serve drinks, put on a little show, punishing her in public can be excellent for her training as it's extra shameful. Then there are trips out, shopping for her clothes, making her try on and buy large sizes when out and about, even discussing what suits her with the shop attendants. 
If she still has to go to work, allow her to wear her male clothes but make sure she wears panties and stockings under these clothes and a chastity device (when required) – but always make sure the second she comes home she immediately changes back to her feminine clothes and presents herself to you for inspection.
To fully accomplish the change she must be engaged sexually, start with strapon cock sucking training, then stretch her up with plugs and make sure you fuck her regularly with a strapon. I have a vibrating one where part of it is inside me so I can cum while fucking her - I might as well make full use of her. Later, I think it's essential to bring in a male and put her to work on a real cock, as she needs the experience of having it spunk in her face and mouth. If you know another Mistress or girlfriend with a TV slave, set up a party, perhaps with a sex show for you  – a lovely afternoons entertainment.
As the years pass you'll be amazed at what a transformation you can make!