The 10 Year Anniversary – Blockbuster Movie Now Showing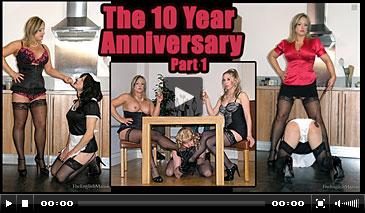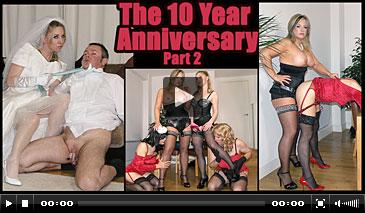 Click on posters to play trailers
We are currently showing a New Blockbuster 'The 10 Year Anniversary' where we watch the progress of two wives who over the period of 10 years feminise and transform their respective husbands into TV slaves.
In Pt 1 – Tonight is the tenth anniversary of Eve Harper and Nina Birch's friendship, a day that changed their lives forever. They reminisce about the time Eve first walked in and saw Nina's sissified husband. A flashback takes us back and shows us Nina's husband, now her TV maid and slave being trained and punished.
In Pt 2 – Continuing there reminiscence, Eve recounts her wedding night and we are treated to another flashback and witness the shock that her new hubby gets when he is told how things are now going to be. Returning to the present, the friends decide they should be making some money out of their sissy husbands, so after taking photos of them for a local contact magazine, they train up their oral skills – on each other's cocks and then break their man pussies in, with their shiny strapons.

At The English Mansion we love feminisation in both femdom and domestic scenarios and these movies have their own specialist area 'The Dressing Room' with  maid, CD, TV, & sissy training;  gender reprogramming; slut training, TV bi & cock sucking; exhibitionism and humiliation. Here are a few trailers from recent movies –
Click on posters to play trailers
& Coming Soon