English Mansion Recommendations: Tickleberry
Absolutely everything you ever wanted to know about Enforced Chastity plus much more…
Tickleberry – Chastity Specialists & Purveyors of Fine Fetish Toys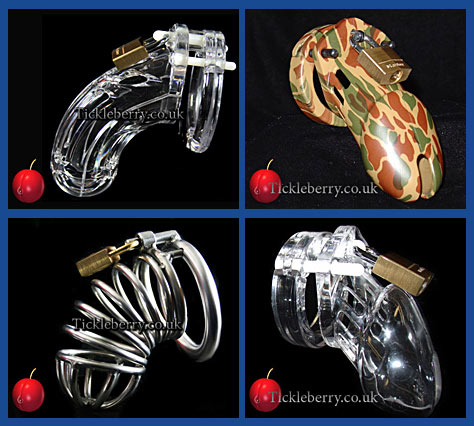 The Curve  ~  CB 6000 Camouflage
The Twister II Chastity Cage  ~  The CB 6000 Short 
Tickleberry is a woman owned organization specialising in the Sensual Feminine Domination of men through male chastity. World renowned and established in 2000 they are the leading supplier to the Chastity Community providing a range of high quality specialist chastity and fetish products.
As they say "second to none for quality and design, bringing luxury and elegance to both Mistress and slave. Whether it's a handmade leather harness, an ornate cock ring, or one of our exquisite leather straitjackets, our products will enhance the slavehood of your man, permitting him to take pride in serving you."

Obviously run by true chastity enthusiasts their website is excellent with easy intuitive navigation offering a huge selection of high quality chastity, fetish and sex toys, plus exclusive and bespoke products. There's even some designer chastity devices.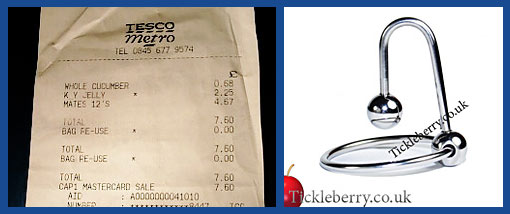 Sperm Stopper Frenulum Stimulator ~ The Tickleberry Challenge
But visiting Tickleberry is not just for on-line shopping, this site offers much more including a library of articles about chastity and fetish play, including detailed information on pegging, cock rings, chastity and sex toys. An after dark section with chastity and bondage videos, photo slideshows, articles and erotic wallpapers. And, if you're feeling brave there's The Tickleberry Challenge, I got a devilish delight when reading the accounts of various submissive men who had been ordered by their Mistresses to take the Challenge. Now you're just going to have to visit their website if you want to find out more…
I bought all the Mansion's chastity devices from Tickleberry plus many other fetish toys, most recently the Sperm Stopper Frenulum Stimulator – which will be appearing in two forthcoming (please check the updates page) HD Movies at TEM – 'Broken in 24hrs & 'Slave Reward'; and the Stallion Guard Male Chastity Device which will appearing in 'Webcam Domination (in HD)'.
Visit Tickleberry here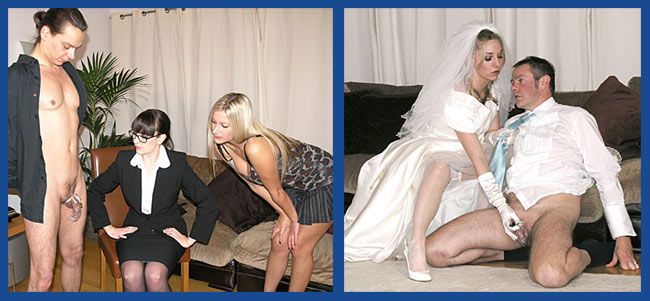 His Wedding Night & The Special Marriage Guidance Councillor (both in HD)
I personally love having a man in chastity – what power, what a sexual thrill to know you have your man/slave all locked up and totally dependant on your whims for his sexual pleasure and release. We recently filmed one of my fantasies where on his wedding night, I explain to my new husband that he's going to be my slave and that from now on I'll be taking charge of his sexual urges in the forthcoming  movie 'His Wedding Night'. Another forthcoming movie the 'Special Marriage Guidance Councillor' with Miss Jessica & Mistress Nicola has a chastity device and spanking being recommended by a female marriage guidance councillor in order to correct a lazy and wayward husband.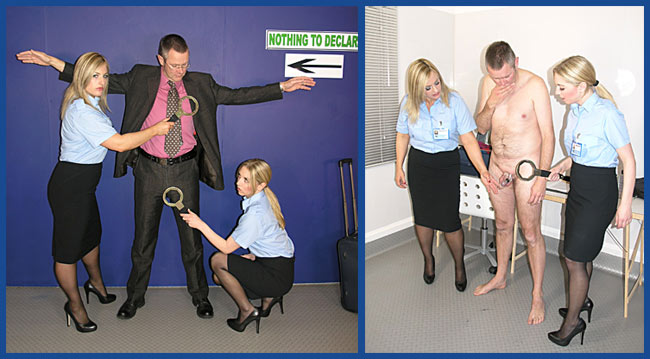 Nothing to Declare (in HD) with Lady Nina Birch
Ever wondered what would happen if your Mistress or wife sent you off on a business trip abroad in chastity but unfortunately the padlock set off the airport security alarms – how embarrassing would that be!
Here's some other Chastity Solutions for keeping your man under control


Here is a more permanent solution as used by Goddess Lexi in 'Tranny House Whore', two Foreskin & a Guiche piercing padlocked together. Sahara & Suzie love teasing their victim wearing a chastity cage in 'Cock Lock Tease'. While Mistress Vixen favours the Houdini Chastity Cuff for her personal slave, watch her in action in 'Anal Abuse Reward'.