Mistress Sidonia Recommends
My Favourite Pervy & Erotic Mainstream Movies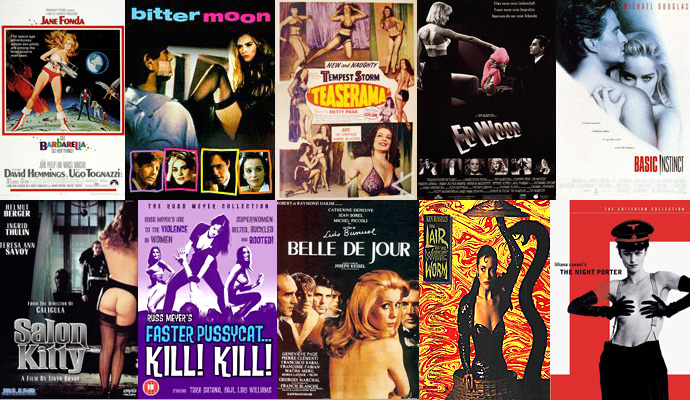 Teaserama 1955 Dir. Irvin Klaw with the cult fetish figure Betty Page
Barbarella 1968 Jane Fonda is stunning, with the 'Orgasmatron/Ex-sex-sive Machine'
The Hunger 1983 Erotic smoking & bloodsucking lesbians with David Bowie, Catherine Deneuve & Susan Sarandon, what an opening to a movie!
The Handmaid's Tale 1990 Sexual slavery and foot canings just to begin with
Misery 1990 with Kathy Bates – she was scary
Maitresse 1976 One of the first movies whose plot revolved around the life of a professional dominatrix. It also managed to explore/expose the commercial sub/dom relationship asking who's really controlling who? With Gerard Depardieu.
Secretary 2003 with James Spader (Spader wins – turns up three times in this list)
9&1/2 Weeks 1985 with Micky Rourke (& later Wild Orchid 1989)
The Night Porter 1974 cult classic with Dirk Bogarde. Often underrated or slammed just because of the subject matter but actually an amazing film and exploration of abusive relationships/(Stockholm syndrome).
The Story of O 1975 70's version of the infamous book
Elvira 1988 Cult trash comedy with the transvestite icon Elvira who's more camp than Kenneth Williams
Personal Services 1987 The British do it best!
Quills 2000 Set in 1794, a fictional tale of the Marquis de Sade & his desire to have his stories published whilst imprisoned in a mental asylum. A fascinating exploration of hypocrisy & sexuality with Jeffrey Rush, Kate Winslet & Michael Caine
Belle du Jour 1967 with Catherine Deneuve
Moulin Rouge 2001 – the costumes esp. Nicole Kidman's gloves in the club scenes
The Rocky Horror Show 1975 "I'm just a Sweet Transvestite from Transsexual, Transylvania."
Ed Wood 1994 Dir. Tim Burton. Cross dressing, a fetish for angora and the film a work of genius with Johnny Depp
Eyes Wide Shut 1999 Dir. Stanley Kubrick with Cruise & Kidman
Interview with a Vampire 1994 with Cruise & Pitt & also The Queen of the Damned 2002
Lolita 1962 Dir. Stanley Kubrick Masterful direction & performances
Last Tango in Paris 1972 with Marlon Brandon
The Honest Courtesan/Dangerous Beauty 1998
Faster, Pussycat! Kill! Kill! 1965 Dir Russ Meyer trash classic for breast lovers
Desperate Living 1974 Dir. John Walter Serious trash – Walters is definitely love it or hate it material
Naked Tango 1991 A sort of hardcore version of Moulin Rouge
Bitter Moon 1992 Dir. Roman Polanski. Eroticism, madness and sexual obsession. Where does the sexual relationship that has tried everything go…
Basic Instinct 1992 with Sharon Stone (& the ok Basic Instinct 2)
Black Angel & Salon Kitty 1976 Dir. Tinto Brass – Brass is a must for bottom lovers
The Triple Echo 1972 with Oliver Reed & Glenda Jackson, quirky British wonder, cross-dressing as the theme
The Lair of the White Worm 1988 Dir. Ken Russel with Amanda Donohoe
The Baby 1973, Dir. Ted Post, A man known only as 'Baby' is forcibly kept in a crib and baby wear well after he is full-grown, by his sick mommy & sister. Yes, it is a very 70's trash psychedelia/horror movie however, even though I'm not into infantilism, it certainly affected me, planting some seeds in my then young psyche as to the pleasures of keeping men as pets.
Boy meets Girl 1994 Dir. Ray Brady More disturbing than Audition! Not for the faint hearted.
Salome's Last Dance 1988 Dir. Ken Russell
Klute 1971 – Kooky movie with Jane Fonda as a candid prostitute in therapy.
Working Girls 1986 A day in the life of a 1980's Manhattan brothel.
Body Heat 1981, Bound 1996, Body of Evidence 1973, Wild Things 2004 & The Cell 2000– OK only sex thrillers but still good.
Sex, Lies & Videotape 1989 Another wonderful quirky movie with James Spader.
Double Indemnity 1944 Film noir with the original femme fatal Barbara Stanwick.
Sunset Boulevard 1950 – The cuckolding Diva of all Divas, The Blue Angel 1930 Literally turned into a clown & cuckolded by Marlene Dietrich, Gilda 1946 more cuckolding with Rita Hayworth's infamous tease cabaret  & The Wicked Lady 1945 – All ahead of their time
Dangerous Liaisons 1998 Bed hopping with Glenn Close & John Malkovich
Kiss of the Spiderwoman 1985 The prison relationship between two outcasts – a political prisoner & a cross-dressing homosexual.
Blue Velvet 1986 What I always suspected, behind the facade of suburbia it's just dark and disturbing.
In the Realm of the Senses 1976 Not for the faint hearted – sex, death, castration!
The Cook the Thief His Wife & Her Lover 1989 dir Peter Greenaway (I'm a huge Greenaway fan) Lust…Murder…Dessert. Bon Appetit!
Kinky Boots 2005 Loved the Tranny dance scenes
Cabaret 1972 Divine Decadence
Unfaithful 2002 & Fatal Attraction 1987 It all ends in tears
Boogie Nights 1997 The porn industry of the 70's
Salo or The 120 Days of Sodom 1975 Power corrupts all during the rise of Italian Fascism. Hardcore, not for the faint-hearted, with the infamous poo eating scenes
Peeping Tom 1960 Sex, Violence & Voyeurism
Plus Some One Scene Wonders
Squadron 633 – 1964
Audition 2000 But what a scene!
The Little Shop of Horrors 1986 Just for the one scene where Steve Martin is a sadist dentist who meets his nemeses Bill Murray as the masochist he just can't hurt.
The Worm That Turned Peak-time Serial from The Two Ronnies where Women rule England, men have women's names and wear women's clothes,
and law and order is managed by female guards in boots and hot pants.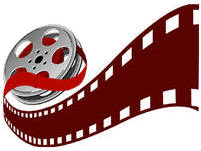 Television
Nick Broomfield's documentary Fetishes 1996 set in Pandora's Box a ProDom House in New York.
Buffy the Vampire Slayer 1997 & Angel 1999 The complete TV Series (happily creating a new generation of little perves)
Blakes 7 1978 Who could forget it with Servalan, I loved her – what a role-model for any budding Female Dom
The Avengers 1961 Catsuits, leather, women kicking ass….
Ring of Scorpio 1991 – Scheming women, revenge is a dish best served cold
& Other movies I don't personally recommend but worth mentioning
Exit to Eden 1994
Crash 1996 dir. David Cronenberg with James Spader
Ilsa She Wolf of the SS 1974 Offensive cult trash
Demon Seed 1977
Preaching to the Perverted 1997 British perversion
Betty Blue/37°2 le matin 1986
Tie Me Up! Tie Me Down 1990 dir. Pedro Almodóvar
Mr. & Mrs. Smith 2005 Angelina as a dominatrix, briefly
Barb Wire 1996 – Pammy all in leather
Boxing Helena 1993 Taking kidnapping to a new level
Poison Ivy 1992 & Showgirls 1995 & Striptease 1996 Demi on the Pole
Everything You Always Wanted to Know About Sex * But Were Afraid to Ask 1972 Wood Allen the early years – with the classic sperm-men