Femdom Party Time at The English Mansion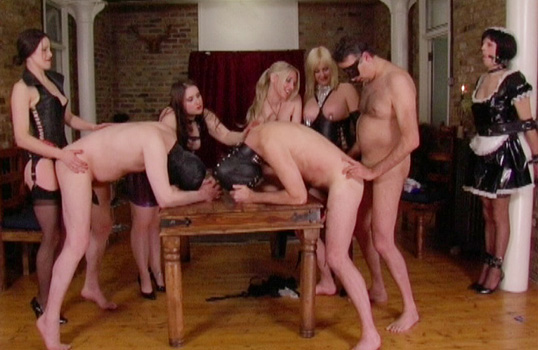 The Mistress's Dinner Party: The most explicit bi-boy action we have filmed to date
I thought 'A Mistress Party' was a splendid idea for a movie and last week we filmed just that, much of it loosely based on some of your ideas. We had four Mistresses: Domina Darla, Lady Nina Birch, Mistress Velvet and myself and each brought a slave.
We decided that rather than making a film – we should just have a party and film it. We all had the most amazing time though I have to admit we all drank a little too much and got a little carried away. (Unfortunately we forgot the ball tug of war – which was a shame because I thought that was a fantastic idea, we'll definitely have to do that at our next party.) First, we were served the meal and champagne by our TV maid while the other slaves served us under the table. We then amused ourselves for an hour or so putting each slave in bondage and then all tormenting them together. Becoming more excited we decided to make the guys to put on a sex show for us, they were made to lick food off each other, suck cock, do a 69 and perform a three-way wank session, all while we watched and laughed. Next, two slaves were put over the table and fucked by the Mistresses which culminated in us making one slave fuck the other while we made him suck cock!
Throughout, the action was interspersed CP and bondage. It is fantastic action, presently we have about two and a quarter hours of footage and what's really incredible about it, is that nothing was staged or contrived in anyway – it's genuine footage of a very Kinky dinner party. Nina said to me afterwards "If you have any more parties like that be sure to include me" and Darla said "If only I got invites to more parties like that!" We have had a lot of requests for Bi-Boy action and this is certainly the most explicit we have ever filmed.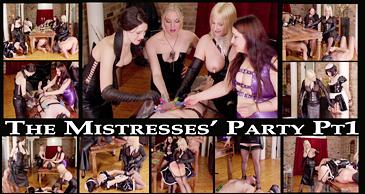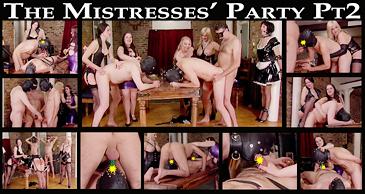 Both parts Now Showing inside