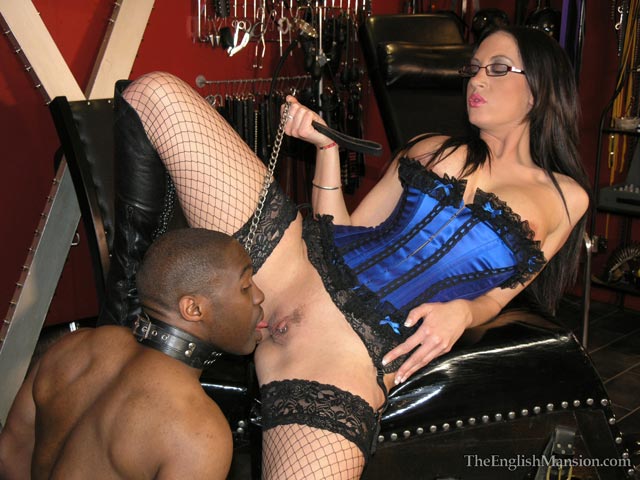 Here at The English Mansion we have highly sexed dominant women, who know what they want – PLEASURING. And so pussy licking and arse licking are always the order of the day, well what better way to ensure the perfect female orgasm.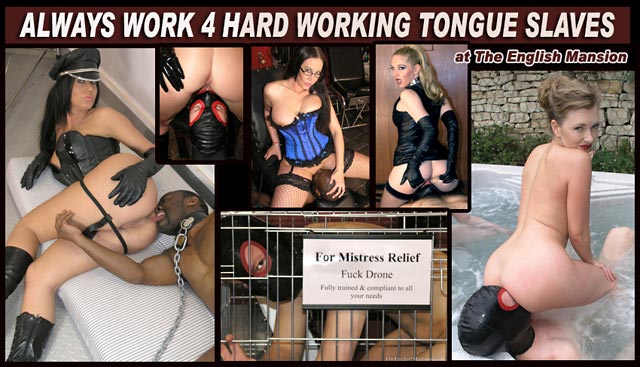 Tongues Out Slaves! There's work to be done…
The Mistress, naked but for leather boots and gloves, has her slave serve her champagne and then sets him to work cleaning her boots. Spilling some of her drink down her breasts she orders her tongue slave to clean it up and enjoying the sensation decides he should continue…Next the tongue slave is ordered onto her pussy before being put to work on her bottom cheeks and arse-hole. Just a mouth to give the Mistress pleasure, that's all the tongue slave needs to think about from now on.
Mistress T has her slave on the facesitting board, hoping to be rewarded with a handjob. Not wanting to give away such a wonderful gift so easily, the slave is coerced into confessing his innermost fantasies, helpless to her soft erotic tone and probing questioning, all the while being put to work pleasuring her divine pussy. Her expert hand continually bringing a possible milking closer and closer, hoping all the time she won't change her mind.
Mistress Pandora's slave is chained to the wall, ready to be used and abused when required. Today she wants to test out his tongue, so she proceeds to put her fine, round arse to good use, smothering his face and ordering a long tongue licking, all the while verbally humiliating and chastising him.
And Coming Soon is Harsh Instruction where Mistress T enjoys training her slaves in the fine art of cunnilingus, being enthusiastic but clumsy is not good enough. This slave gets so worked up by the site of her beautiful flower,causing him trouble following simple instructions, that to help focus his mind, he is attached to the CBT electrical stimulator. To further aid his technique, Mistress uses an electric prod on his most sensitive area, if he loses concentration, which is unsurprisingly highly effective.
Click below to watch the Pussy & Arse Licking Duties slideshow