How to Turn an Arrogant Man….
into a Sissy Cocksucking Whore in 8 days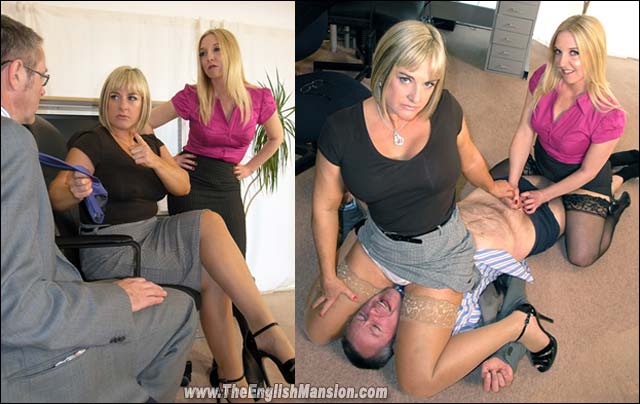 This was a plan hatched by Lady Nina Birch & myself  – part fun and part experiment we decided to see if we could totally break down an arrogant, aggressive man and turn him into a sissy maid & cocksucking whore.
First, you must take an annoying, arrogant or condescending man and manufacture or find a way to entirely compromise him. Once he can be manipulated, take away his clothes then chain/cage him up outside somewhere naked. Bring back his male clothes and burn them in front of him – explain to him how he won't be needing them again 🙂 It gets cold outside, so give him some womens' clothes; preferably a nice maid outfit & sexy lingerie, once he's cold enough he'll have no choice but to put them on.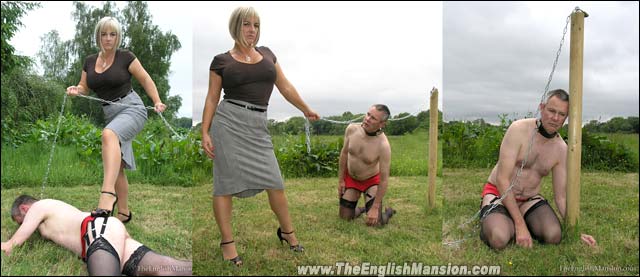 Our victim was particularly difficult (I love a challenge, so this just made it more fun for me 🙂 ); so Lady Nina & I just took turns beating him, poking him with garden nettles and then hosing him down. Left broken and shivering with cold he soon put the sissy clothes on.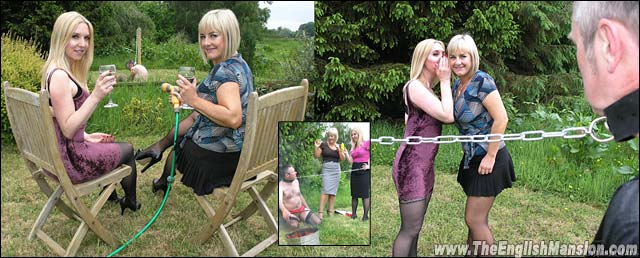 The trick with the difficult ones, once they're dressed, is to quickly chain & padlock the female clothes onto them, it's good for them to get used to the feel. Now dressed, you'll start to see him transforming into a docile sissy.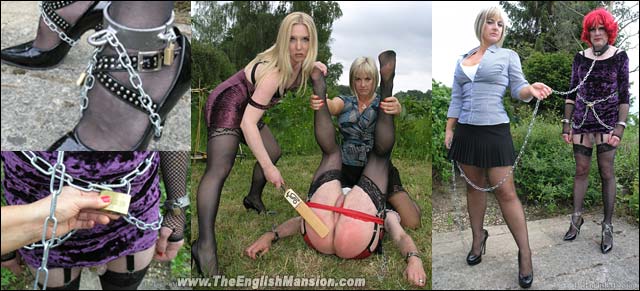 At The Mansion we use a special magic potion – Slut Serum, (there are also special blue pills) these will turn any man in to a total 'slut whore', totally aroused and full of need. Ours being magic also has the advantage of making the slut totally forget their actions afterwards.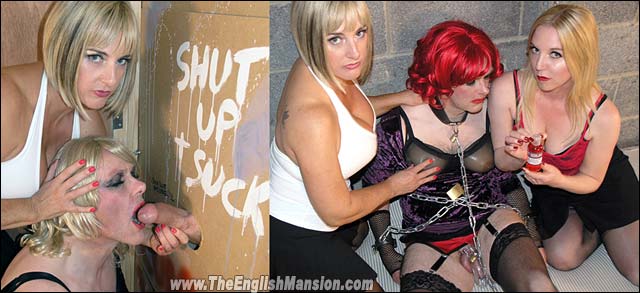 Taking advantage of the serums effect we take our newly created 'cum dump whore' to a local gloryhole; given it was such a momentous moment I also took my handycam to capture his first cock encounter, getting some filthy close-up footage of the slut's cocksucking jizzy covered face.
The next day, hilariously, our new whore has no memory of the night before and still insists he'd never suck cock. So we play the video back, making him watch up-close his own mouth sucking cock . To add to his total humiliation, while watching himself Lady Nina & I fuck him up the arse, finishing off by spitroasting him.

Having no control, as he also has been kept in chastity throughout, we make him cum onto Lady Nina's huge strapon cock and then slowly suck it off. This is part of his indoctrination as from now on he will be regularly milked and then fed his own cum – it's best if he gets a taste for it, for when he's put to work and pimped out to earn money for us.
At the end of his 8 day ordeal his weak male mind is easily under our control and he begs to be kept in service by us…. now we will advance his lessons in becoming fully feminized for us.
You can watch all the action in our full-length movie 8 Days' Later: or just go out and get your own man and turn him 😉
Hahaha – I think I was channeling the super soaraway Sun, when I wrote this.