The Other World Kingdom was a femdom micronation set-up in the buildings and grounds of a 16th century château in Černá, Czech Republic. It was an inspired and visionary undertaking to create an entire 'femdom state' – with a matriarchal, authoritarian society, based on the principles of female supremacy, BDSM and male sexual slavery. Although not recognized by any other country, it maintained its own currency (the DOM), passports, police force, courts, state flag and state hymn. It was opened to the public in 1997.
The site was huge, almost a small village – it had several buildings and extensive outdoor spaces including a 250m oval human pony cart track, lake and landscaped gardens. The main building was the Queen's Palace, which was the residence of the monarch and contained a banqueting hall, library, throne room, tort*** chamber, schoolroom and an extensive basement prison with cells. There were also many other buildings for visiting Dominas and an indoor riding hall and stables.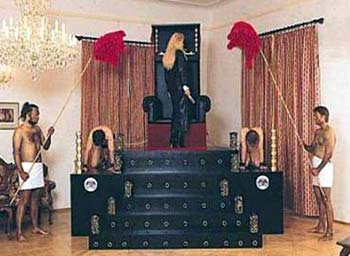 The OWK was run by the elusive 'Queen Patricia the 1st' as its absolute monarch. Next came the 'Sublime Ladies' who formed the Kingdom's nobility. To become a citizen, a woman must fulfill certain criteria including: owning at least one male slave; agreeing to the principles and laws of the OWK; and visiting the Kingdom for at least five nights. Males were either the Queen's subjects, submissive men with some rights; or 'slaves' men who forfeited all their rights and are now property of the Queen or Sublime Ladies and are considered to be 'on the level of a normal farm animal'.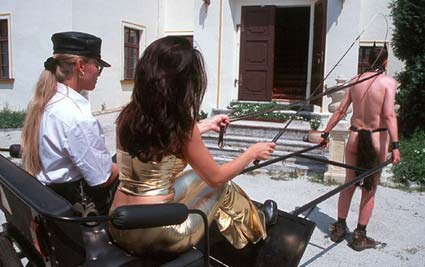 The OWK was a sensation when it opened, it was immensely popular with dommes and slaves alike; with many world-famous dommes visiting its facilities and gaining passports. It held regular femdom events and celebrations throughout the year which visitors were invited to. There was an epic buzz about this monumental place. I remember the literature they put out for visitors and I had never seen anything like it – men enslaved in cages, cells, kennels and put to work doing hard labour. While cruel and beautiful leather-clad women wandered around using and abusing the men as they wished. All set within this beautiful castle where every room was spectacular! It was a fantasy come true, a real-life femdom enclave run by dominant women.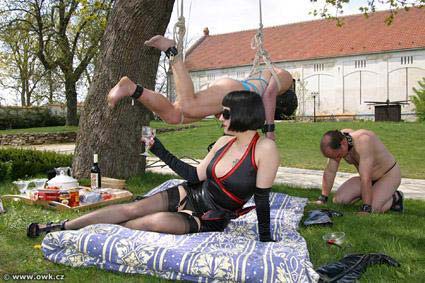 It should be noted behind the façade of the OWK and its ideology was a serious commercial endeavor. It was set up as a resort and BDSM facility for visiting dommes and subs from around the world, who paid to visit. While the venue was used for the femdom films & photoshoots used for the OWK magazines, books and website which was for a time, hugely successful.
Sadly, this unique real-world Femdom retreat closed in 2008 and has now become the stuff of legend. It is not exactly clear why it closed though several dominant women did band together (unsuccessfully) to try to save it. Today there is a website where old images and films can still be watched by members. I've been wanting to write about the OWK for a while now – it was a bold, audacious and visionary venture that should be recognised and praised in the annals of femdom.
If any subs want to write me a brief account of their visits there I'd be most interested to read them and possibly use them for another blog.