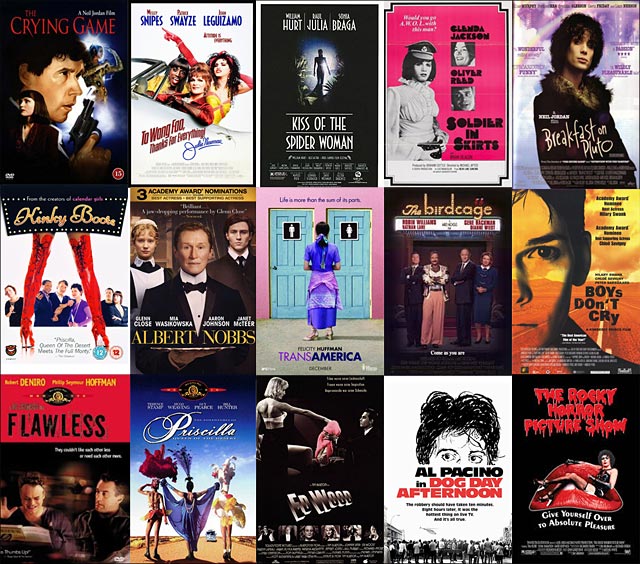 Welcome to The English Mansion's Top Ten
Mainstream Transgender & Crossdressing Movies
To get into this Top Ten the films had to be 'mainstream' i.e. they must be successful (have a high rating on IMDB or Red Tomatoes) and have at least 1 Hollywood A-lister. That's why a great movie like Hedwig and the Angry Inch (2001) doesn't make it in. I've also excluded films where men are just disguised as women, so Some Like It Hot (1959); Tootsie (1982) & Mrs Doubfire (1993) and films of this ilk are not included.
All the films I have chosen have the transgender and/or crossdressing theme central to the plot/characters of the film. Except for Dog Day Afternoon but I still felt this should be included because: of the sensitivity with which it treats the subject – a young man is robbing a bank to pay for his partner's sex change operation; the year it was made 1975, addressing this issue; and because it features an incredible and brave performance from Al Pacino. (THE DOG – Documentary of Real Life Dog Day Afternoon is also well worth watching.) This is an incredible collection of films with 9 Oscars, 4 Oscar & 2 Golden Globe nominations between them.

Contenders that didn't quite make it into our Top Ten:
Flawless 1999 with Robert De Nero & Philip Seymour Hoffman Play Clip/Trailer
To Wong Foo Thanks for Everything, Julie Newmar 1995 with Wesley Snipes & Patrick Swayze  Play Clip/Trailer
Wigstock: The Movie (1995 Documentary)
And currently on mainstream TV we have: Transparent & Ru Paul's Drag Race 🙂