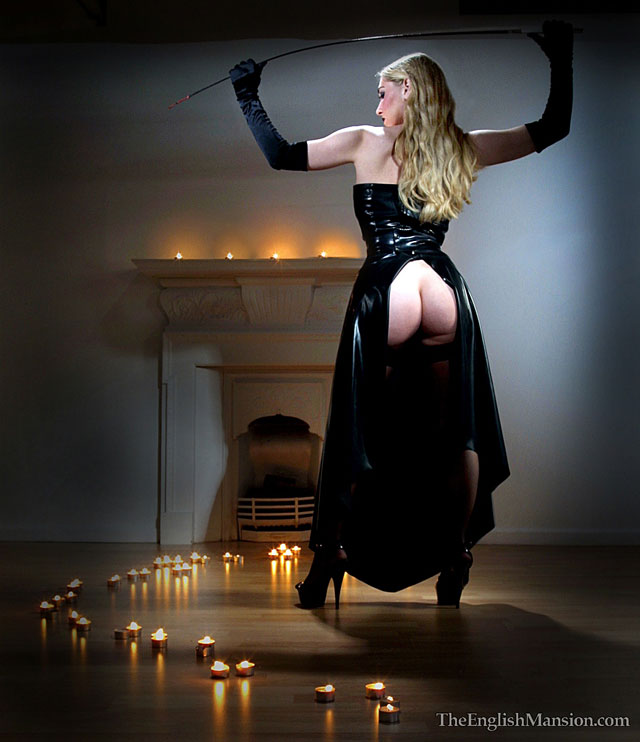 Slave Training Pt 1: Formalities & Greetings
Some of the basics by Mistress Sidonia
Slaves must make a genuine commitment to me and allow me to do exactly as I wish with them. For me, domination is not about inflicting pain (some pain is necessary to help the slave reach a truly submissive state or used in order to train or punish) but rather about taking over a slave's mind, their whole being. It is about using them, pushing them, slowly shaping and training them to accept my will, to understand and meet my needs. Ultimately demonstrating their complete devotion to me.
The Slave Bond
Mistress Sidonia has three different categories of slaves within her stable:
The collared slave – A slave who serves me completely only whilst he wears a collar in my presence, usually for short periods.
The contracted slave – A slave who serves me whilst he wears my collar but has also signed a contract becoming my slave for the duration of an agreed period of time. His duties are laid out fully within his contract with me.
The marked or branded slave – A slave who belongs completely to me and has no control over his life whatsoever. He is on call 24 hours a day and will suffer any pain or humiliation whenever or wherever I please. He lives no longer as a man but as a creature that exists only to serve and be of use to me.

Formalities
Slaves dedicated to pleasing me should ensure that they know how to greet me appropriately and will learn and be able to adopt my fifteen slave positions. Now pay attention…
Forms of Address & Greeting your Mistress
My specified honorific is always Mistress. While in my service you should always use this title to address me and I am constantly vigilant and ensure with strict remonstrations that you never forget to use it.
As my slave you would be expected to greet me by immediately dropping to your knees and kissing my shoes, boots or feet – thus demonstrating your position and subservience to me. If we meet in a public situation where this is not possible, I would require you to discreetly kiss my hand, this should be accompanied by the appropriate eye contact.
Positions
During their initial training my slaves are expected to learn a series of slave positions and be able to adopt them instantly. This allows me to call out a number in order to conveniently have the slave in the position I require to further use them for my pleasure. I have spent many an afternoon, cane in hand making sure the slave practices them until absolutely perfect. It can be so much fun cruelly calling them out in such quick succession that the slave becomes completely confused and flustered with an extremely reddened backside.
Mistress Sidonia von Bork's – 15 Slave Positions
Slave Position: On all fours, head down on the floor, bottom up
Awaiting use Position: Lying on your back, face up, hands at your side
Interview Position: Kneeling up in front of the Mistress, hands in the small of the back
Doggie Position: On all fours, hands and knees
Trample or Dirt Position: Lying face down on the floor, spread eagle
Submissive Position: Kneeling down, bottom on heels, hands in the small of the back, eyes down
Being left Position: Kneeling up, hands behind back, keeping a coin pressed onto a wall with your nose – drop it at your peril!
Walking Position: On all fours, ready to crawl, head on the Mistress' right walking knee
Bad boy Position: In a tiny ball, head in the corner of the room
Good boy Position: Kneeling down, placing head in the Mistress' lap
Search Position: Arms up against the wall, spread eagle
Club Position: Ready to crawl with your face nestled in the Mistress' bottom or kneeling still so your face can be used as a bottom rest
Punishment Position: Standing, bending forward, hands on knees
Being ignored Position: Standing, hands on head, facing a wall
Humiliation Position: On all fours, legs splayed, forehead on the floor, using your hands to pull your bottom cheeks wide apart
I like to impress other Mistresses with how adept my slaves are at quickly adopting my slave positions. It makes excellent entertainment for an afternoon tea party. I find the use of a cane or crop helps immensely with making sure he gets them absolutely perfect.
I also use simple hand signals, if I clap my hands at any point you will immediately get down on your knees and kiss my feet, shoes or boots no matter who is present or where we are. Clapping my hands twice signals that I wish you to greet my fellow Mistresses by kissing their boots. If I click my fingers you will use your tongue to worship my bottom. I sometimes use this as another form of greeting as it immediately reminds the slave of his 'position' in my life. A beckoning hand gesture indicates for the slave to attend me while I'm at my toilet.
A slave should always express his submission through his body and posture. Some Mistresses never allow their slaves to have their heads higher than theirs or to look at them directly. Although, this can sometimes be appropriate, my slaves are permitted to look at me, showing me the submission in their faces. I like direct eye contact. I have found that one of life's most sublime pleasures is staring deep into the eyes of your slave while you are making him suffer.

To be continued…
See also: Slave Training Pt 1 – Slave Training Pt 2 – Slave Training Pt 3