The nature of a Prodom (Professional Domination) 'session' and indeed the 'Dominatrix' herself has undergone a transformation in recent years. No longer the clandestine underground world of seedy contact mags; mature leather-clad dominatrixes, looking like Cher from the 1970s; or purpose-built dark dungeon chambers found down hidden back streets.
OK that's a little fanciful but not that distant from the reality in the '70s and '80s.
Today a '1 on 1 play session' with a prodomme is a much more encompassing and evolving encounter. Recently, an interview in a USA Magazine with prodomme Ceara Lynch (picked up by the world press) brought to the mainstream the evolution that has beset the industry, changes that those of us within it, have seen developing around us. Ms Lynch does not work from a dungeon, started as a late teen, has never gone naked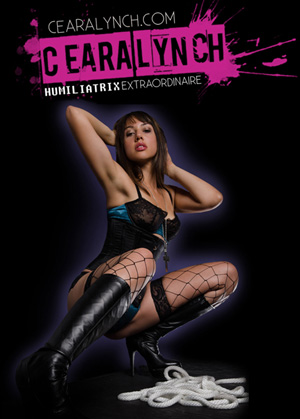 and doesn't even meet her clients in person.
She dominates through her computer: web camming; emails; selling personal items; femdom POV (point-of-view) film clips; or through custom clips tailored to the client's personal desires.
The Rise of the Cyber Domme
The world has changed with the internet and so has the landscape for prodommes, today sees the rise of the cyber dominatrix who dominates in the virtual BDSM world. The nature of a session now crosses over into many different fetishes, not just those typically associated with BDSM; and can be a virtual experience where you may not even meet your domina in person. You can just follow her on social media and connect with her through her POV clips. Worship from afar. This new style domination has many advantages, opening the door to new consumers, it welcomes and encompasses niche perversions,  it's very cheap (compared with a real-time session), it can be kept secret easily and is discreet, no need to traipse off somewhere for hours on end. While all the action is quite safe. (Though the notion of a virtual whipping does make me giggle 🙂 )
[dropshadowbox align="none" effect="lifted-both" width="auto" height="" background_color="#ffffff" border_width="1″ border_color="#dddddd" ]Niche perversions can be indulged in your own home secretly, cheaply and discreetly.[/dropshadowbox]
Actually, the mainstay of these types of sessions is not action based, but an intense 1 on 1 verbal exchange (usually humiliating or teasing), either real-time or imaginary through a POV encounter. And, why this type of domme is often referred to as a humiliatrix. But… before anyone rushes out to buy a webcam I would stress cyber domination a small niche within a small niche industry that only a very few talented, intelligent, hardworking and savvy business women seem to be able to make a success of. MSVB
[dropshadowbox align="none" effect="horizontal-curve-both" width="auto" height="" background_color="#e490fc" border_width="1″ border_color="#dddddd" ]Man finds Bondage "Tight" and "Confining" After more than 20 years of "online play," male sub (FootLuver1953) found that being put in bondage is a very different experience in real life than it is online. "I had experimented with talking about it. I even role played some things in chat rooms, but when Mistress Electra actually tied me up, I was shocked. I had trouble moving and my hands were practically useless,". From the satirical fetish magazine – The Daily Flogger.[/dropshadowbox]