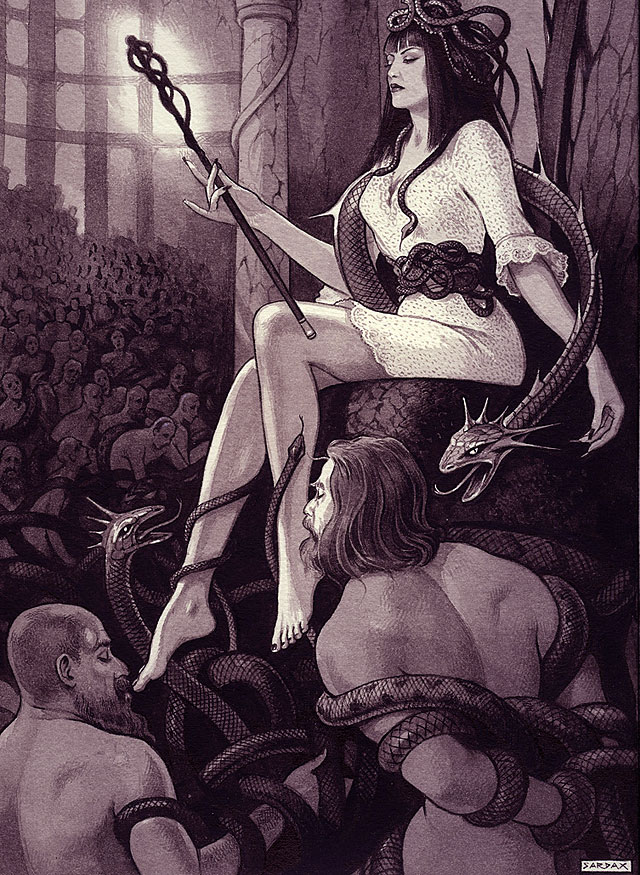 Sardax – The Doyen of Femdom Art
Sardax is an English artist based in London who specialises in female dominance. His illustrations and artworks offer a unique vision of a femdom utopia, inhabited by beautiful goddesses, who unrestrained by reality, can literally use and abuse the men and slaves that serve them – anyway they wish! But more than that, they capture and embody the spirit of the divine feminine and female power in all its beauty and infinite varieties. Often with a touch of droll humour thrown in. His style has morphed through many phases, typically he uses pen & ink and watercolours, more recently digital art methods, yet one can always recognise his unique style.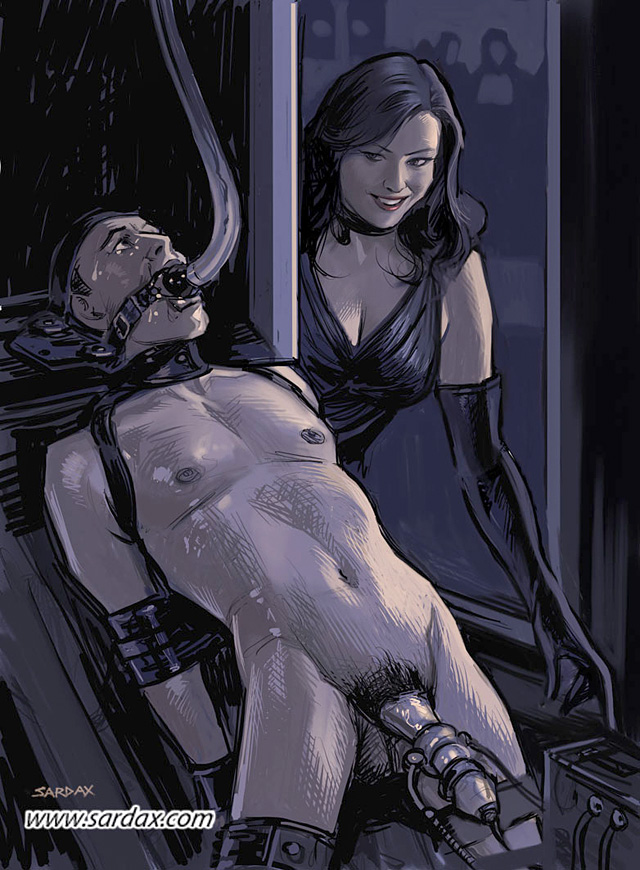 I've been exceptionally lucky to have seen a great deal of Sardax's work up-close i.e. in hard copy. I'm even honoured to have a few framed on my walls; and while I don't mean to deride any artwork on the web, it does reduce it on many levels. The web is where most people will encounter Sardax's work and it doesn't do it justice, you can't appreciate his work until you see it in the flesh (as it were) – they're so detailed, unique and just beautiful to behold.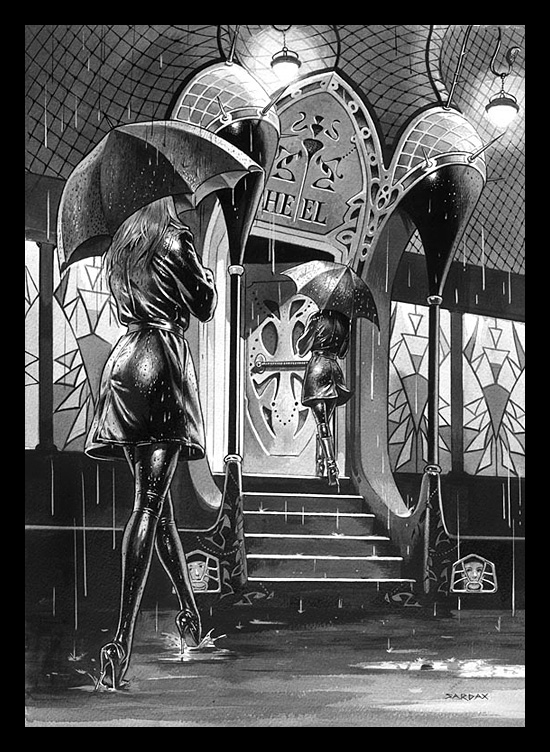 This is the first piece by Sardax that I ever set eyes on (above), I was instantly drawn to it and enamoured by its artistry and elegance, this was a place I wanted to visit! I love the innate femininity of the Heel Headquarters building, the mystery and anonymity of the women entering, (doorways as metaphors for secrets or new possibilities…), the witty little touch of the shoe-shine boys – what goes on in there?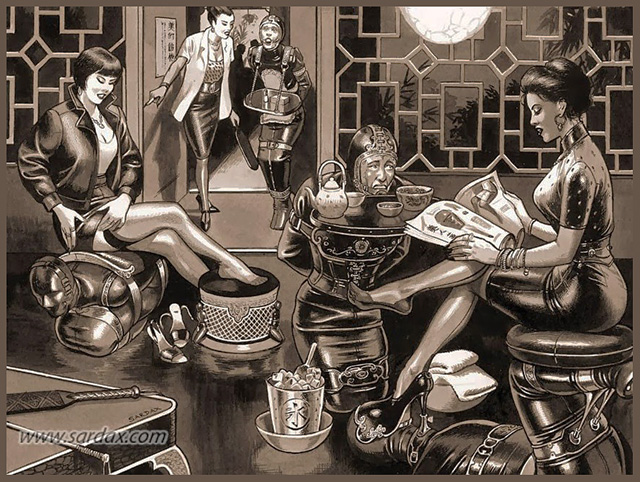 There is no doubt that Sardax must be the most established contemporary artist in the fetish art genre in the world, with a worldwide collector base and a best selling book, The Art of Sardax (Erotic Print Society, 2006). He also produces regular artwork commissions including exquisite domme portraits; adorns book covers and is frequently featured in magazines (including Leg Show, Heel & The Governess); and in 2007, he released his first ever series of limited edition prints, Shanghai Bizarre (ObsessionArt Ltd). More recently he illustrated and translated a new version of Leopold von Sacher-Masoch's Venus in Furs.
So, if you're looking for that special gift for the woman in your life who has everything, have you considered commissioning a unique portrait?
I know I, like many other dommes and  the legions of loyal Sardax fans feel fortunate to have such an intelligent, multi-talented artist adding such a wealth of beauty to our world, expressed with such sincere profundity.
You can visit Sardax's excellent and regularly updated blog & news site here:  The Art of Sardax
with info on his recent work,  commissions, where to purchase his Venus in Furs book and lots more.
Take a peek at his recent Alice in Wonderland series, highly recommended, my favourite being the lobster ride 🙂
All images © Sardax 2016