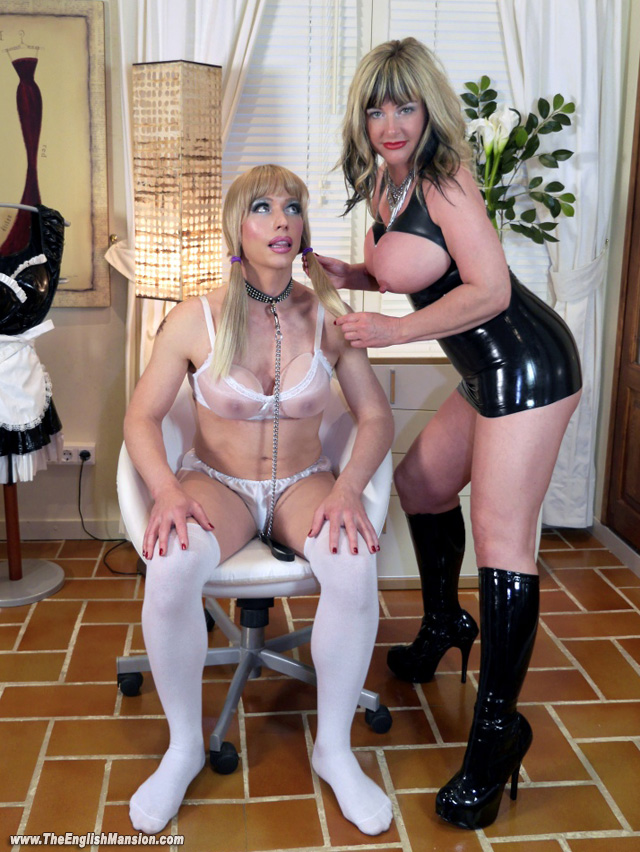 We've been honoured at The English Mansion to be given exclusive access to Lady Nina Birch's Special Feminisation Regime, which we will post here over the next few months. This is an extensive, light-hearted guide and an essential read for all Ladies & special girls who want to engage in the world of feminisation. Lady Nina Birch is the UK's foremost feminatrix with many years of experience and extensive knowledge on crossdressing and full-feminisation.
 Naming & House Uniforms
Part 3 Choosing his New Name & Outfitting him

So now it's time to up-the-ante and decide on his first 'house uniform' – this is what he has to slip into as soon as he gets home, (unless you have laid out something 'special' for him). It can be as slutty or as frilly as you want. Ask your girlfriends for suggestions, by this time some of them should be secretly 'breaking in' their partners. Purchase some fantastic fake breasts they feel like the real thing and have sexy realistic nipples. You could add a corset or waist nipper to any of these outfits to correct his posture. Or perhaps a chastity device to truly enforce his femininity and lock away forever his former manhood.
Once his outfit has been chosen this is now the time to give him his new fem name, this will take away his last vestiges of masculinity. Choose something suitably humiliating like Marigold, Lulu or Fifi. Use it always! Even in public as that will get heads turning and his face flushing with embarrassment. It's revenge time now ladies and no name is too degrading or embarrassing.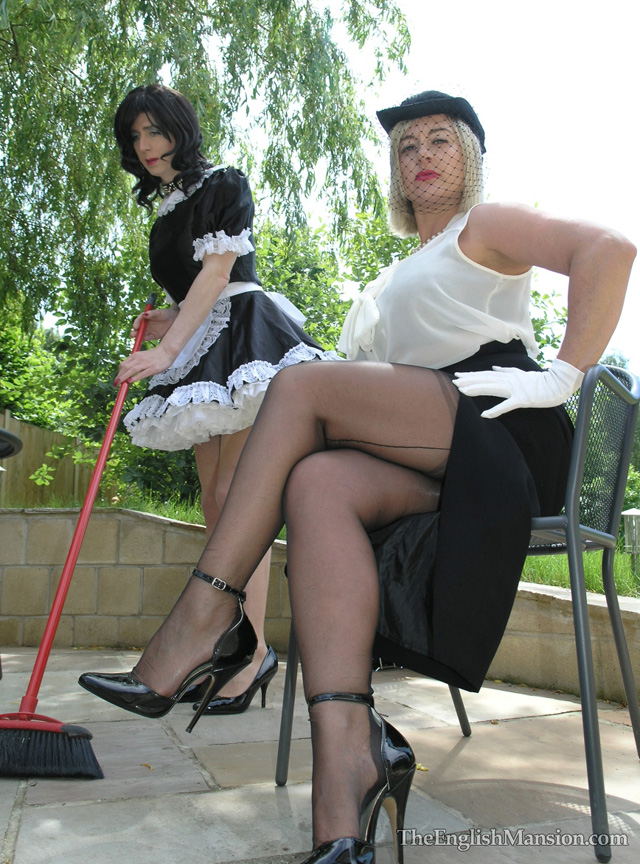 House Uniform Options

Slut
Red PVC or leather mini-skirt, black fishnet stockings, black PVC knee-boots or red shiny platform shoes, black transparent body or blouse, red lacy bra and panties. Apply heavy make-up, including cock-sucking juicy red lipstick and a long platinum wig. (If he's cheated on you in the past then this is most definitely the outfit for him!)
Sissy
Candy pink short satin dress, lilac or pink ultra frilly pants, preferably with satin bows on, but if you can't get these you can send him to the haberdashery department; his sewing skills will now come to fruition. Finish with white lace-top stockings, pink or lilac multi-strap suspender belt or a corselet, blonde ringlet wig with some little bows tied in. For footwear pink or white 'Mary-Jane' shoes.
College Slut
Black or white over the knee socks, short pleated kilt or skirt (any colour you think brings out his eyes), a tight white blouse, full white transparent bra and panties, breasts (you should be able to just see the nipples showing through the material) highlighted brown long wig, tied in cute bunches and platform wedge shoes.
Classic Maid
Black satin maids dress, white frilly bibbed apron, white satin frilly panties, black or flesh  stockings, smart black court shoes, white lace cap, black or brunette bobbed wig.
Fetish Maid
Black PVC short dress, white PVC short apron, black fishnet stockings, PVC suspender belt & panties, patent high heels, blonde shoulder length wig.
More dressing notes: By now you should have enforced his full body shaving routine; eyebrow shaping; hand, skin and nail care; and exchanged his aftershave & toiletries for the more feminine 'perfumed' kinds.
I will continue this in Pt4 – Coming Soon. Lady Nina  x
© Lady Nina Birch

You can find our more about Lady Nina Birch here on her personal website