Slave Tea Service – How to Make a Slave Tray
You will need:
A small, light plastic tray, (Ikea has excellent cheap ones)
6x Key Rings
160cm of Light weight bath chain, (B&Q is the place to go)
1 small padlock
2 x Nipple clamps (must have a rubbery, large flat clamp area)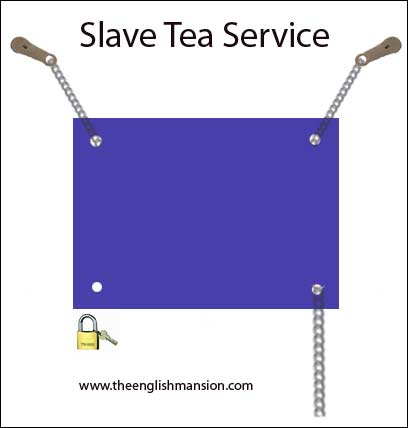 Instructions

Drill or bore a small hole in each corner of the tray, put the key rings through each hole. Attach 20 – 25cm of chain to the two front rings and the remaining chain to one of the back rings. Attach the nipple clamps to the two front chains.
Now the tray is ready for your slave, attach the nipple clamps* and pull the long chain tight around the slave's waist back through the remaining key ring and padlock it to itself.
*If you have a particularly wussey slave, the nipple clamps can be clipped to each side of their collar/apron etc.; or the clamps can be dispensed with – and one piece of chain can be used to go around the neck.
When first using the tray I would suggest using lightweight plastic bowels with crisps and only once the slave has been trained move on to the glass/ liquids 🙂