The English Mansion's Top Ten Weird & Wonderful Places to Go On the Web
Strange But True – here's our pick of some of the weird and wonderful websites out there in cyberspace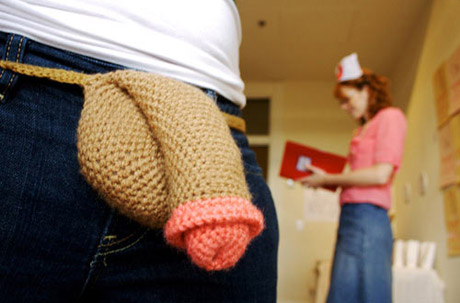 The Crochet Strapon from Made in England
The Human Subservient Chicken There's this guy in the US who lives as a chicken and gets off on you ordering him to do stuff – honest!
Dante's Inferno Test – Impurity, Sin… and Damnation 'Abandon every hope, ye who enter here' Take the test to see if you're on your way to Hell – and if so, how far you're going…
Cat's That Look Like Hitler Kittlers – now that's a photo gallery, and make sure you don't miss the complaints page We Hate Kittlers
Bash Helmet The First Gay Super Hero & his Lesbian side kick Flick Faster
Rubber Fish Meet Ms Swat in these rubbertastic animations, I recommend Bootylicious
Hats of Meat Yes, people wearing hats made of meat
The Brick Testament The Bible illustrated in Lego – violence, gore, hatred, whippings, hanging (even we can't show that!)
Squeekytoys Plushy Love, one man, lots of suits. My favourite is Foxy – but what's he hiding under those shorts?
Photogenic Doll Be the girl you always wanted to be…
Made in England Strange soft toys – don't miss Cock Monkey and Bob Nob
Plus runners up:
The Man with the Smallest Penis in Existence Animation with a happy ending, I guess there's someone for everyone 🙂
Find a Grave From Karl Marx to Heath Ledger
The Slave Register Register and bar code your slave here
Real Doll No more pumping
Cheddar Vision Watch cheese mature, it's riveting. I recommend the 12 month video on Youtube here
I Love Sticky Tape Well I guess someone somewhere has to