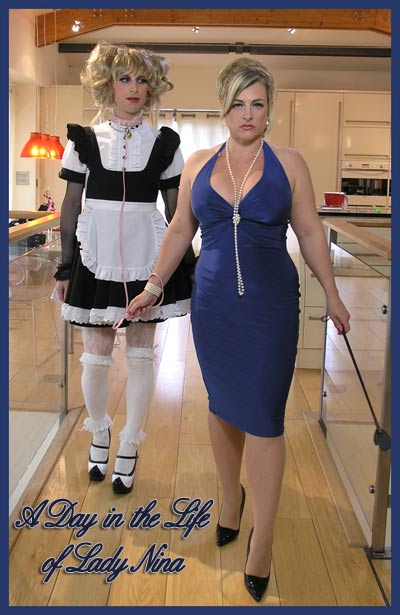 Here at The English Mansion we thought we would give you a little peek into A Day in the Life of our most famous resident Domina, Lady Nina…
I awoke today, propped up in bed waiting impatiently for my personal maid to bring me my breakfast tray, she was late! When Natalie, my current favourite TV maid and slave finally turned up, curtsies and places the tray to one side I'm outraged to see that she is not wearing her proper maid's uniform. Instead, she had taken it upon herself to wear her favourite 'sissy girl' outfit, one that I know turns her on. On closer inspection I was proved right and made even more annoyed by the unsightly bulge in her pretty pink panties, it was clear to me that she needed some firm discipline.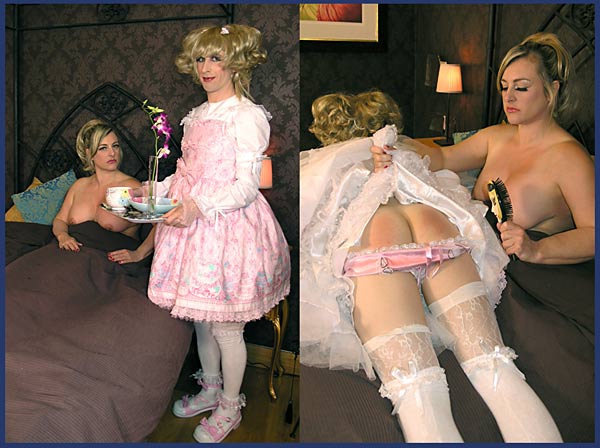 Berating her I informed her there was more than one use for my hairbrush, she visibly quivered and begged for forgiveness. Ignoring her pleads for mercy I ordered her to lay across my lap. One by one I fingered and raised her pretty petticoats. She was still shaking aware that with each raised it left her more exposed to the punishment ahead. I swiftly lowered Natalie's satin panties and administered a firm spanking followed by a sound beating with the hairbrush. She whimpered and wriggled but she would think twice about displeasing me again. After straightening herself up and apologising for disobeying me I sent her away to begin the day's tasks, the threat of extended chastity hanging over her.
Enjoying my breakfast-in-bed I sat back and considered the options on Natalie's further training…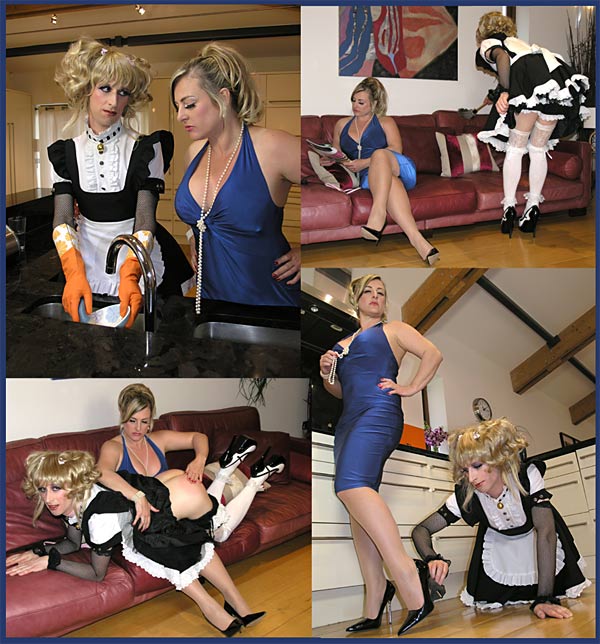 After a good breakfast, I had a relaxing bath, put on my dress laid out by Natalie then went downstairs to check up on her. Usually Natalie attended to me by towelling me dry, brushing my hair and dressing me but was denied this privilege today because of her outrageous behaviour. It was clear to me that a closer eye was needed. I was pleased to see her in her proper maid outfit and gave her a thorough inspection including hair and make-up. She passed my scrutiny and I was pleased with her until I saw the sink full of washing up from the night before and crumbs all over the floor. Natalie was guaranteed to have a very sore bottom by the end of the day. With her still pink buttocks out again for a second airing that day a sound thrashing followed with the wooden spoon until I was almost satisfied. Under supervision she cleaned up the mess and gave my shoes a polish for good measure. After putting Natalie on her pretty pink collar and lead I led her though to the lounge where I could be more comfortable. She endured a good telling off before I carried out a third firm, over the knee punishment. She whimpered and squealed. And, I imagined Natalie sleeping on her stomach tonight, in chastity her buttocks burning against her nightdress.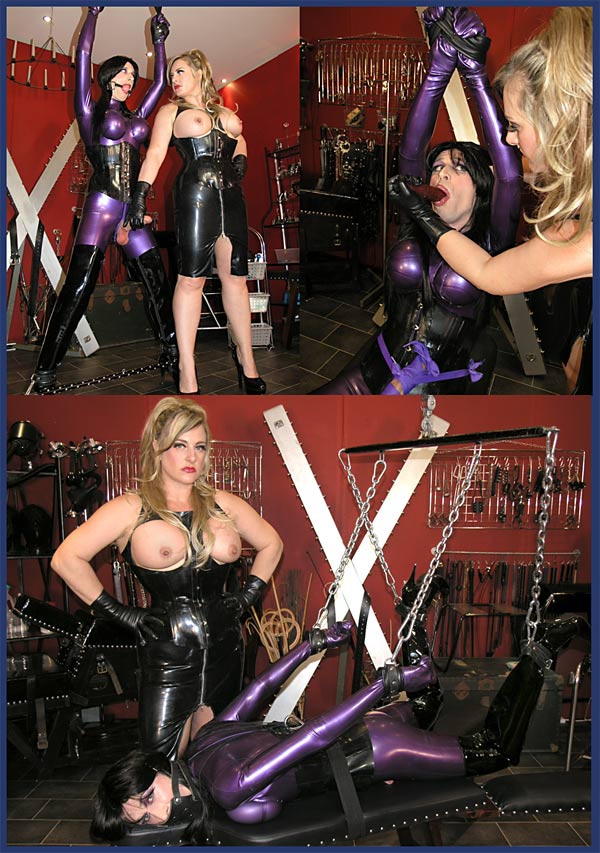 After the days failings on Natalie's part, I order her to change into her 'purple rubber dolly' outfit and meet me inside my dungeon that evening. She needed more training in dildo sucking and anal play. A good dose of humiliation and slut training would put her in her place. I amused myself by teasing her swollen 'clitty' and watching her writhing in various uncomfortable bondage positions. Her big eyes gazed up at me pleading mercy. By the end of the day she was completely back under my thumb and eager to please, time to up the training. Perhaps, I'll find her a real cock to suck?
Text by Lady Nina. Photos of Lady Nina Birch & TV Goth Natalie from two upcoming movies from The English Mansion  'In Service to a Lady' & ' Her Rubber Bondage Slut'. Lady Nina has limited availability for 121 sessions, she offers a full TV dressing service and domestic domination/discipline scenes. See her website for more details.