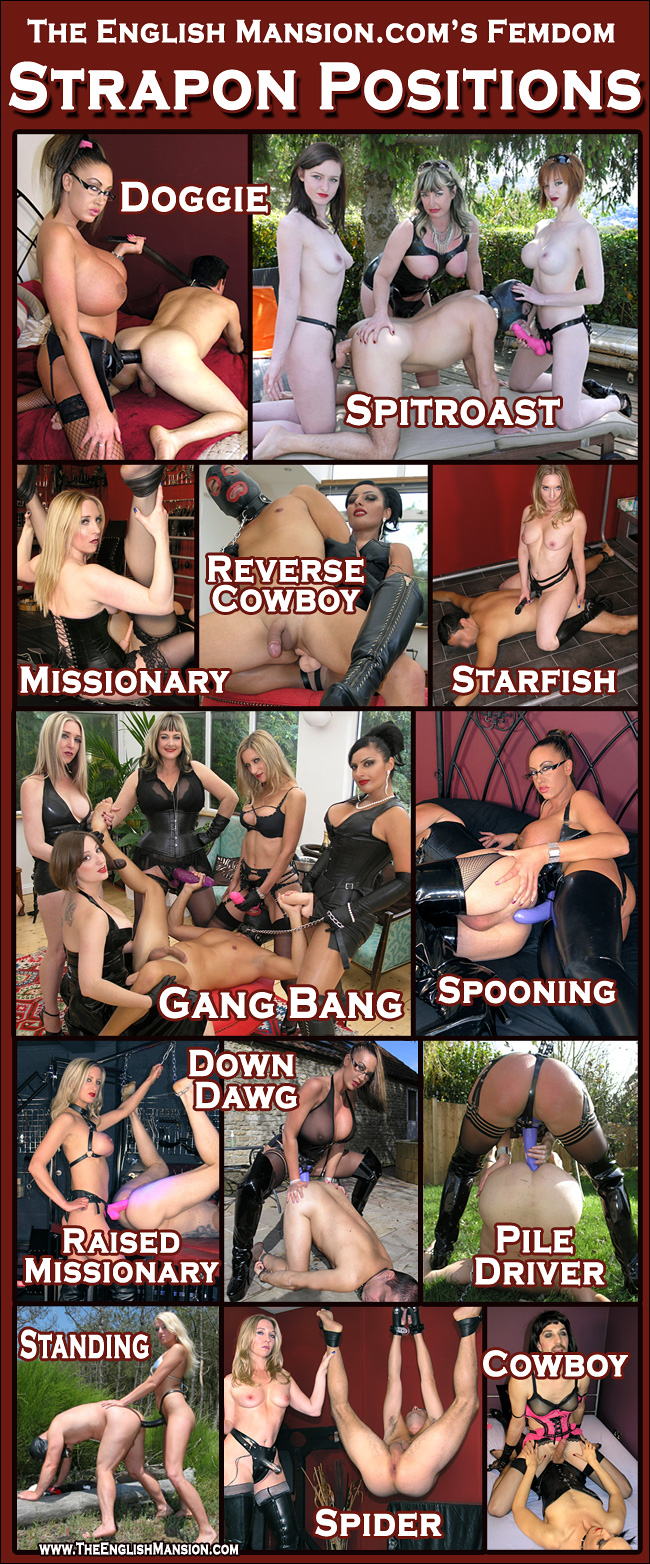 All images from English Mansion Strapon Pegging movies with: Mistress Pandora, Miss Vivienne l'Amor, Lady Nina Birch, Ms Zara du Rose, Mistress Sidonia, Mistress Ezada Sinn, Mistress Evilyne, Mistress Nikki Whiplash, Lady Natalie Black & Fetish Liza. More info here.

Doggie
Sub on all fours with you behind him, usually kneeling. The quintessential classic strapon position with an edge of humiliation as you can slam away. I've enjoyed putting a pony head-harness on the slave to get the ultimate ride effect. Killer on the knees though, make sure you're on something soft.
Down Dawg
This is a more humiliating version of Doggie – basically 'Head Down Arse Up', with the arms either just inside or outside of the ankles. A great position to tie/manacle/stock him into, that way he's totally helpless.
Standing
Another good and simple position. Just bend your partner over a table etc. and then fuck them while you are standing up.
Missionary
This is a difficult position, especially getting the strapon at the right angle. Lay your partner on their back, lift their open legs (hold each ankle) and try to tuck yourself just under their backsides with your legs wide, then rest their legs against your shoulders. I personally love to put guys on their backs as I can watch their faces while I fuck them. I also feel it's a real reversal of roles. It has an intimacy that you can't achieve when you fuck from behind.
Raised Missionary
Missionary with a strapon is better (and easier) if the guy is raised up, his butt on the edge of something as you can stand up, a table will do or buy a sling! With a sling you can put your partner on their back and rock them back and forth onto your cock – hours of effortless fun guaranteed.
Cowboy (Them On Top) & Reverse Cowboy
Here you lie on your back or sit down and make them do all the work squatting over you. With Cowboy you can see their face, if they turn around it's the Reverse Cowboy.
Spooning
Intimate and sexy. You both lie on your sides facing the same direction. Gives excellent simultaneous access to your slave's cock & balls.
Starfish & Tau (Lying Down)
Another very intimate position, the man lies prone, face-down flat on the floor and you lie flat on his back. To increase the sensation the man can be made to close his legs once the strapon is inside him, Tau position. I love to fuck a guy like this when I'm naked on top of him, very sexy, I can get really close to him and get a lot of stimulation for me while rubbing up and down 🙂
Pile Driver
You stand over him while he sits facing you, grasp his legs and push him back to meet his arms, sort of folding him in two. Great for humiliation and you can spit in his face at the same time. Only for supple slaves.
Spitroast
This usually requires two dommes (unless you have one of those cocks that can be suctioned to a wall or a fucking machine), one fucks his mouth while the other takes his arse usually while he is in the Doggie position. For a good effect make him do the work and rock back and forth between your two cocks.
Spider
A suspended position where the slave is hung by his legs and arms (with no sling). He is totally vulnerable, open and you can fuck him really deeply. (Only for experienced strapon slaves.)
Gang Bang
Not strictly a position but a helluva lotta fun for a group of horny dominant women and one poor unfortunate backside 🙂 I think Raised Missonary is one of the best positions for a Gang Bang with 5 women. He can be fucked, take one in his mouth, wank one in each of his hands, with one lady left in rotation. The part I love most about a Gang Bang is that the second one cock is removed from his tight hole there is another there waiting to go straight in!
This article is Part 2 of 3 Strapon Positions
Read Part 1 of 3 Strapping On A Strapon
Read Part 2 of 3 Strapon Positions
Read Part 3 of 3 Even More Fun with A Strapon