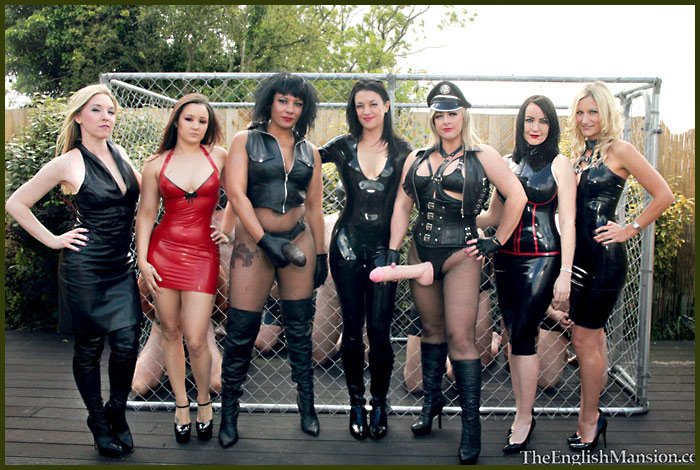 Have you ever fantasised about visiting The English Mansion? Wanted to find out what happens behind closed dungeon doors? What goes on inside a real Femdom house? Where men are turned into slaves or TVs and made to serve dominant women. Where the women use and abuse men for their pleasure…
Well I recently invited over six of my Mistress friends for a weekend of Femdom debauchery and slave punishment at the Mansion – Mistress Rouge, The Hunteress, Lady Nina Birch, Miss Annalisa, Mistress Nikki & Miss Jessica Wood. And, we left the cameras rolling just to document the day so you could get a real life peak inside the Mansion. (Pt 1 Slave Picking starts this week.)
When the Mistresses first arrived some slaves were designated as servants, TV Maids and human furniture. The remaining slave fodder was left outside caged – later after lunch each of the caged slaves could then be individually examined and humiliated in turn whilst being made to perform for the ladies' pleasure and amusement.
[flowplayer src='http://www.theenglishmansion.com/trailer_stream/w/Weekend_Promo/trailers/hd/Weekend_Promo_Trailer1.mp4′ width=640 height=339 splash='http://www.theenglishmansion.com/still/0/w/Weekend_Promo/poster/Glass_Floor__.jpg']
We have a glass floor at the mansion and while we were in the lounge we could hear screams coming from the dungeon and so thought we'd take a peak 🙂
Each Mistress was then asked to choose a slave or few and then to retire to the Mansion house for further play. Mistresses Nikki, Jessica and Annalisa retired to the lounge with some slaves, but their fun was spoiled by the badly behaved TV Maids and so Nikki & Jessica decided to deal with this, as only they can with their canes! The third maid was placed in bondage, knickers around her ankles. I joined them at that point, I had just been giving the Hunteress a tour of the Mansion. And wasted no time in adding to the tied maid's humiliation by encouraging a slave to play with her maid's she-cock and eating the precum, much to the other Mistress' amusement.
Meanwhile Mistress Rouge and Lady Nina had gone down into the dungeon ready for an onslaught with their huge strapons including their BAMs! With the party upstairs in full swing, at one point all we could hear was screaming coming from the dungeon below us – it's a good thing we have a glass for, we lifted up the carpet so we could peak in on the strapon action below! (See the clip above)
Slide-show photos from the Saturday
[wppa type="slideonlyf" album="9″ align="center"]Any comment[/wppa]
And as the weekend progressed (and more alcohol was imbibed) the play became even more debauched and cruel – but you're just going to have to wait to find out what happened on Sunday, it's coming soon to The English Mansion.
Parts 1,2 & 3 Coming Very Soon