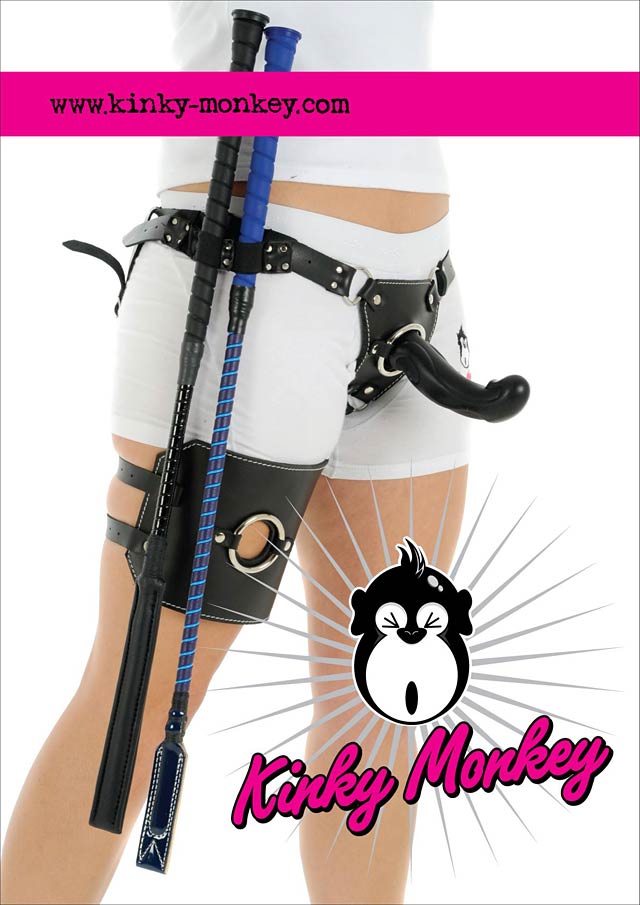 Here at The English Mansion we want to highly recommend Kinky-Monkey.com  purveyors of beautifully made soft leather harnesses. They specialise in just about every kind of strap-on harnesses you can think of: classic strapon dildo harness; double penetration harness; thigh-ride harness; chin dildo harness; & other harness extras. So you can get pegging just about every-which-way! 🙂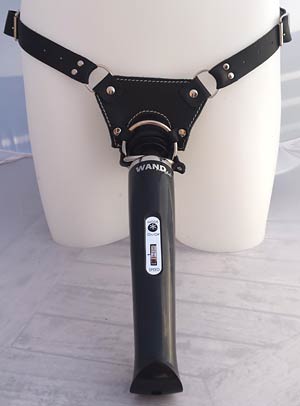 I also love their locked-in orgasm harness (see image right) the ultimate in cruel teasing; and their butt-plug harness, useful as plugs do seem to want to eject themselves – usually at an inopportune moment!
Members of The English Mansion will be familiar with DSO's giant strapons requiring specialist harnesses (see here for more: Queen of Dongs)  – well these amazing pieces of bespoke and highly engineered kit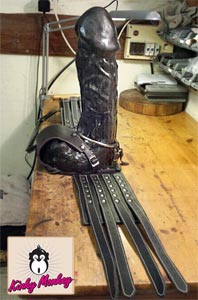 designed were created for her by Kinky-Monkey.com. They explained the difficulties of harnessing DSO's largest dildo so far,
"It took 10 square feet of leather 96 rivets, 16 buckles, 1 x 140 mm stainless steel marine ring and 1 long day in the workshop!"

(see image left)

Another plus for Kinky-Monkey's harnesses is that they come in a huge variety of colours, so perfect for co-ordinating your strapon cock with your outfit.
(see right image, Claire from Kinky-Monkey & DSO)
So take a look at their website or facebook page, Kinky-Monkey is a great fetish artisan business with super kit. They are also often at the BBB (the Birmingham Fetish Market).