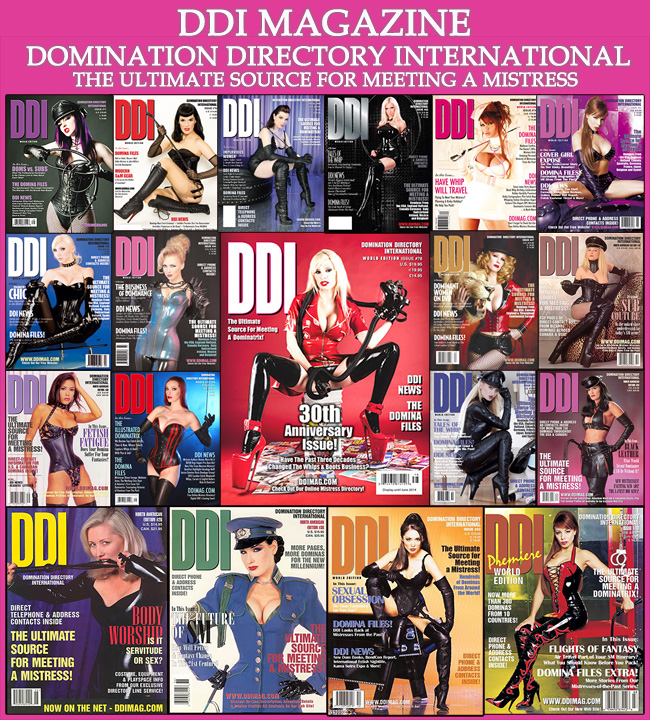 DDI Magazine – A Brief History
Domination Directory International was an American contact magazine that described itself as "The Ultimate Source For Meeting A Mistress". It was first issued in 1984 at the cost of $7 and then published sporadically until about 1989 when this became biannually.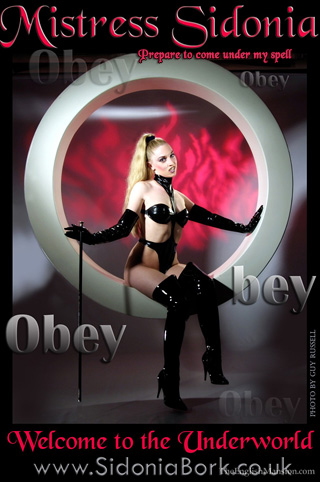 Initially, it was a basic magazine with only a few colour pages and snapshots of prodoms. In a short time it became a much more glamourous affair – all colour, the page count expanded and the number of dominas wanting to advertise was growing every issue and these professional dommes now ranged from the whole of North America and Europe.
Right: One of my ads inside an early Euro DDI. You could have a 1/4 , 1/2 or full-page advert but mainly each featured domme took a page.

With its success growing and the need for more distribution in Europe, in 1995 to address the number of Mistresses from England, Holland, Germany wanting to be included; the USA publishers joined forces with the publisher of Massad magazine in Holland to create an exclusively European edition. So DDI split in two: a North American edition, which carried on with the sequential issue numbering from; and Euro DDI, which began fresh with a premiere issue.
DDI's North American edition went quarterly with issue #29 in 1998. While Euro DDI was published three times per year, with issue #14, in 2000. However, with the advent of the internet and the decline of the printed magazine industry (pervy & mainstream) in 2003 the North American and Euro editions were once again merged into one combined edition. This now allowed domina's to advertise worldwide and created a bumper world edition of over 200 pages. In the mid '90s the DDI publishers managed a huge coup – distribution in more mainstream and prestigious retail locations such as Tower Records, Borders Books, and other non-adult venues; this was a boost to both the magazine's sales and prestige.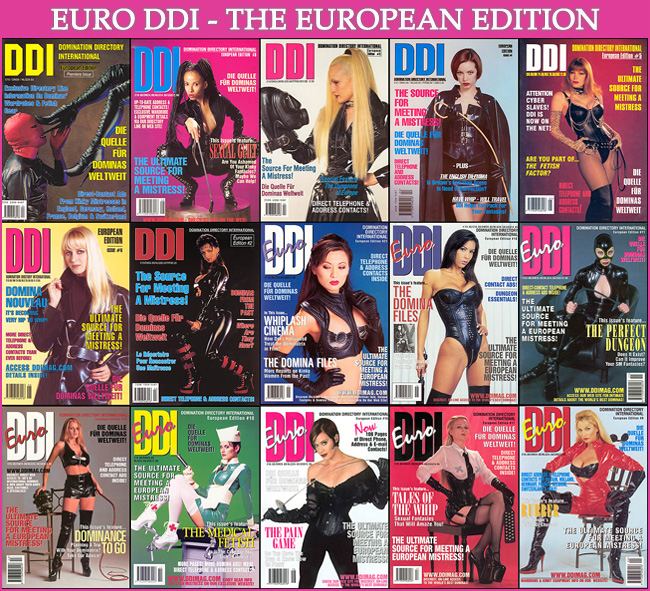 And A Thank You
The prodom community owes a considerable debt to DDI as it sought out and brought together ardent, elite dominas from all over the world turning them into an exclusive group of dedicated professionals. Looking back at the advent of what we would call today a 'prodom' throughout the late '70s and '80s she existed in a secret and underground world. The only way to find her was through free adult listing papers, box cards and contact magazines. These small A5 contact magazines were cheaply produced and associated with a sordid, seedy scene and could only be purchased by mail order or at sex shops. DDI seemed to obliterate them – its large A4 format, its glossy cover, stunning models in designer fetish wear, inside colour pages, beautiful binding, all giving the contents inside: the services of prodoms, an authority and glamourous status – and importantly a new credibility.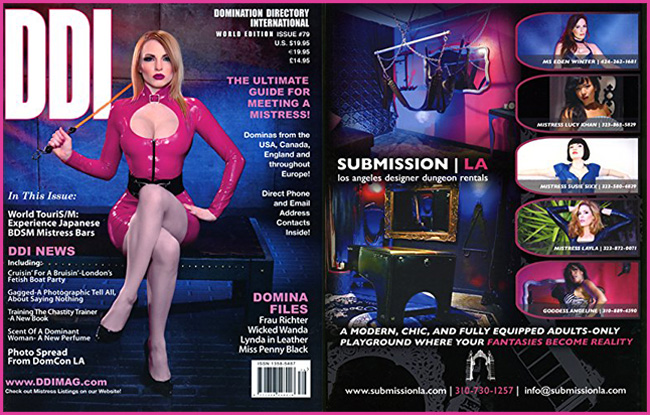 The final DDI – Issue #79 Published early in 2015
An Ending
DDI was last published in early 2015 and its future seems uncertain. The ever omnipresent search engine 'Google' allows anyone to search the world for prodoms. And, dominas are no longer dependent on a page in a contact magazine or listing websites, they don't need to answer endless question by phone as they can put up extensive websites showing any prospective subbie what to expect and the diverse range of services many of them now offer. I still think that the prestige of appearing in DDI was worth its weight in gold and hope that it might make a come back, even in a new web-based form or format.