Dangerous Liaisons….. Mistress Minerva offers some straightforward information and precautionary advice on Safe BDSM
We all agree that SM scenes should be consensual, but even consensual play can be dangerous. So it is important that we all play games, which are both safe and sane. As both a commercial and lifestyle Mistress for many years, I hope to draw your attention to some common accidents that can happen during SM play and how to avoid them. SM should be safe & fun. Ensure that the only suffering inflicted on or fear experienced by your partner is completely intentional.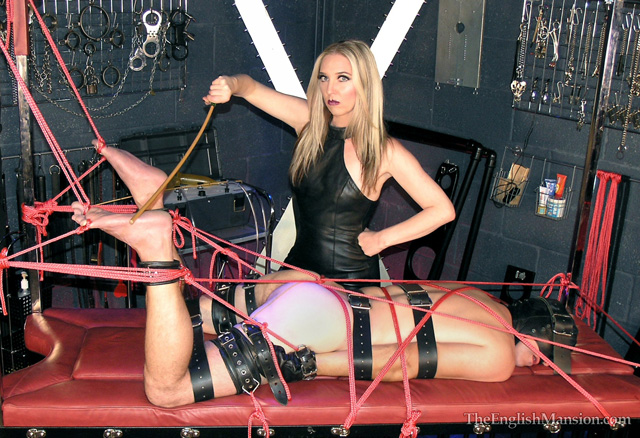 Basic Bondage Pointers

These safety pointers and suggestions are only intended for beginners and light players wanting to have fun with erotic bondage play.
Rope is the material most associated with bondage however, it's pretty heavy going against the skin. I would suggest investing in some leather cuffs/manacles that are fur-lined or padded. They are quick to get on and off and you can use ropes, chain, and clips with them allowing you to quickly change positions and move the subject around easily. Always insure that you can get your captive out of the bonds quickly if necessary. If you are engaging in rope bondage always a good idea to keep a sturdy pair of scissors to hand.
The main problem with bondage is that it can restrict circulation and in extreme situations cause tissue and nerve damage. To tie some one up securely it is not necessary to restrict circulation in order to make it inescapable. Make sure you can always get two fingers under any kind of bonds. Care should always be taken when anything is put around the waist because of the delicate organs beneath the skin. With the neck it is essential that it is not restrictive and that the bond is not tied to anything in case the subject falls over. Be aware that in the throes of passion – heat, sexual excitement, use of amyl nitrite, the neck can expand by up to two inches so any collar, rope etc. that begins loose can end up being too tight.
Unless you are an bondage expert who has an extremely good understanding of their play partner it is best not to leave someone totally alone while bound and it is never safe to leave someone if they are gagged.  Be aware people often panic once they are tied, they can get over hot or start palpitating so it's essential to always have easy access to them and are able to quickly release them in an emergency.
For some, however, being left in bondage for long periods is what they desire so if you know your partner's limits well and are going to leave them while still being in the vicinity, here are a few tips: always leave them in a comfortable, supported position – the best positions being lying and sitting down poses; if you are going to leave the room make sure you are always with earshot; you can also leave your captive with an alarm (like an attack alarm or remote doorbell) that can be simply set off; & another excellent safety purchase is a baby monitor, which can be used to monitor you helpless partner from another room.
It's worth understanding that if a person is standing up or even walking around with any kind of bonds around their ankles or legs; it is easy for them to fall over and seriously hurt themselves. You must always be supporting them or perhaps tie them up standing at the foot of a bed so if they do fall they will fall back on to the bed. Gags are another point of concern and need to be carefully monitored. It is possible for people to start choking especially if they are lying on their backs. Never leave a gagged or fully hooded partner unsupervised. Suspension is an erotic idea but is really not a case of putting a bolt into the ceiling. Suspending a person is extremely dangerous, it is the area of play I have seen cause the most serious accidents during my career. Importantly suspension points must be put up safely, you will need to fully investigate this and buy proper suspension bars and leather equipment to accompany it.