A Dinner Date with the Girls

Part 4 Enforced Full Dressing & Humiliating Exhibitionism
continued

After a hard day's shopping he can take you and your girlfriends for a lovely expensive meal – lucky guy! Of course you should order his food for him, well he is dieting and then spoil it by getting everyone to spit on it when it arrives, yummy. You should also put the giant remote control electric butt plug into action. Pass the controls under the table to each other, he won't have a clue as to who is frying his arsehole.
Drop things on the floor and order him to crawl under the table to retrieve them. Then all tease him by flashing your stocking tops and panties (those who are wearing them) and pressing your heels into his most sensitive areas. Inform him that whilst he is down there he must worship all your friend's shoes in turn, in order to earn the rest of his dinner.
After the meal it's all back to yours and once you are all bored of drinking champagne and sexually tormenting him, inform him in front of your girlfriends you are going to remove his chastity device and allow him to wank. As his face lights up with relief, tell him he has to eat anything he produces or alternatively he is only allowed to come in another trainee-fem-husbands mouth. Finish the evening with your girlfriends all putting the name of their fem-husband into a hat and pulling out the name of the 'lucky' mouth.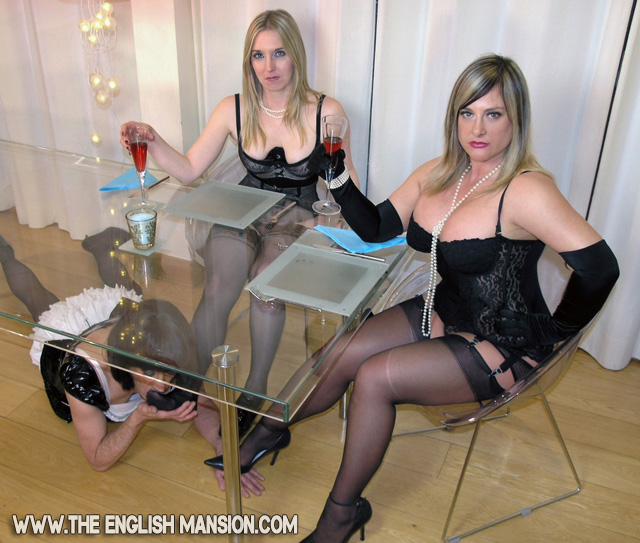 I will continue this in Pt6 – Coming Soon. Lady Nina  x
© Lady Nina Birch

We've been honoured at The English Mansion to be given exclusive access to Lady Nina Birch's Special Feminisation Regime, which we will post here over the next few months. This is an extensive, light-hearted guide and an essential read for all Ladies & special girls who want to engage in the world of feminisation. Lady Nina Birch is the UK's foremost feminatrix with many years of experience and extensive knowledge on crossdressing and full-feminisation.
You can find our more about Lady Nina Birch here on her personal website