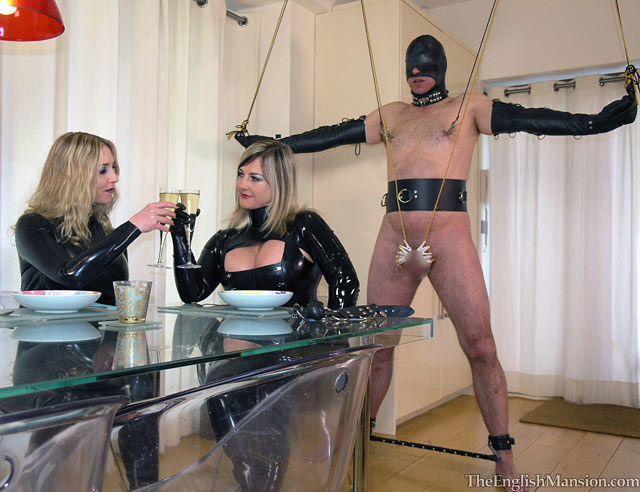 So what is Predicament Bondage?
Well it's a bondage scenario where the restrained submissive is faced with a quandary – if I do this… this will happen, as one action will result in another, hence the predicament. This adds a psychological dimension to the play along with the physical sensations. Predicament bondage can also be any situation where the slave must move around and/or perform a task while bound, usually with the added peril that they will be punished for not achieving this task. Confused?! Don't worry predicament bondage is always difficult to define in the abstract and so is probably best explained though real-life examples and photographs.
If you regularly read this blog you already know what a bondage aficionado I am, ergo I adore predicament bondage and love to devise fiendish dilemmas for my poor slaves. So here are some illustrated examples of predicament bondage scenarios…
xxxxxxxxx
Predicament Dinner Party
The sub has his hands in bondage mittens, raised out to the side of him, there are two ropes tied from each mitt that lead up through a ring in the ceiling and then down to where - one is attached to nipple clamps; and the other to cock 'zipper pegs' (this is mirrored on his other side). So if (when) the slave's arms tire and drop, he will pull off the clamps & pegs - in what will be a dramatic and painful climax. Most entertaining for my guests and I! Zipper pegs are a mainstay of predicament bondage - a set of clothespins/pegs strung together along a cord which are then fixed along the skin in a line - the cord is pulled, causing the clips to be pulled off the skin one by one. This is usually done in a fast ripping motion but it can also be implemented by pulling them off individually in a slow cruel manner 🙂
Twitching Toes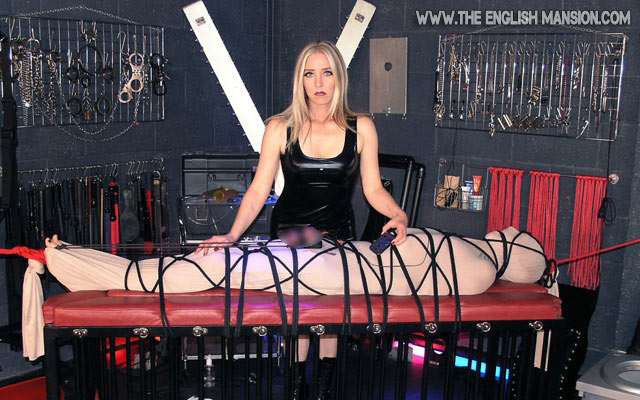 Here my slave is enclosed in a lycra tube and securely roped down to the bondage bench. I tightly tied and separated his balls and then with a taut cord tied each testicle to a big toe. I then plugged his cock into my electric machine and left it on a high setting that randomly zapped his 'little man', each time making his feet twitch, thus making him yank on his own testicles. An endless vicious circle of pain 🙂
Hobbled Pet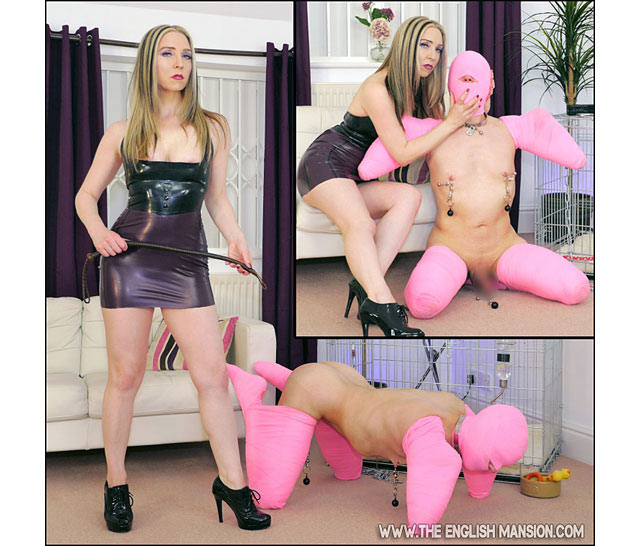 Here I employed partial mummification to hobble my slave so he can no longer stand but must walk on four limbs like an animal, so humiliating for him, he is now my new little pet plaything. I utilised the many piercing I have inflicted on my bondage sub (so helpful for intense restraint scenes) by attaching weights and bells to each of them, i.e. to each nipple and one through his dangling cock's double foreskin piercings. I then challenged my pet to walk hobbled around for me but without making any sound, difficult with all those bells, the punishment a harsh ass whipping. He tried earnestly but failed continually and received a red backside for his pathetic efforts.
Slave Drinks Stand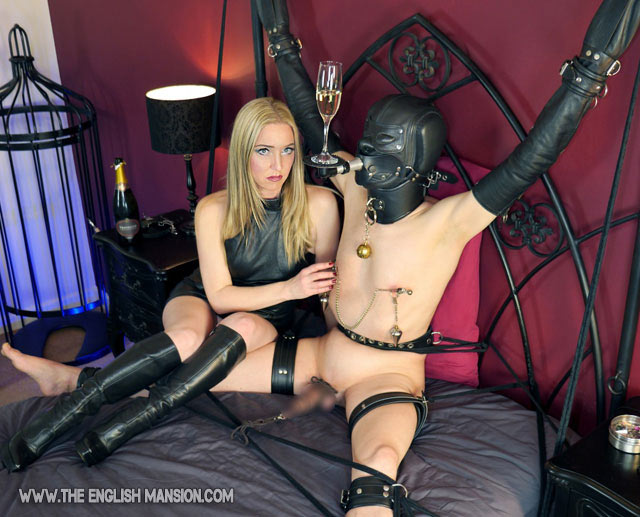 Here the slave is in sendep bondage secured sitting spread-eagled with a special drink stand/mini platform gag (it has a flap that presses on the chin in order to balance the weight of the object on the platform). The slave must keep his body & head absolutely still or he will spill the drink and be in big trouble. Note to slaves: NEVER SPILL MISTRESS'S DRINK!
An Elaborate Predicament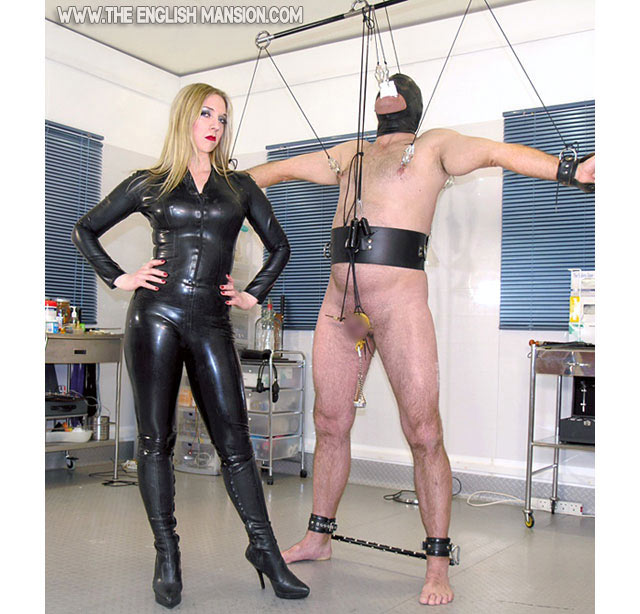 This is one of my more elaborate creations:
i) If the hands tire they will rip off the nipple clamps;
ii) It's not very clear in this photo but the slave is on tip toes if he tires and lowers himself, this pulls on his cock;
iii) Additionally, he had a tealight candle on a chain hanging between his legs, just under his balls - so long as he keeps swinging the candle it can't get hot enough to burn his testicles; all the while this constant movement pulls on everything else;
iv) Lastly, he has a pad in his mouth he must grip with his teeth, this acts as a gag because if he lets go it will drop heavy weights onto his outstretched cock & balls.
Cold Wet Chain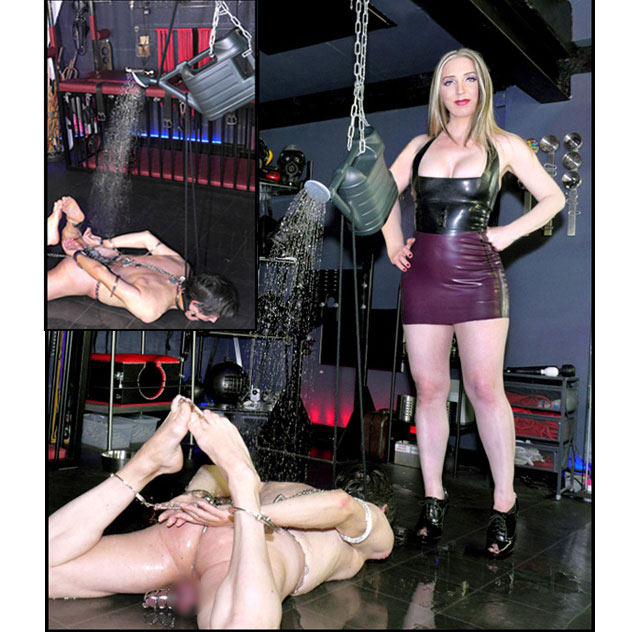 I was most pleased with this new dastardly predicament situation: I trussed up my slave in an extreme metal hogtie using locking handcuffs, upper arm cuffs, chastity cage, toe cuffs and ankle cuffs. I then inserted an anal hook which was also connected by a chain to a locking metal collar; this collar in turn was connected to a large watering can of ice cold water. If the slave kept his head up (a stress position) he was OK but if he became tired and lowered his head he would be doused in cold water and yank on the anal hook! Leaving him tied in cold metal cuffs & chain and then intermittently soaked in ice water was another lovely layer of cruelty for me. A poor hogtied slave shivering in a pool of cold water 🙂
Safe, Sane & Consensual: Remember never leave anyone alone in bondage!
All of the above photos are from sessions you can watch at The English Mansion and the last is from the new release Chain Hogtie Predicament, now showing.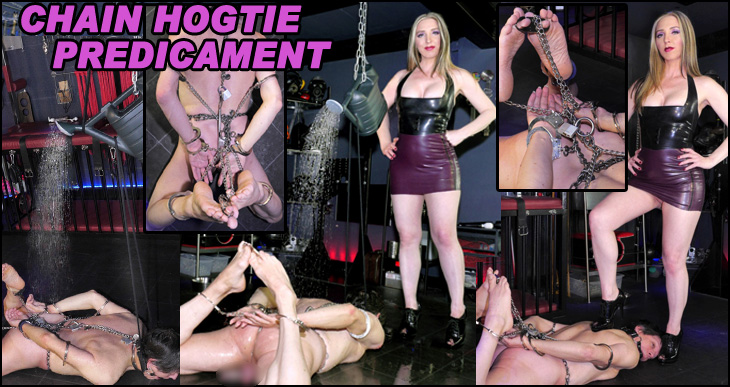 And coming soon Pt2 More Predicament Bondage