The Advance of the Sexbots
This is a type of fantasy play where the submissive enjoys being completely absent from their desires, emotions, body & personality and totally at the will of another. Technically this is not 'submission' as they have no will or ego and so submit to nothing, they just act without question obeying every command; bots are mindless and their bodies just obedient vessels. The designation bot comes from the word "robot" as like their mechanical counterparts they are created to obey without question.
Types of Bot
Drones – men who are turned into mindless servants for set periods
Sexbots – human sex toys, male or female
Subbots – bots for bondage or spanking play
Fembots/Dolls/ Bimbos – male to female transformations,
they can also take the form of living dolls and über-femme bimbos.

Charms, Magic Potions, Mesmerism, Brain Washing & Mind Control
There are many imaginary ways to create a bot or drone – you can influence or mind wipe them through mesmerism; enchant them by administering magic potions or controlling charms; have their minds controlled by aliens or other powerful beings. Sexbots do experience their bodily sensations – pain and pleasure, they can even be given 'special' (pretend) aphrodisiacs. Like the Mansion's infamous 'Slut Serum' a liquid which once drunk will render transformed fembots into total cum drinking cock-whores 🙂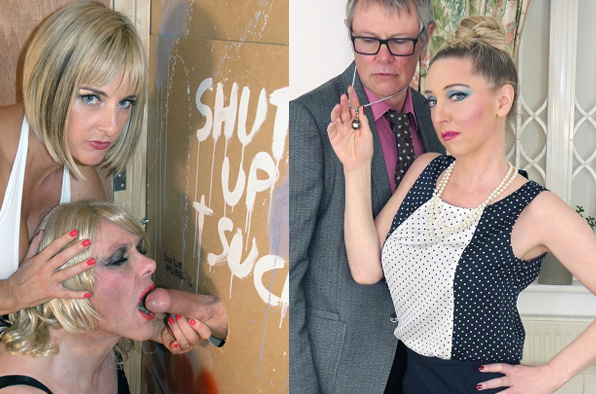 (Above Left) Lady Nina shows the effect of our 'Slut Serum' on this straight hubbie, we videoed this cock sucking and later once the effects had worn off (he had no memory of his actions) we made him watch the film on a big screen while we took turns fucking his arse. (From 'Eight Day's Later' with Lady Nina)
(Above Right) Every evening Eve's husband returns home from work for his shoulder massage, actually once in position she enchants him slipping this magic charm over his head – now he is her slave and will cook for her, clean the house and service her sexually before waking each morning with no memory of the night before. Actually he's impressed with how well his wife keeps the house! (From 'His Enchantment' coming soon)
Bots are not slaves there is a marked difference – slaves have to suppress their will, they must make decisions in trying please and serve, they may need breaking with pain and suffering to induce good behaviour. Slaves must be continually trained and corrected. While sexbots are akin to dolls they have no wishes, thoughts or feelings they are there to be dressed up and played with. A slave may be taught to kneel before you at the start of his service, while a bot will need to be instructed each time.