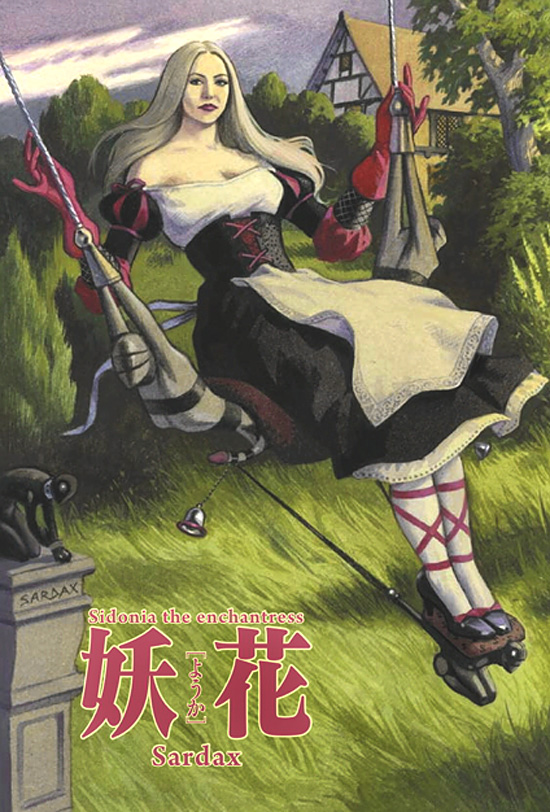 Sidonia the Enchantress
I've recently been honoured to be featured in a series of images by accomplished and renowned femdom artist Sardax, entitled 'Sidonia the Enchantress'.
My pseudonym was taken from the protagonist of one of the first femme fatale tales, the cruel Sidonia von Bork who enchants all the men around her with deadly consequences. (The 19thC book was based on the legendary life of a noblewoman from the 16thC.) Sardax has combined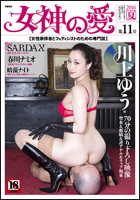 the story of my namesake with my real-life adventures at The English Mansion. So in these images I enchant and enslave all the men within this very English looking mansion, magically transforming them into useful bespoke furniture or ornate decorations. Well, as Sardax puts it, "she is an enchantress so she can have what she wants."
Goddess Love Magazine
This series of images were produced for the Japanese femdom magazine "Goddess Love"(女神の愛 ) issue 11, unfortunately this publication in only available in Japan but I urge my Japanese devotees to support this wonderful periodical, which is possibly one of the only femdom magazines left on the planet.
I think this is my favourite (though it's difficult to decide). I love my haughty look; the implied tease that the head of his penis has been transformed into a comfy seat, with the 'S' monogram of course, I'd have had fun branding those in 🙂 ; and naturally, I always wash in the tears of male slaves. I also adore the muted colours, the reds, greens and yellow of the light falling from the window and last but not least the man-to-toilet-brush, he must have done something very bad to be punished thus.
The 'Goddess Love' Series
Sardax has produced a number of fabulous femdom images series for 'Goddess Love Magazine' in which he always features well-known real-life dominas. And don't panic, no you can't buy the magazine outside of Japan but you can view these images on Sardax's website!

The Funfair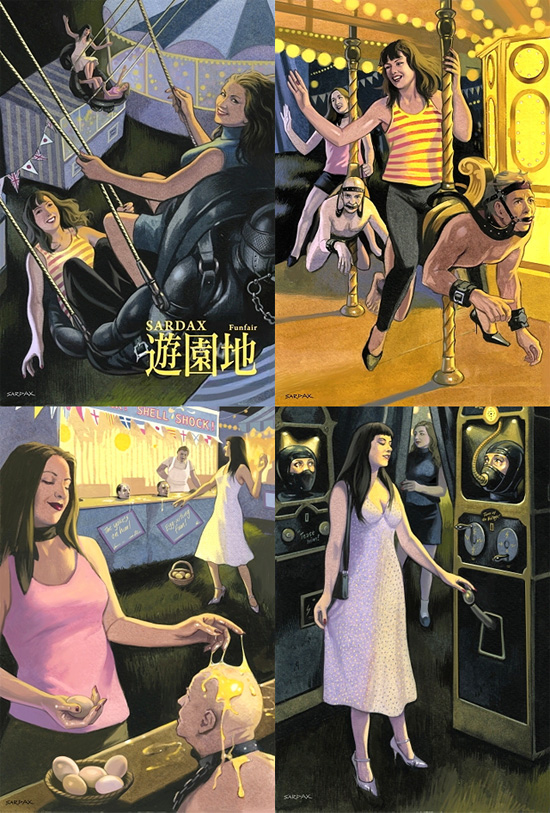 Highly recommended is both his Alice in Wonderland series, my favourite being the lobster ride 🙂; and just released his new Femdom Funfair set, one of the images features resident Mansion dominatrix Mistress Evilyne (so recognisable!). I love the two dommes waving excitedly in the background of the first image but the last of the set, the most evil one, is of course my favourite. So go here to see all these new images in their full glory and to find out about the Mistresses they feature.
The Art of Sardax
You can visit Sardax's excellent and regularly updated blog & news site here:
The Art of Sardax with info on his recent artwork;  commissions – the perfect gift for any divine woman; where to purchase his 'Venus in Furs' book and lots more.
All images © Sardax 2016