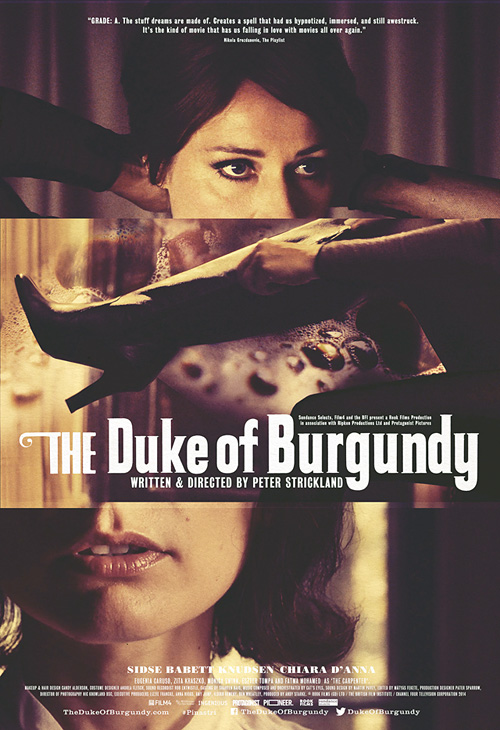 The Duke of Burgundy (2014) is an erotic film drama by British director Peter Strickland. I found it a beautiful piece of art – stylish, mesmorising and an intelligent contemplation on the inner life of a Sub/Dom relationship, tinged with a subtle wry humour. Don't watch this film for sex or nudity there isn't any! Fifty Shades of Grey this is not.
*SPOILERS* Arriving at a decadent manor house a young woman, Evelyn (Chiara D'Anna) is treated with cold disdain by the older Cynthia (Sidse Babett Knudsen) inside. She's ordered to do unpleasant or demeaning household tasks, when one has not been carried out correctly the young woman is taken into a bathroom. The door is closed to us but we hear her begging for forgiveness but as punishment the older woman pisses into her mouth.
Our initial consternation of the enfolding scene, however, is being misled. The scene cuts to the two women in bed together, the older one, Cynthia, asking "Was it Ok, not too cold?" They are a couple and Cynthia is earnestly trying to play out the sexual fantasies of her younger lover. Perhaps everyone's assumptions about BSDM are similarly misunderstood from an outside observers point of view.
The next day the same role play is enacted again, Evelyn polishes black leather riding boots and scrubs dirty panties in the sink, while Cynthia struts around in a silk blouse and tight pencil skirt, indifferently barking instructions. This time, however, we see the performance pressure on Cynthia. She has been given cards with lines to learn and struggles to remember them or keep to the exacting entrance cues and we see her struggling to put on a corset without help. Later we erotically watch Evelyn peeping on her through a keyhole but are shown the marking on the floor so she knows exactly where to parade.
While caring a trunk into their bedroom Cynthia pulls her back, she wants Evelyn to rub it but Evelyn is already enthralled with her new fantasy of being locked in the trunk overnight. Ironically , I suspect if she coldly ordered Evelyn to rub it she would have snapped to it. Evelyn is put into the trunk but Cynthia can't sleep for worry, waking in the night to ask the box, (in a dark comic moment) "Can you breathe?" Only to be hissed at through the chest, "Be nastier".
Evelyn is fixated with her sexual fantasies and when they are not played out exactly to her wishes she becomes spiteful and moody. She has become the ultimate exponent of topping from the bottom. Cynthia is merely a facilitator for her and no thought is given to her needs or desires. Evelyn maybe on her knees scrubbing but she's in charge, the writer and director of her own submission. We're back to Schroeder's 1976 film Maitress (see here) and the question of who's controlling who in Sub/Dom play? This film answers it succinctly. I suspect many prodoms might identify and enjoy this film. There is a wonderful and comical moment later in the film where Cynthia gets her revenge on her bratty spoilt Sub.
Cynthia it seems is uncomfortable demeaning the person she loves, finds the role-plays too demanding and is beginning to feel pushed into servicing Evelyn's selfish demands. She fails to perform in the bathroom, well it's difficult to pee to order, we've seen her gulping down copious amounts of water all day for the big moment "Try turning the tap on," snaps Evelyn. Finally, while reciting her lines about the unwashed knickers, she breaks down in tears and it's here we see Evelyn's genuine love for Cynthia – she says she'll put away her kinky desires as it's just a 'luxury' in their relationship.
The film creates its own fairy tale world, soft focus, dream like, with muted tones and a fetishistic eye, it carries a light homage to '70s soft-core porn. It's not clear where or when it's set and powerfully everyone is female, perhaps everything is female, except of  course the little joke of the film's title. The character's names are Evelyn & Cynthia – evil and sin, evil commands while sin acts but I don't think this is anything more than another little droll joke. This films works hard to circumvent any gender specifics or judgements, they're not even lesbians, we have moved beyond that, they are just a partnership.
Cynthia is a lepidopterologist, an expert on moths and butterflies, the enigmatic title of the film, The Duke of Burgundy, is the name of a butterfly, we see lots of dreamy interludes of them flapping around or pinned down in specimen cases perhaps symbolising the bondage the Sub desires. The symmetrical shape of the butterfly two identical halves, like that of a partnership that must beat together in unison. This film is actually a love story, their relationship conflicted as it is, is one of deep love not abuse, from both sides, both striving to please their other half.