Essential Whips: Everything you'll ever need for Cracking, Thwacking, Smacking & Whacking!
Essentia Whips is one man's love story with whips. Whips are Tony's passion and what he produces are truly beautiful bespoke items. He's been splicing for over 30 years and building whips for 20, making him one of the forerunners & pioneers of BDSM whip making in the UK. He's even produced a DVD tutorial on how to put together a nylon signal whip, (available from his website.) As an artisan and whip making expert, he is of course remarkably knowledgeable about using, designing, caring for and breaking in whips. Through his website, Essentia Whips, he offers a huge variety of highly crafted impact toys, including: floggers; multi & single-tail whips; and leather & wooden paddles.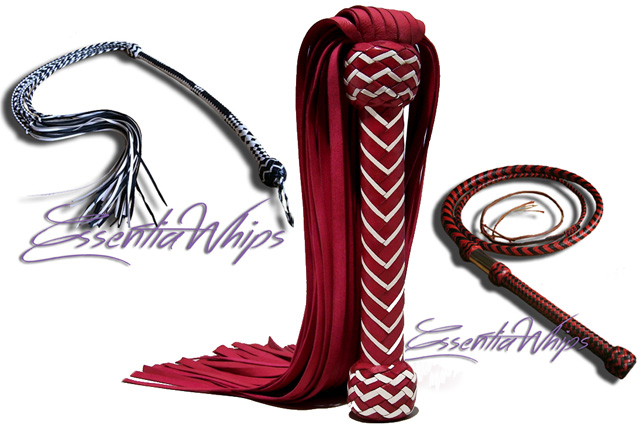 Whips are Unique, Personal Items
BDSM & erotic play whips are not mass-produced (we're excluding the cheap plastic imports), so you are going to have to buy bespoke from a craftsman. Therefore, being able to discuss your needs with an expert is a must. This is probably most applicable when purchasing single-tail whips like bullwhips, sjamboks, quirts or snake whips.
Yes, you can choose the colour and splicing pattern, but to the uninitiated  – basically those of us who just like hitting people with them, you'll probably need advice to help understand the different types of whips, weights, lengths & skins/hides. Whips may look simple but using them is an art; and finding the right one for your stature and needs is essential. Tony from Essentia is an authority on whips and whip construction plus we highly recommend his wares here at The Mansion.
Raw-hide Indeed!  🙂
Ok, so, buying a bespoke whip takes time and planning and they can be pricey, which doesn't suit all. So, Essential Whips does offer some excellent 'Off The Shelf' impact toys that you can buy right now! The perfect gift for any dominant woman and something you can regret afterwards if (when) you manage to displease her 🙂
So take a look at the website for more details: EssentiaWhips.co.uk
& EssentiaFloggers.co.uk  and also here: EssentiaWhipWorks.blogspot.co.uk