So who was the world's first Prodom – Professional Dominatrix? Who I shall define here as a woman who had perfected her art, had her own chamber with specialist equipment and a generous clientele. Well the word 'dominatrix' was not used in its modern sense until the 1960s where it was 1st coined in erotic pulp fiction and B-movies which brought about its more mainstream use. However, if we put that aside the first documented, established domme, then called a 'female flagellant' was the infamous Theresa Berkley… but before we meet her, let's first set the scene for how the role of today's dominatrix came into being.
Le Vice Anglais – The Flagellation Brothels of Victorian London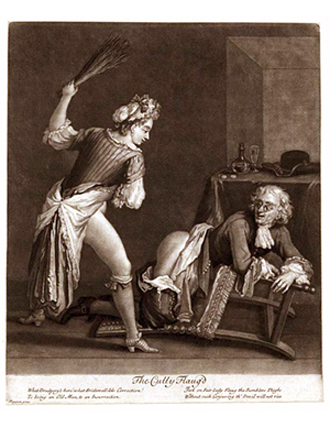 The Victorian era (1830 – 1901) was one of strict and rigid morals, refined sensibilities and repressed sexuality. It was also a period obsessed with erotic corporal punishment evident from the flagellant pornography, erotic literature and  documented accounts from the period. So it's no surprise that a flourishing network of prostitutes offering flagellation to their clients existed, (prostitution was, interestingly, legal). According to Prof. Van Yelyr in The Whip & The Rod (1941), it seems that female flagellants "supported 20 splendid establishments' in London and was known as 'the English vice' ".
The 'English' in The English Mansion, the name of this website, is actually a wordplay on this notorious expression and not, in fact, declaring that all our dommes are English, we welcome and showcase dominatrixes from all round the world 🙂
Having surveyed the number of whipping whorehouses in London, the Berlin psychiatrist Iwan Bloch (under the pseudonym Dr. Eugen Dühren) in 1909 concluded that, "England today is the classic land of sexual flagellation". (His studies on sexuality went on to influence Sigmund Freud.)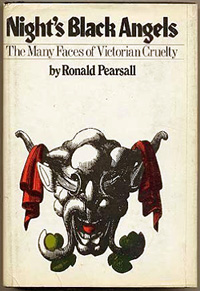 This interest in algolagnia (deriving sexual pleasure and stimulation from physical pain) appears to be the result, in part at least, of experiences of flogging at public school. Ronald Pearsall in Night's Black Angels – The Forms and Faces of Victorian Cruelty (1975) writes, "The outcome of the public school predilection for flogging, was that in later life … there were considerable numbers of young men anxious and often desperate to recapture the lost sensations, and for them the flagellation brothels thrived."
The highly respected 19th century British poet Algernon Charles Swinburne (1837 -1909) was well-known to be totally obsessed by corporal punishment as a result of his experience at Eton College, a public school (public schools were actually independent private institutions) and a number of his poems make reference to flagellation including this verse,
S W I S H I N G
swishing sounds just so
the birch's kissing
blessing bottoms
so they glow
brightly blushing
even bleeding
from the mighty bushy blows
It is known that in the late 1860s he was a regular visitor to a flagellant brothel, believed to be Verbena Lodge at 7 Circus Road in St John's Wood and whose proprietress was Mrs Doris Addams. So the stage seemed set in Victorian London for the begins of the fledgling world of the Prodom.
In his book, Index of Forbidden Books which was penned in the 1880s, Henry Spencer Ashbee describes how at the beginning of the 19th century,
"… very sumptuously fitted-up establishments, exclusively devoted to the administration of the birch, were not uncommon in London; and women of the town served, as it were, an apprenticeship in order to acquire the art of gracefully and effectively administering the rod. It would be easy to form a very lengthy list of these female flagellants, but I shall restrict myself to mention a few only. Mrs Collett was a noted whipper, and George IV is known to have visited her; she had an establishment in Tavistock Court, Covent Garden…"
So given the King, allegedly was visiting a female flagellant we can see how widespread and acceptable, well in a typically hypocritically, secretively way, it  had become to visit a female flagellant who were also called 'Governesses'.
Theresa Berkley – The First Lady Of ProDomination
The most famous of these female flagellants (and one of the earliest, she pre-dates the Victorian period) was Theresa Berkley, born circa 1750. She ran a high-class flagellation brothel, the 'White House' at 28 Charlotte Street (now Hallam Street) Marylebone, London from around 1787 until 1836. She was described as an expert with all implements of torture and her talents became highly sought after by the aristocracy of the day.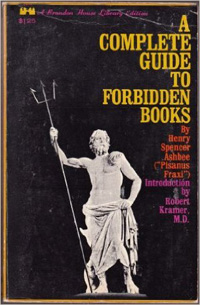 All the following quotes are further extracts from the 'Flagellation' entry in Ashbee's Index of Forbidden Books, which I think place Miss Berkley as most certainly, the First Lady of professional domination.

"Her instruments of torture were more numerous than those of any other governess. Her supply of birch was extensive, and kept in water, so that it was always green and pliant: she had shafts with a dozen whip thongs on each of them; a dozen different sizes of cat-o'-nine-tails, some with needle points worked into them; various kinds of thin bending canes; leather straps like coach traces; battledoors, made of thick sole-leather, with inch nails run through to docket, and currycomb tough hides rendered callous by many years flagellation. Holly brushes, furze brushes; a prickly evergreen, called butcher's bush; and during the summer, a glass and China vases, filled with a constant supply of green nettles, with which she often restored the dead to life."
"Thus, at her shop, whoever went with plenty of money, could be birched, whipped, fustigated, scourged, needle-pricked, half-hung, holly-brushed, furze-brushed, butcher-brushed, stinging-nettled, curry-combed, phlebotomized, and tortured till he had a belly full."
"Mrs Berkley has also in her second floor, a hook and pulley attached to the ceiling, by which she could draw a man up by his hands. This operation is also represented in her memoirs."
The Berkley Horse
In 1828 she began using a custom-built flagellation frame which she referred to as a 'chevalet' although it subsequently became known as The Berkley Horse.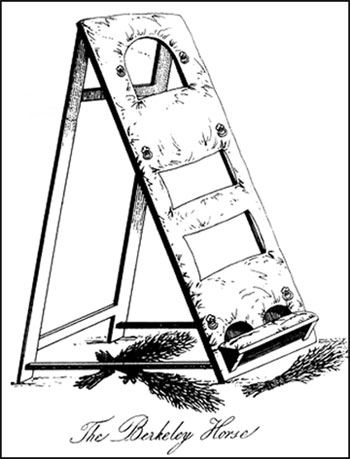 "A notorious machine was invented for Mrs Berkley to flog gentlemen upon, in the spring of 1828. It is capable of being opened to a considerable extent, so as to bring the body to any angle that might be desirable. There is a print in Mrs Berkley's memoirs, representing a man upon it quite naked. A woman is sitting in a chair exactly under it, with her bosom, belly, and bush exposed, she is manualizing his embolon, [wanking his hard cock] whilst Mrs Berkley is birching his posteriors.
In one surviving letter, a customer hearing about the Berkley Horse proffered Theresa Berkley this pricing for her services, "a pound sterling for the first blood drawn, two pounds sterling if the blood runs down to my heels, three pounds sterling if my heels are bathed in blood, four pounds sterling if the blood reaches the floor, and five pounds sterling if you succeed in making me lose consciousness."
After her death in 1836, her memoirs, which had long been announced for publication, were held back by the executor of her will, Dr. Vance. And, sadly like so much erotica and sexual material from the period was destroyed. It was rumoured to contained compromising letters from certain members of the establishment. The Society of Arts at the Adelphi (now the Royal Society of Arts) took possession of the Horse in 1837, with a public exhibition promoted by radical publisher George Cannon. An illustration of the apparatus is reproduced in the original 1880s edition of Index of Forbidden Books, however, it is unclear what happened to the device.
She left her considerable estate to her brother who had been a missionary in Australia for over 30 years. When he learned the source from which the money had been derived, however, he renounced all claim and eventually the whole estate, valued at £100,000 (about 11 million pounds in today's money) was handed over to the crown.