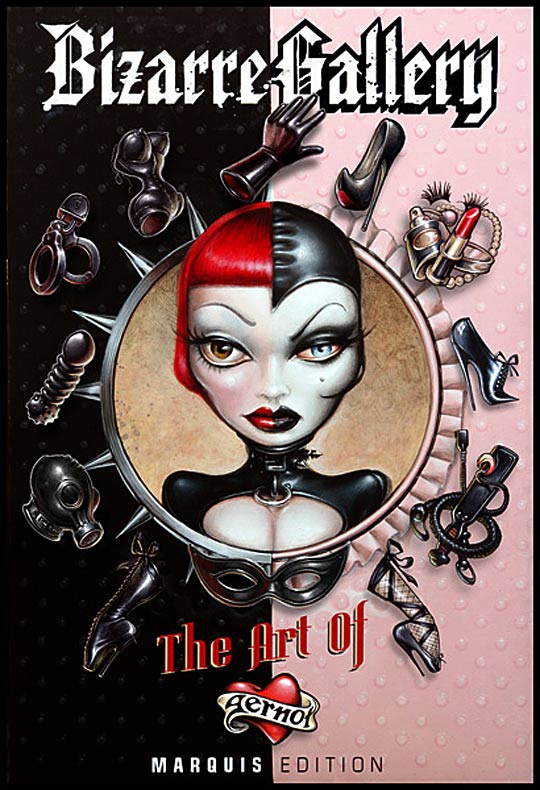 Introducing Gernot

The artist Gernot is a painter, designer and sculptor born in Rosenheim, Bavaria, Germany in 1969 though he now lives and works in nearby Munich. He cites his early influences as: superheroes; Emma Peel; the rock band Kiss; B-movie heroines like Louise Brooks and Vampira; the 1980s Dark Wave scene; and the surreal biomechanical art of HR Giger.
He began his art career exhibiting Heavy Metal and Industrial projects, such as 'Orgasm Death Gimmick' featuring frightening large-sized oil paintings of machines and creatures. Though soon turned his attentions onto the female body and fetishism. Drawn to fetish icons like Betty Page; the publications of the legendary John Willie The Adventures of Sweet Gwendoline & Bizarre Magazine and Club Caprice (a '80s/'90s European fetish magazine similar to Shiny & Atomage in the UK), he started experimenting with fetish art. Which leads us to the unique style he has now developed.
Voluptuous Rubberised Femininity
Gernot paints and draws bizarre usually female fetish characters. Twisted, darkly erotic and exaggeratedly cartoonesque, his fetishistic vision encompasses ultra femininity, restricted kinky outfits and heavy-rubber scenes – always brilliantly executed. He also sculpts fantastic objects and produces deviant graphic designs.
There's a strong femdom feel to his work with a reverence shown to the magnificently accoutred rubber-clad, rather depraved and scary looking powerful women who pervade (or parade through) his work. Alongside these alternative pin-ups of voluptuous latex-clad bodies are many deeply fetishistic images of boots and heels reminiscent of early '50s fetish comics. I really like his work especially some of the portrait drawings you can see on his website.
Fetish magazines like Jürgen Boedt's Secret & Twilight began printing his work. And he became a regular contributor to the world's leading fetish magazine Peter Czernich's Marquis where he also illustrated their bizarre-erotic stories. Today Gernot's work has appeared in galleries and shows across Europe; and I would firmly place him as part of the new generation of pop surrealists or the 'newbrow' of lowbrow.



The Art Of Gernot – A4 Book

A book of his art was published in 2011 Bizarre Gallery – The Art Of Gernot and was first released alongside an exhibition of his artworks 'Rubber, Frills and Thrills' in Amsterdam in cooperation with Sexy Art Gallery, Demask and Wasteland. This collectors A4 hardcover edition, edited by Peter Czernich, presents an extensive selection of images from the dark wonderland of his bizarre fetish imagination.
Available from his website here Bizarre Gallery Gernot Book
Own A Gernot
Currently Gernot works as a freelance illustrator – designing logos, flyers, tattoo flash, story illustrations and cover art as well as taking private commissions. His website also has a shop where you can purchase prints alongside some fabulous T-shirts, figurines and other fetish trinkets displaying his artwork. Here
Visit his website here: Bizarre Gallery