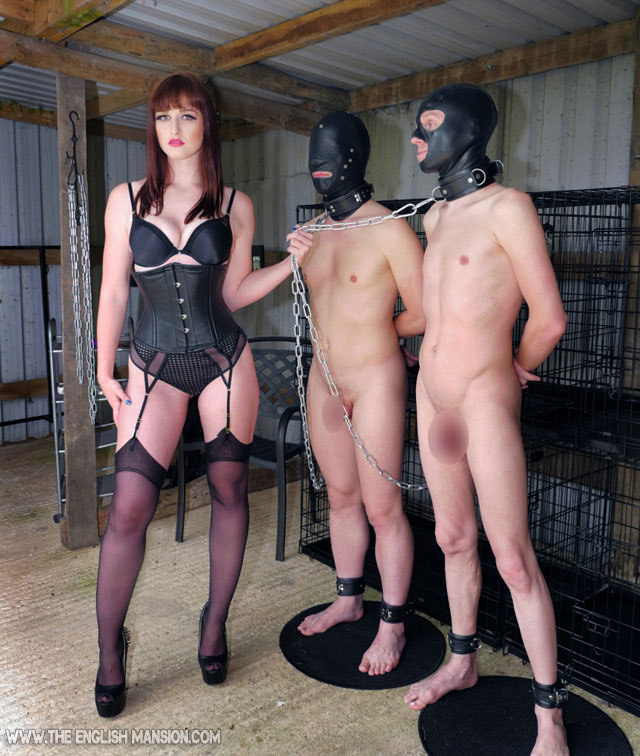 Life is hard being a house slave at The English Mansion always on call for all the resident and guest dommes never quite knowing how you will be used or abused…
Recently stunning and statuesque Miss Vivienne decided to reward her favourite slavegirl Suzie with a special treat letting her visit the male slave stable and pick out any slaves she might take a fancy to, I was thrilled when she picked me alongside one of the other male slaves.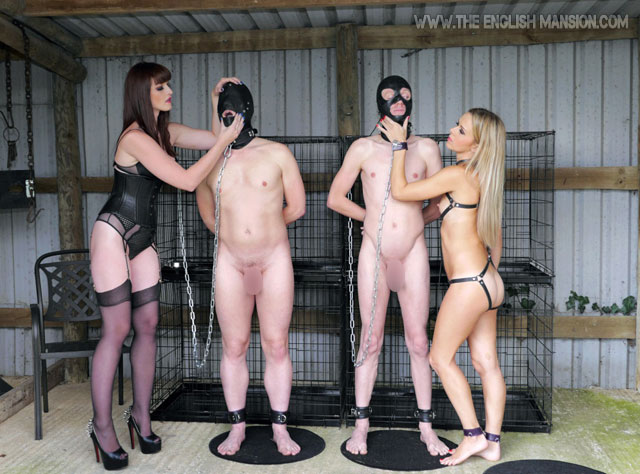 (At the Mansion there are slavegirls, also present for the Mistresses pleasure, but we are taught that all women are superior to men here and that slavegirls are considerably higher up the ladder from us lowly males. That's why the they are permitted to use or punish us and we must obey them without question.)
We were chained up in one of the outdoor milking sheds and under went the humiliating experience of being intimately examined and discussed by Miss Vivienne & Miss Suzie in their search for the fittest and keenest sex slave. Our mouths and bottoms scrutinized and importantly our cocks teased to be checked for size and willingness.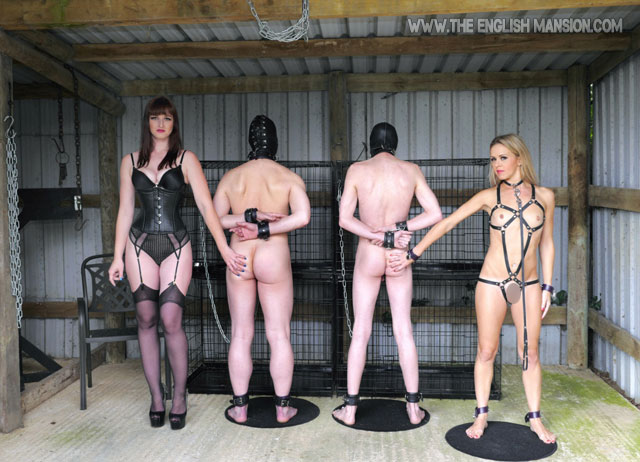 I was desperate to be chosen as I would have loved to have the honour and pleasure of being Suzie's sex slave plus as I had been in chastity for over 2 weeks I was horny as hell!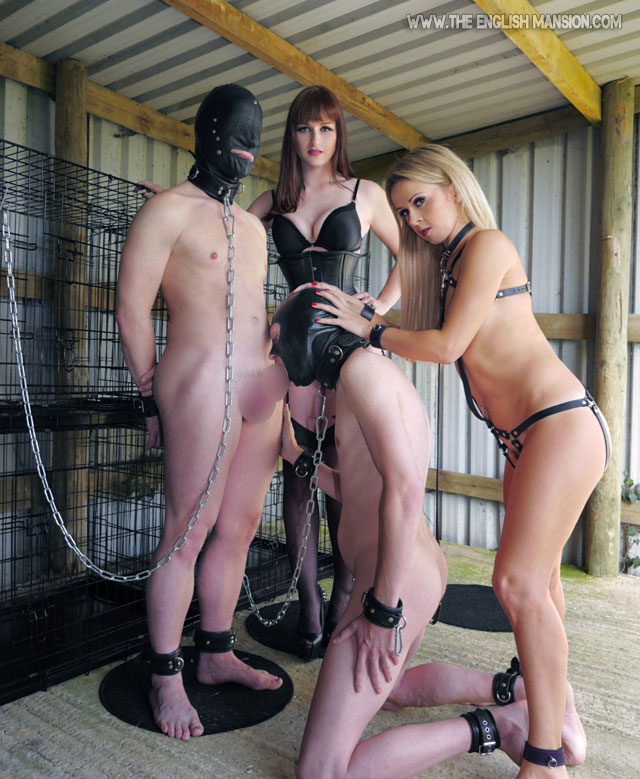 Sadly I was not chosen but Miss Vivienne wickedly looked me in the face, smiled and told me not to worry as she had another job for me – as a useful 'cuckold fluffer' to make the chosen slave's cock super hard, wet and ready to fuck Suzie. Red faced and humiliated I obediently got onto my knees but Suzie didn't think I was trying hard enough and holding my head pushed the hard cock right down my throat – all I could hear was the women laughing as I choked and spluttered.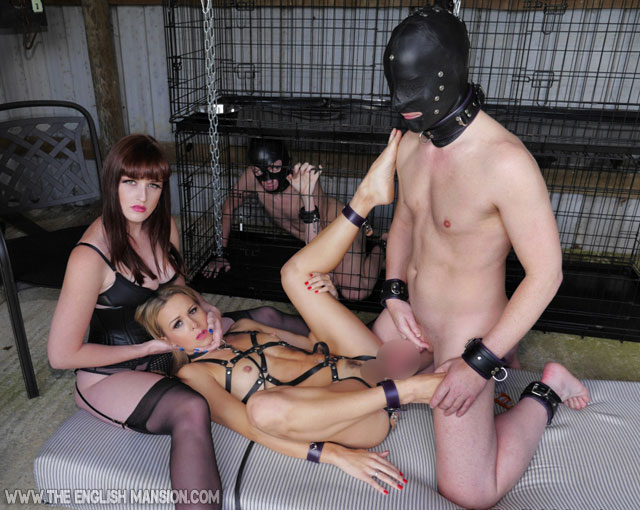 Miss Vivienne then set to work supervising the fucking, instructing her two slaves how to fuck for her in different positions making them put on a horny sex show for her. I was locked back in one of the holding cages so had the frustrating experience of being made to watch all the action close-up. Listening to Suzie's crys of plesure as she orgasmed on another cock.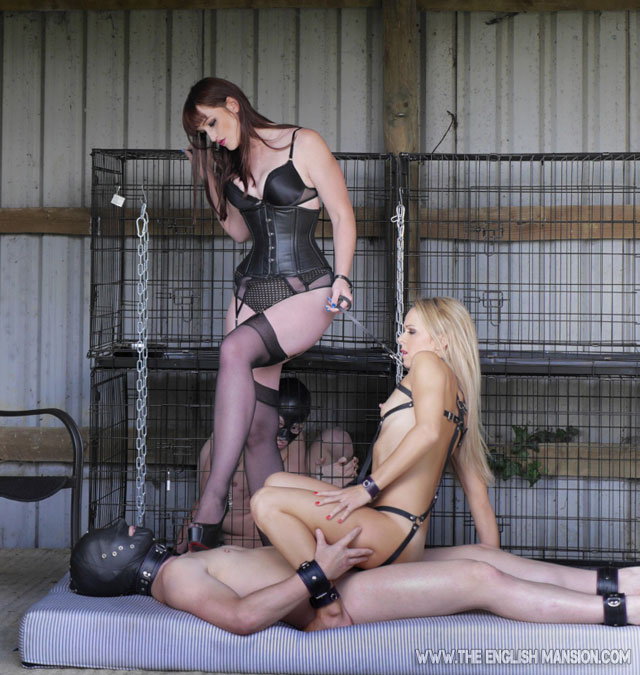 For the most part I was ignored however Miss Vivienne obviously enjoying my status as the cuck slave pushed her stiletto heel through the bars of the cage ordering me to get sucking telling me this was all the sexual action I would be getting today and that she'd remember to have me locked back in chastity later.
Well this is my life at the bottom of the pile…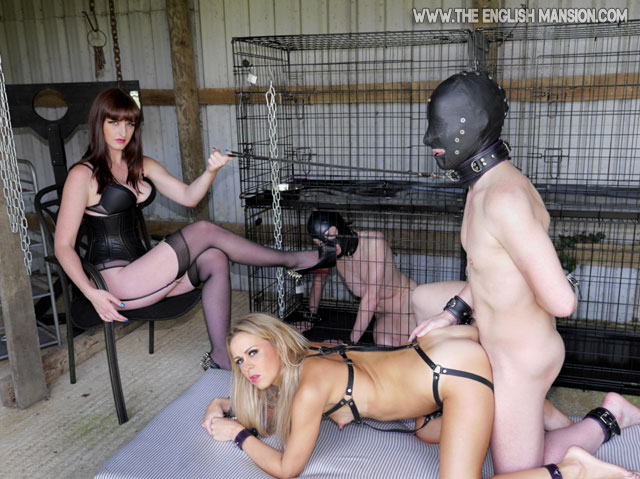 All of these images come from Choosing Her Pleasure Cock featuring Miss Vivienne l'Amore & Miss Suzie Best now showing inside The English Mansion.