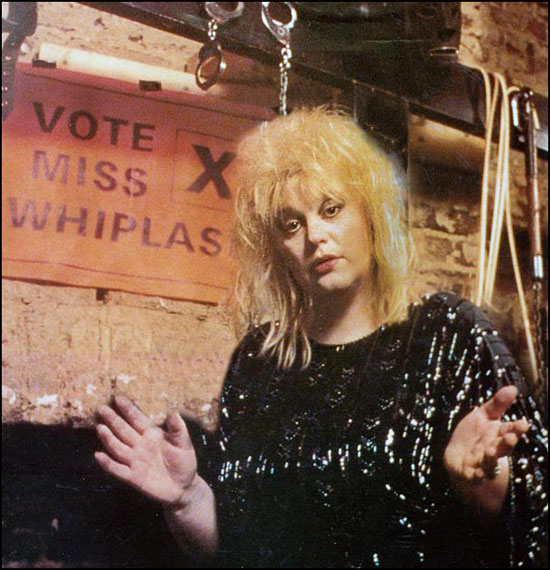 Lindi St.Clair, aka Miss Whiplash is probably one of the most famous British dominatrixes and madams of modern times. She ran for parliament, was involved in endless scandals & newspaper exposés, mysteriously disappeared and had an infamous and epic run in with the British taxman!
In a strange convergence or as N. American's might say 'happenstance' in the late '80s, I lived opposite Lindi St.Clair in Eardley Crescent in London. So I was fortunate to have met her once, she was a 'big character' even the porch area of the basement entrance to the house attested to this with eccentric printed messages covering the walls and door. Unlike most sex workers who generally try to be discreet, it wasn't a secret to anyone nearby that this was where she lived as she had taken the advertising space on a gigantic billboard on the corner of the road. (This road being a major arterial road into central London.) The board, with a huge photo of her cane in hand, was to promote her campaign to become a Member of Parliament on behalf of The Corrective Party, stating "Vote Corrective! Vote Miss Whiplash!"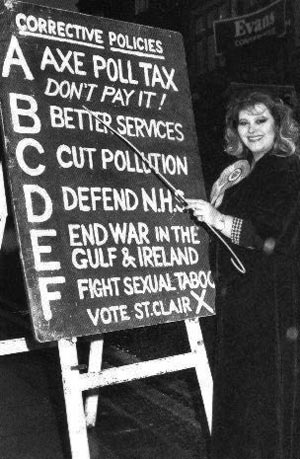 Lindi started work on the streets but was always 'clean' and sober amassing enough money to buy a property to work from. She soon became an extremely successful sex worker, prodom and madam, at one point owning a yellow Rolls Royce and yacht, with allegedly, clientele including politicians, actors and aristocrats.
She was one of the first extremely open sex workers, who unashamedly flaunted her profession to the public at large. She championed the decriminalisations of activities related to prostitution and wanted to address sexual taboos. Attempting to become elected to the House of Commons in eleven by-elections as Miss Whiplash for The Corrective Party. Officially a fringe party of the '90s that campaigned for civil liberties, animal rights and sexual freedom but actually a humourous vehicle to mock the duplicitous self-righteous political process, with an air of Carry on Westminster to it.
Lindi in person was quite a character affable, warm, always fun and upbeat but her outspoken manner and political antics turned her into a cause célèbre continually interviewed, denounced and exposed in the tabloid press. In 1991, party due to this raucous and Lindi's notoriety as a now 'infamous dominatrix,' it emerged that another domme (Sara Dale) was renting the then Chancellor of the Exchequer, Norman Lamont's basement flat in Notting Hill; and in a later controversy that he used taxpayers money when trying to 'handle' the fall out from the original expose.
It was all a little too much for the establishment and in what would always be a cinch they went after her for back taxes, claiming prostitution was a trade. Prostitution in the UK is not illegal but it is for anyone to live off the earnings of a sex worker (immoral earnings). Miss St.Clair rather creatively argued that she couldn't pay the taxes because this would make the state and Inland Revenue "Her Majesty's pimps" and would be illegal.
And, if she was going to pay tax she wanted to set up proper businesses but was then prevented by the Attorney General of registering her companies: Prostitutes Ltd, Hookers Ltd & Lindi St. Clair (Personal Services) Ltd.  Yes it made me chuckle but there was a method to her madness – she was trying to address the serious hypocrisy behind the issue, (she alleged over 250 MPs had been her clients) men paid for her services, she was expected to pay tax but could not set up a proper business. How could it be a trade if you cannot advertise, go into partnership, form a limited company, employ people, rent premises, sue for debts, get insurance, invest long-term etc., like other trades. Points all made by her in the ensuing epic court action bought by the Inland Revenue.
I admired her taking on the establishment poking a big hole in their sanctimonious stance, they used her services, wanted her to pay tax but wouldn't legitimise her! OK she was doing it with one finger in the air but always with good grace and a smile.
She of course lost and then spectacularly at the height of her celebrity went missing from Beachy Head (a sheer drop cliff by the sea) in 1993, the tabloids speculating that she had committed suicide or even been murdered. She turned up sunning herself on a cruise liner but her fame had turned to notoriety and the show was finally over.
She came back to face the music and was bankrupted, she retired and slipped away from the public eye, these days she lives a quiet life in the English countryside.
Postscript: To Be or Not to Be a Tax paying Sex worker
The reference to Hamlet was quite intentional as initially I had considered writing this whole article making an analogy between the Prince of Denmark and Miss Whiplash, as it's strangely fitting. She ran around the corridors of the establishment acting totally bonkers while drawing attention to the hypocrisy and corruption within and inadvertently initiating the fall of one of the 'Kingdom's chief counsellors'. There is indeed something rotten in the state. Finally, after contemplating suicide and being sent away on a sea voyage she returns for her inevitable demise.