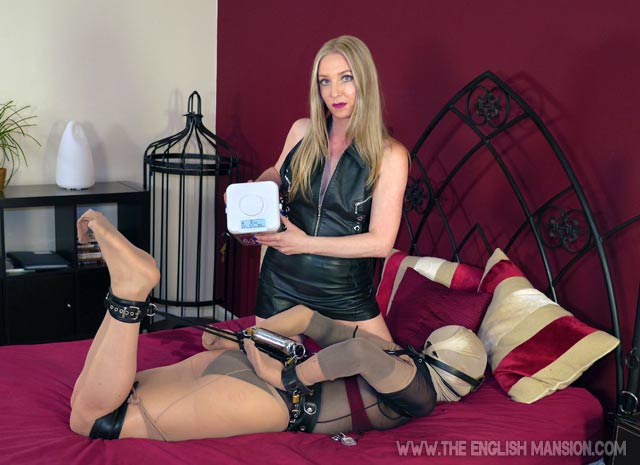 I've been indulging my love of bondage with some inventive new toys… so, my slave was locked in chastity and then bound with my used stockings and pantyhose. Next heavy-duty locking leather manacles hogtied my slave to an ice lock – a cunning device that is filled with water and then frozen to allow an eventual self release from the bondage. While the chastity key was also locked away in a time release safe. I then left my slave at the mercy of the slowly melting ice lock which I monitored with my 'slavecam' also capturing the almost 2hrs of 'bondage squirming' with its time-lapse camera. (You can watch all this in the footage, in Ice Lock Time Lock now showing.)

The Ice Lock
The Ice lock was developed for self bondage or time release scenes. It's basically a lock with 2 fixed attachment rings, that releases itself after a set period of time. You fill the stainless steel cylinder with water, put the removable center stick in place and leave in the freezer for 24 hours. The stick and its attachment points will now be locked firmly in place until the ice melts. This allows you a locked anchor point for whatever bondage set up you're planning.
The larger the cylinder the longer the time it will take to melt plus other factors like ambient room temperature and how much you struggle 🙂 For the large lock this could be between 2-3 hours and for the small one 1-2 hours. It's always a good idea to test and time it before its first use.
Time Release Food Safe

The lovely Jessica Dee turned me on to this fabulous timed release bondage idea  – dieters can now buy little time locking food canisters. Once the timer is set and the button is pressed, the safe will remain locked until the timer reaches zero. There's no override! Perfect for chastity scenes – lock your slave's manhood away then place the key in the safe for the desired period, then give it to them to take away. It's the perfect tease leaving them both subjugated and frustrated watching the countdown on its digital clock.