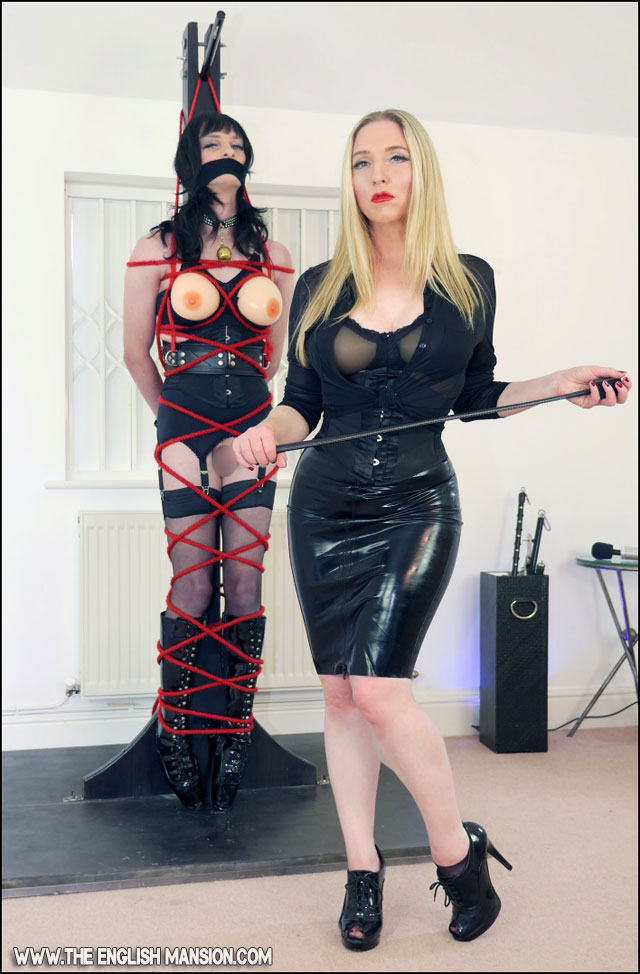 X
I adore the art and world of John Willie one of the pioneers of the modern fetish scene and so have used his infamous comic strip "The Adventures of Sweet Gwendoline" as inspiration for a series of bondage predicaments which we photographed and filmed in 'Bondage Bound'.
Bondage Bound

The super cute Miss Jade Jones agreed to be my personal bondage toy left struggling and gagged throughout. Her straining cock tightly locked away in chastity and her legs held wide apart with spreaders. She was made to hobble around aided by my crop, turned into a human drinks stand and impaled on a giant butt-plug which she then had to sit on while I locked her into extreme 9 inch ballet boots. I love ballet boots a Willie staple 🙂 they are the perfect bondage tool as once in them you can't walk so must crawl everywhere. Finally, I rope tied Jade to a post in the ballet boots, then unlocked and edged her now much engorged man clit… now was I kind or cruel?
John Willie & Bizarre Magazine

Brit John Coutts (1902-1962) better known by the pseudonym John Willie, was the artist, photographer, editor and publisher of the seminal fetish magazine Bizarre (1946-1959). Well known for its fetish 'fashions' and bondage comic strips. Willie was able to avoid controversy, given the post-war era's strict censorship, through careful attention to the guidelines and the use of humor.
It may have been the adherence to these regulations but Bizarre Magazine has a real charm, it doesn't come across as titillation but has a fun, genuine enthusiasm for its subject matter, probably why it has always had such an appeal to women. In fact, the magazine appeals to and has an acceptance of all genders and sexualities making it way ahead of its time. It also played a pivotal role in the development of later fetish-themed publications; and experienced a resurgence in the 1980s hugely influencing the then underground fledgling fetish scene.
In John Willie's words, "Bizarre. The magazine for pleasant optimists who frown on convention. The magazine of fashions and fantasies fantastic! Innumerable journals deal with ideas for the majority. Must all sheeplike follow in their wake? Bizarre is for those who have the courage of their own convictions."

So here you can enjoy a few of the photos from
Bondage Bound – A Homage to John Willie
now showing inside The English Mansion