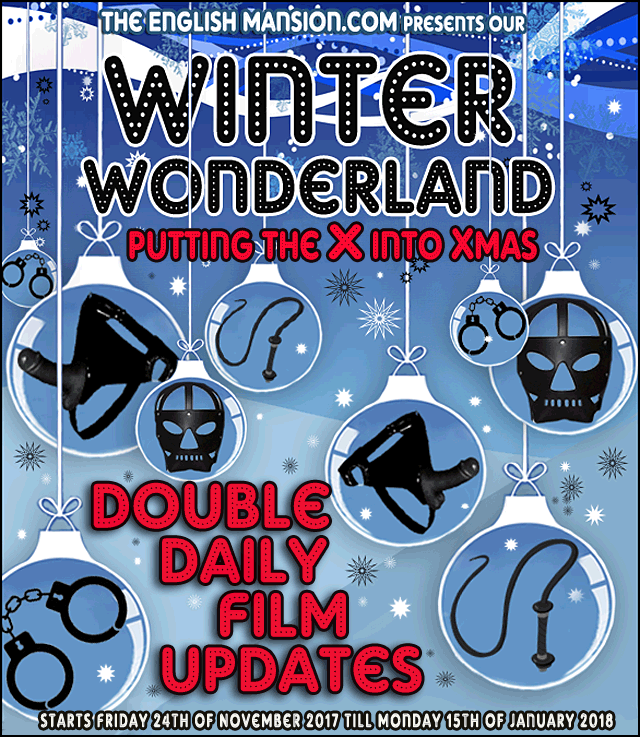 Winter Wonderland – Double Daily Film Updates
We're going to be putting the 'X' into Xmas here at the Mansion inside our Winter Wonderland of Daily Double Film Updates.
And it STARTS TODAY!

So from Friday 24th of Nov till Monday 15th of Jan 2018 we'll be updating Two New & Exclusive Femdom/Fetish films Every Day!

Over 50 days, totaling over 12 hrs of New footage for our members.
And as a little tease, here's a little peek at just some of the fabulous dominas & new films coming up…

Xmas 2017 Teaser Gallery

Double Fuck Sex Drone

with Miss Zara du Rose

Bitches Mounted Regiment

with Mistress Sidonia

Foot Doll Box Bound

with Mistress Courtney

Toying With My Foot Slave

with Miss Annalisa

Dominant Dolly Domination

with Dominant Dolly

Relentless Ruined Edging

with Mistress Lola Ruin

Sadism by Moonlight

with Mistress Evilyne

Relentless Rectal Raming

with Miss Annalisa & Mistress AnLi

Probed By Nurse

with Mistress Inka

Double Fuck Sex Drone

Miss Zara du Rose & Mistress Sidonia

Trans Checkup

with Governess Elizabeth

WLR - Wife Led Relationship

with Ms Eve Harper

A Day in the Life of a House Sissy

with Lady Nina Birch

Tormented In The Chair

with Goddess Serena

Trained For Strapon Cock

with Miss Annalisa

Courtney's Slave Toy

with Mistress Courtney
with the gorgeous: Miss Zara du Rose, Mistress Sidonia, Mistress Courtney, Miss Annalisa, Dominant Dolly, Mistress Lola Ruin, Mistress Inka, Mistress AnLi, Lady Nina Birch,
Mistress Evilyne, Governess Elizabeth & Goddess Serena
See here for all their details