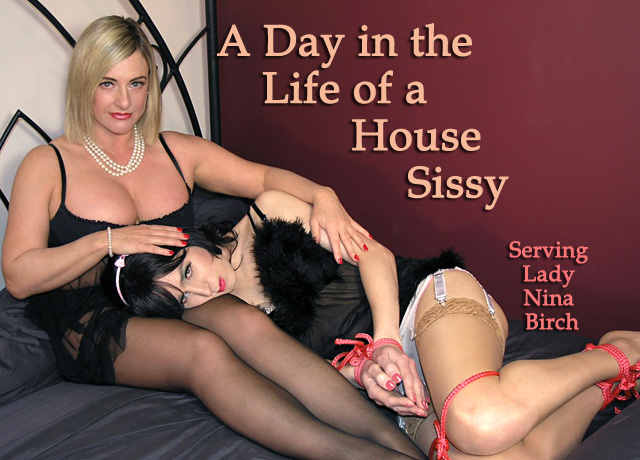 An Account of a Day as the sissy maid of Lady Nina Birch
8.00 am
I awake in my sheer nightie edged with faux fur. Each night I am bound in ropes and sleep at the end of my Mistress's bed. It is a sweet torment being so close to my wonderful owner and I have learnt to get a little sleep, despite the biting ropes.She frees me and I go to wash and then to prepare her breakfast.
9.00 am
I serve Lady Nina Breakfast in bed, her favourite salmon and scrambled eggs, she is very exact at how I cook them, it has taken a long time and many punishments to learn the correct way. She enjoys a refreshing Buck's Fizz made with the best Champagne, it makes me very happy to see the enjoyment of my labours. I then start to prepare her clothes which I will dress her in, following the commands and outfits she has chosen for the day. This morning she discovers I have been very lax and did not iron her dress correctly yesterday, there was a deep crease that evaded my checking, I await my fate.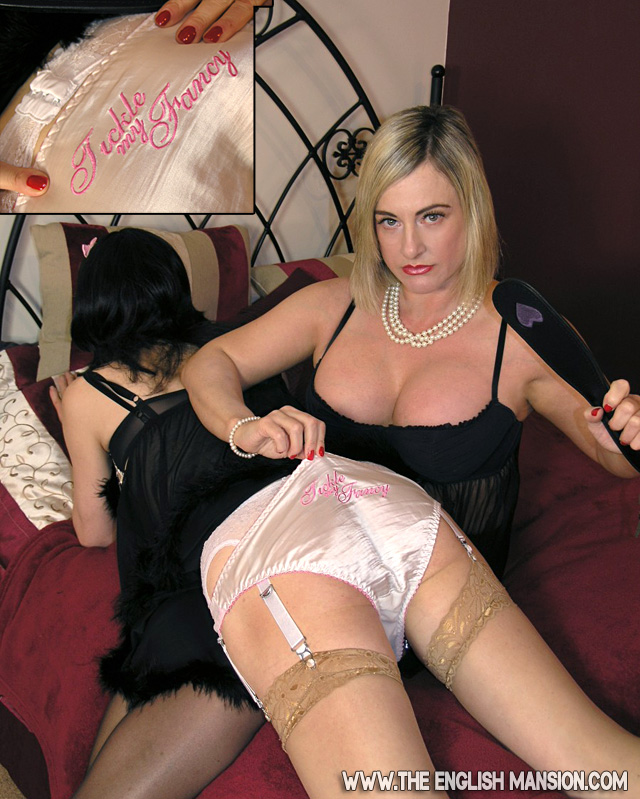 10.00 am
Bad start to the day, Lady Nina decides to punish me for not ironing her dress correctly and then gives me an impromptu inspection of my clothes, I knew I should have worn my regulation plain panties but I couldn't resist the cute satin ones, they feel so nice and smooth! I am given a long OTK spanking and a slippering, my cheeks are now glowing deep red and throbbing, reminding me to always try harder and to not disappoint my Superior.
11.00 am
I spent the rest of the morning tidying up and cleaning the kitchen, making sure I cleaned all the hidden out of sight areas because Lady Nina is an expert at checking my work and I don't want to displease her and make her have to punish me with the cane, not after last weeks thrashing, the marks are just starting to fade. I must prove to her that I listen and appreciate the training regime she has me following.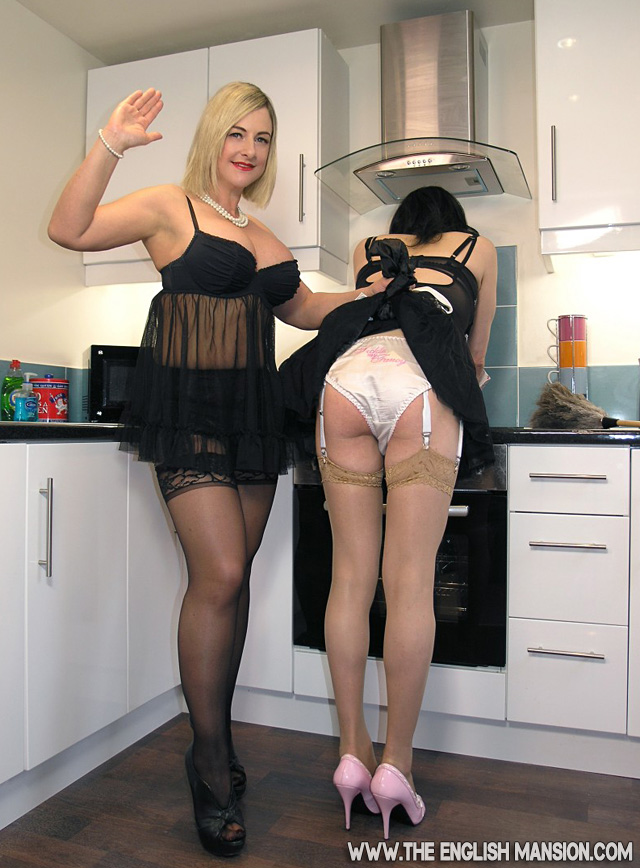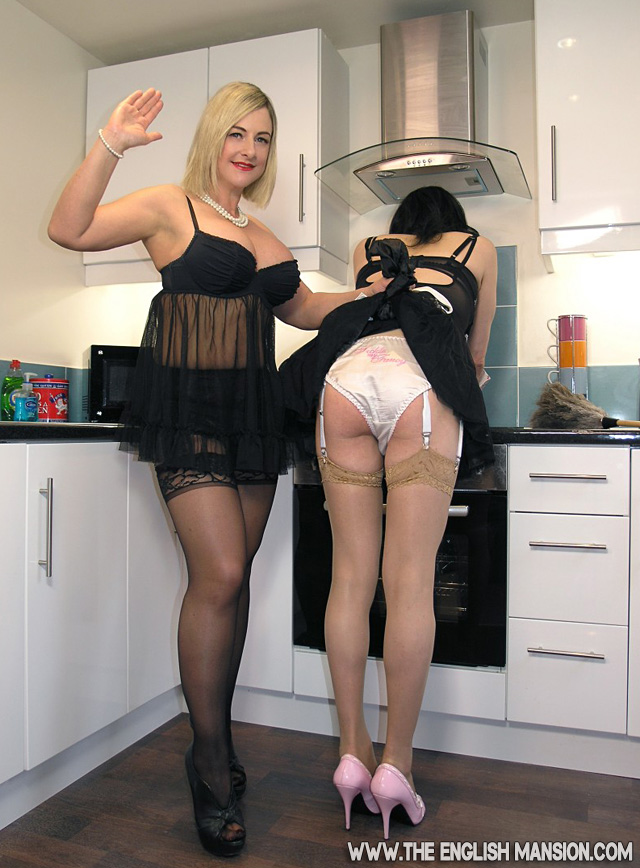 12 noon
Lady Nina inspects my work, she still make me shiver with fear and excitement, her beauty overwhelms me as I await the verdict on my mornings chores, she gives me a 7 out of 10, managing to find some places I missed and the lack of quality of the cleaning. I am devastated to let her down again and she soon disciplines me, tying my hands up to a kitchen cupboard, lifting my petticoat and maids uniform and placing biting pegs on my balls before slapping them, making me moan for forgiveness. Lady Nina then asks me how many hard crops to the bum I should get, I want to impress her and say 20, she gives me 100, making me wail in discomfort, I am such a slow learner sometimes. Lady Nina then put pegs all over my dicklet and tell me to get on with preparing her lunch which I then serve her all the while in discomfort.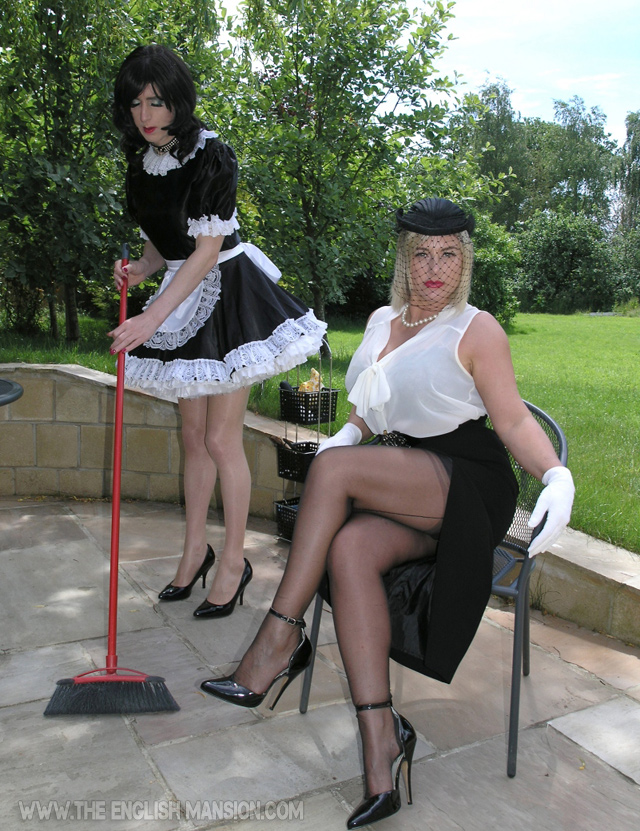 2.00pm
Lady Nina is always trying to improve my feminine ways and demeanour and today after lunch I was given a super big fun surprise! My Mistress told me she had something exciting in store for me and I was placed in the bondage chair and blindfolded. My mind was racing in overload at what it may be, when I heard the boudoir door open and could smell the sweet perfume of another lady who was to told to come and caress me, my little dicklet was straining at this added female attention, I felt so lucky. My blindfolded was removed and I recognised Dominant Dolly, I was a big fan of her, especially her thick cock that she used to dominate special girls like me.
I was all coy and shy and could not think of a word to say as my mind went blank, the two Dommes laughing and humiliating me in my predicament. Lady Nina then explained that my mouth was going to be used and fucked hard, for my first ever taste of dick and how lucky I was going to be, as it is DD's that will take my oral virginity. I didn't have much time to consider as Lady Nina soon pulled the hard cock out of DD's bulging panties and guided it towards me, telling me to lick the head, tasting my first precum, it was so delicious that I could not wait for more of it to be fed into my slutty mouth. I was soon bobbing up and down, loving the warm feeling, it felt so natural to be dominated this way as I followed every instruction and tried my best. Dominant Dolly gave me a rating when my training had finished, I was a little embarrassed to only get 4 out of 10 and she promised to give me instruction and extra tuition to help improve on that, I can hardly wait.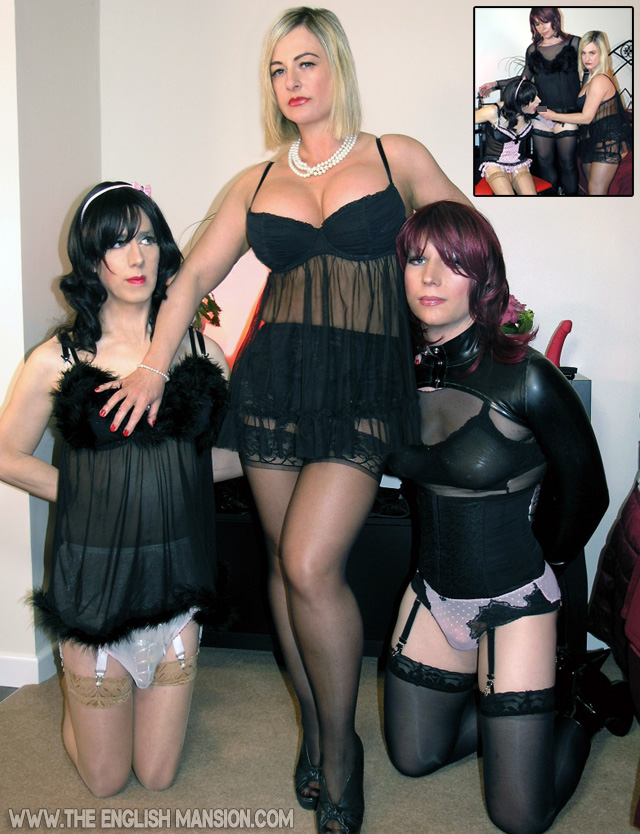 5.00pm
I get the exciting news that Lady Nina has invited some of her friends for an evenings soirée and I am expected to serve the Mistresses and to be on my finest behaviour and not be an embarrassment! I am allowed 1 hour to make myself presentable and waste no time, shaving my body, reapplying my makeup and making sure my best Maid Uniform is pressed and presentable. After checking myself in the mirror, I practice my curtseys over and over until they look almost dainty.
6.00pm
So excited, I go to the kitchen and start to bake the scones, prepare the jams and clotted creams and arrange the best table for all the required sittings. I make sure there is enough Champagne chilling and quiver at the anticipation of meeting such wonderful, powerful ladies who are all arriving at around 7pm.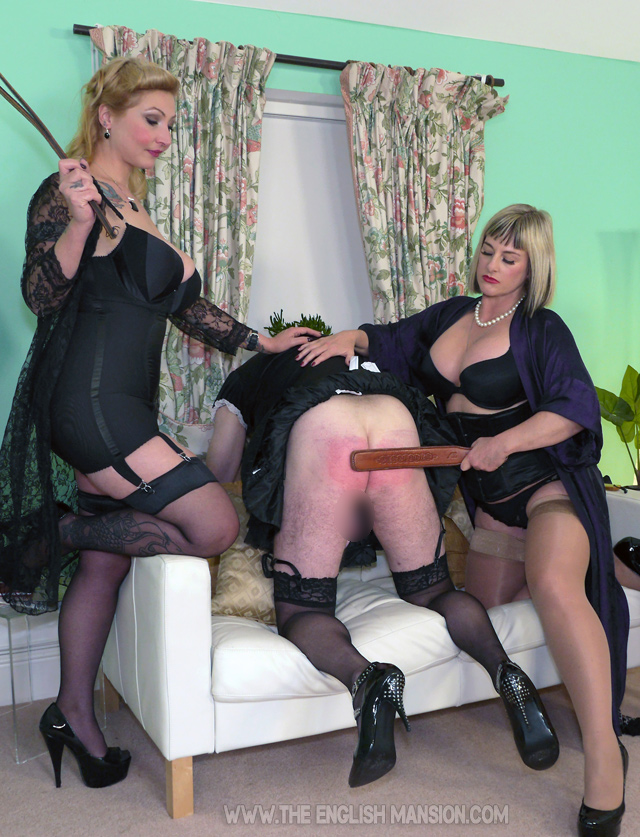 10.00pm
Wow, what a day, I am, in a bit of a state at the moment, my makeup and best outfit is ruined, I should have known the ladies would use me as a urinal as I kept the drinks flowing, they kept my mouth busy, eventually just peeing on me whenever they wanted. It was amazing being under them and feeling their special warmth as it flowed over me. In between serving, I received multiple punishments, anything from spanking, cropping, caning, having my mouth and face covered in spit, chastity covered cock slapped and humiliated. So wonderful, seeing how proud Lady Nina was as I did my best, making sure the comfort of the ladies were always my most important priority. My Mistress said I had tried very hard today and she was pleased, this caused me to blush and feel so happy, the cheeks on my face almost reaching the colour of my bum cheeks.
11.00pm
After tidying myself up and having a shower, I put on the nightie that Lady Nina had chosen for me, a baby pink with lace frills. I knocked on her boudoir door and after waiting patiently for ten minutes was beckoned in to give my beautiful Owner her pre bed foot massage and to hear her view of how my day's training had been. I really enjoy oiling and slowly but firmly rubbing her wonderful, delicate feet, I have become a skilled practitioner of the art and the sensual feeling and pleasure I give make me very happy. I am told that I have done fairly well today, with a couple of compliments about my behaviour along with some areas for me to improve, which have been noted in my punishment book, to be dealt with in the morning. I am told that I will have to sleep on the floor with a chain around my neck and a rough blanket to keep me warm as I have not quite earned the privilege of sleeping on the bottom of the bed tonight, I am just grateful to be in the same room as my perfect Owner – the divine Lady Nina Birch.
by sissy slave B
Some of the photos from this story are taken from the film A Day in the Life of  House Sissy Pts 1,2 & 3 featuring Lady Nina Birch, now showing

Lady Nina Birch
Lady Nina Birch is the UK's foremost feminatrix with many years of experience and understanding (and an extensive wardrobe) on crossdressing and full-feminisation. She also specialises in domestic discipline as both a dom wife & cock controlling cougar.
You can find our more about Lady Nina Birch here on her personal website


or see here for more info