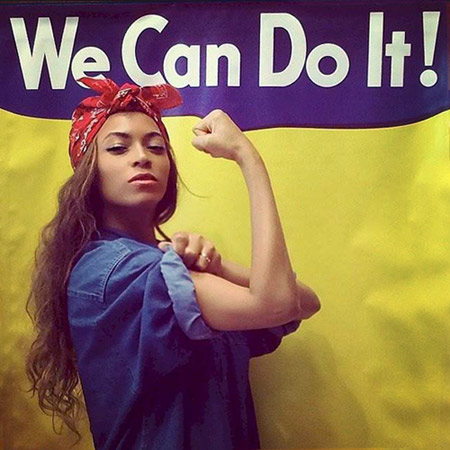 Welcome to The English Mansion's Female Power Top Ten
Our musical Top Tens dedicated to all things kinky

Women around the world are taking back their power and un-limiting themselves from old, contrived stereotypes. This is a powerful top ten watching these tracks you're aware of the might of these women, they're angry and they're fighting back – so be careful here comes a new generation of women and anything's possible! With a strong showing from women of colour.
Right, here comes the post-feminist might… British M.I.A. is an uncompromising crusader for the voiceless & oppressed; and her song and the 2010 video for Bad Girls directly addressed Saudi Arabia's then ban on women driving and may have even played a part in its demise. (If you haven't seen this video -check it out!)
Fifth Harmony's 2015 Bo$$ was taken up by young women as a post-feminist anthem, encouraging independence and citing successful women such as Oprah Winfrey and Michelle Obama. While back in the '90s Shania Twain's video for Man! I Feel Like A Woman parodied the sexist treatment of women in Robert Palmer's Addicted To Love video see here  with its use of 'dumb' emotionless female models, objectified and used as nothing more than titillating background props.
Respect – Female Power Top Ten
1   Independent Woman

Destiny's Child (2001)
Play Video
2   Bad Girls

M.I.A. (2010)
Play Video
3  Sisters Are Doin'
It For Themselves

Eurythmics & Aretha Franklin (1985)

Play Video
4   Think
in joint place with
Respect

Aretha Franklin (1968 & 1967)
Play Video
Play Video
5   None Of Your Business

Salt-N-Pepa (1993)
Play Video
6   You Don't Own Me

Lesley Gore (1963)
&
Grace ft. G-Eazy (2015)
Play Video
Play Video
7   Can't Hold Us Down

Christina Aguilera ft.Lil' Kim (2002)
Play Video
8   Just A Girl


No Doubt (1995)

Play Video
9   BO$$
in joint place with
Woman
Fifth Harmony (2015)
&
Kesha (2017)
Play Video
Play Video
10   Man! I Feel Like A Woman

Shania Twain (1997)
Play Video
Other contenders that didn't make it into our Top Ten:
This was a difficult Top Ten as there were so many great tracks and all of the tracks below could have been included.

Run the World (Girls) by Beyoncé (2011) Play Video
Hard Out Here by Lily Allen (2014) Play Video
Stronger by Britney Spears (2000) Play Video
Cinderella by Play (2001) Play Video
***Flawless by Beyoncé ft. Chimamanda Ngozi Adichie (2013) Play Video
The English Mansion's Kinky Top Tens
Take a look at our other musical Top Tens dedicated to all things kinky ~ to be included the rules are: they must be big hits or tracks from internationally well-known performers.
Femdom
Crossdressing
Sub/Dom
Music to Whip Guys By
Perverted
More Music to Whip Guys By
Sexy
Femdom Videos
Subversive
Female Power