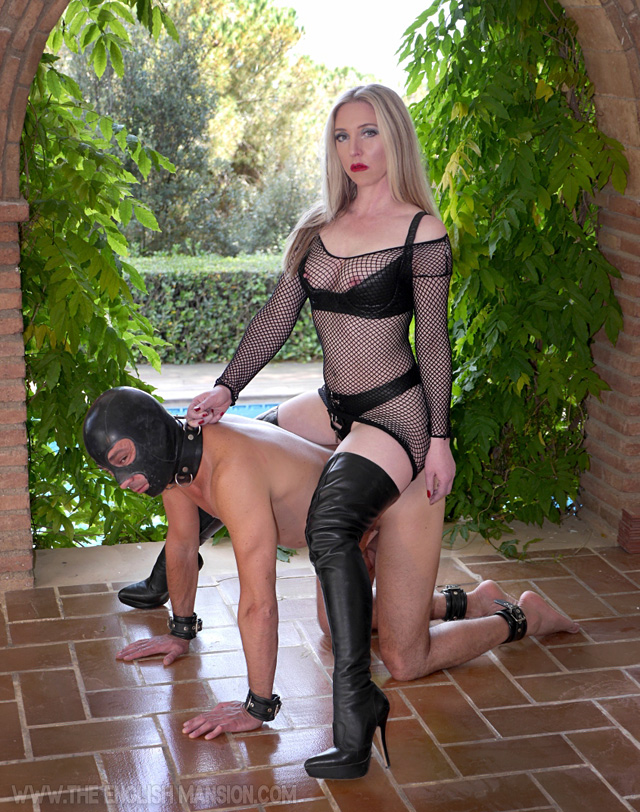 Experiments in Fetish Macramé
Kinbaku bondage specialist I am not but I do adore rope and its unique qualities and have been experimenting using it to create elaborate harnesses for my slaves. In a recent scene, I bound my slave's head with an intricate rope 'net hood' which included a rope ball gag. Then I created a body harness which also acted as a partial hogtie, a particularly evil one adapted so my slave's ankles were tied to his balls. This kept his arse nicely up in the air for me, cheeks spread and prevented him from being able to move.
Roped & Poked
So there was a point to this convoluted bondage, as now my slave is in the perfect position for me to enjoy pegging him hard for a long time using my massive pink strapon. I savoured fingering and warming up his gaping hole then sensually rode him, every thrust pulling on his balls and rubbing his bound cock. Once I'd finished enjoying myself I tied my slave's ankles together but leaving them trust to his balls – a predicament hogtie where if he tried to move he'd yank on his 'little boys' – ouch!
Click on any gallery image to start slideshow

Merciless Inverted Bondage
I've also been experimenting with rope inversions. First I inverted my slave using leather suspension boots in my bondage frame, then I wove an elaborate rope web around him to make sure he couldn't move at all but also to help relieve the pressure from his ankles by suspending and lifting him from many different points on his body. Inverted suspension puts the slave at the perfect hight to worship my boots while I in turn am perfectly placed to 'deal' with his vulnerable manhood. Next for some ingenious and evil predicament bondage as I allow allow gravity to do its work after placing a strong electric probe into his arse "Mwahahaha" 🙂
And, you can watch all the action as it unfolded in Roped & Poked & Inverted Rope Bondage now showing inside our members area.