Looking for a Dominatrix? Visit our Worldwide Listings – here at The English Mansion we have a regularly updated, photo directory, simply organised by continent/country on one page. We only list the best – established & dedicated dominas, equipped in the field they specialise within. We focus on quality not quantity. We aim to make our listings simple and quick to use. And, our 'Dom List' has been up since 2004, so it's well-established at over 13 years old!

Currently TEM has a global website ranking in the 160,000's (UK & Europe 36,000 & USA 98,000) so our Dom List page receives a HUGE amount of worldwide targeted femdom traffic.
This is typical feedback & praise we receive for our list,
"Your domina listings page is the only one I use, no broken links and so quick and easy. You only list real dominas who are active. Most other lists are so complicated and full of wannabees or Mistresses who aren't even available."
So take a look at The English Mansion's Elite Dominas Listings DOM LIST here or to find the page just click on 'Dom List' on the top navigation bar at TheEnglishMansion.com.
Elite Dominas Worldwide Listings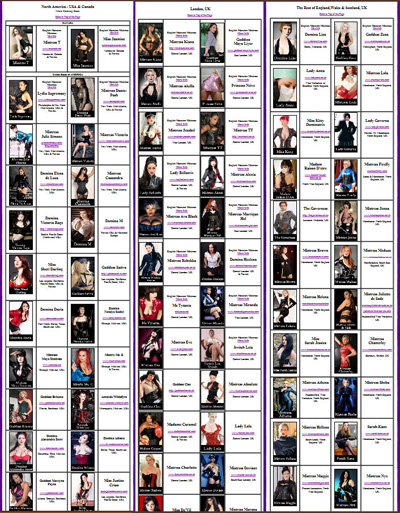 Dominas please contact us if you meet our criteria and want to be listed

Plus Our Fetish Listings/Resources
I receive countless emails  from dommes and subs asking me where I purchased an outfit or specialist piece of equipment, so… I always put up a link to everywhere I shop on our Fetish List page. Plus there are links to suppliers recommended to me by fellow dommes and many other useful fetish links including: Fetish Markets, Dungeon for Hire & CD specialist stores –  to name just a few. So go and check them out 🙂