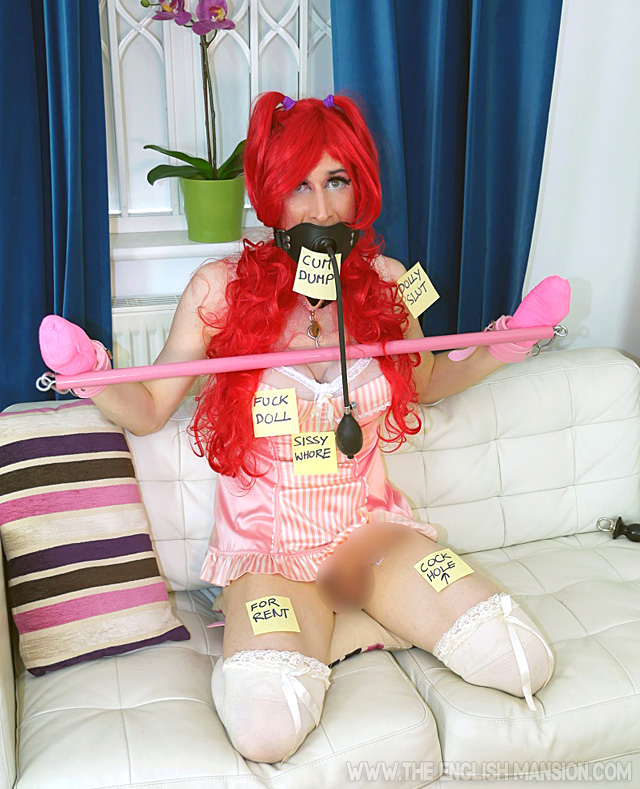 A No Frou-Frou Zone!

There's no frou-frou pampering when you're my sissy playdoll – I break my toys all the time! I adore 'real' enforced feminisation and there's no soft cajoling with me: I'll lock you in heels and bondage you into lingerie; or burn your male clothes then hose you with cold water only giving you frilly undies to wear, you'll put them on when you're cold enough. I'll beat you until you submit or use an electric chastity device or collar and use painful zaps of electricity to bend you to my will. You have no say in the matter, I'll take away every vestige of maleness you used to have. Eventually I'll break you and slowly over time wipe your mind clean of the male infection. Maybe eventually surgery will be considered or hormones – you'll have no say, you will do as you're told! I like compliant little sissy playdolls and that's what you will become for me…
Click on any image to start Doll In A Box slideshow

Doll In A Box

Meet my personal playdoll Natalie, I keep her boxed up when I'm not 'playing' with her. I've blanked her mind but she slips too often for my liking so I keep an electric collar on her all the time and the remote close by –  a few strong zaps when she doesn't snap to it, keeps her in line. I'm currently training her up to be a profitable sex doll for me, so am spending time stretching her tongue, mouth and special hole.
For today's training session I bind her to the fucking machine, with its electric dildo stuffed in her pretty mouth – this will help with the gagging, improving her deep throat skills. I like watching it thrusting rhythmically into her slutty mouth. I then put bigger and bigger plugs into her 'special' hole each with little bells attached so they tinkle as she gyrates her cute tushy for me.
I then remove the dumb doll's chastity device (she's always kept in one), the straining 'clitty' stands immediately to attention. I want to reprogramme her as a slut sex doll. I label her and make her repeat the degrading names, like: Cum Dump; Sissy Whore; & Dolly Slut, while I tease her 'clit' until she can't help but shoot her sissy cream cumload, re-enforcing her new status in her simple brain. After finishing Natalie's training it's time to lock her back in her box… until I want to play with her again.
All the photo above are from the film Doll In A Box Pts 1 & 2, now showing inside The English Mansion.