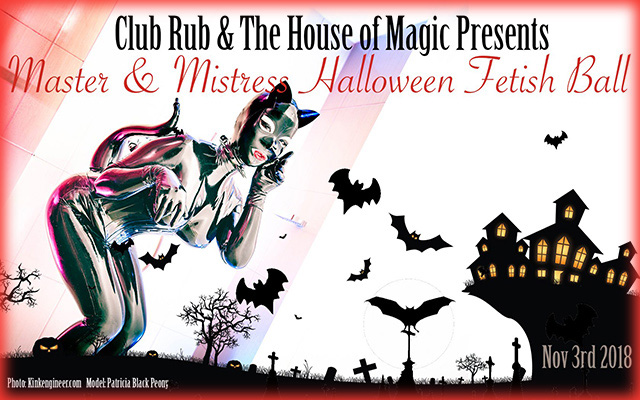 Miss Kim from Club RUB & Simon Drake from the House of Magic present…
Mistress & Master Halloween Fetish Ball
Saturday November 3rd at 7pm till 1am

The witching hour is from 7pm on November 3rd 2018 until 1am, when carriages will arrive to take you, like Vampires, into the night. The address will be given out once you purchase a ticket (The venue is close to Kennington tube.)
Fully stocked bar (& Food available, order with ticket)
Conducted Tours of the 200-year-old Haunted Cellar
by our insane butler and a nympho vampire
The Fortune Telling Whispering Chair
Arran the Vampire rises from the dead to perform just for you
The Exceptional Marnie Scarlett
Whipping benches
Official Photographers only ~ Fetish dress compulsory

So prepare yourselves for the most amazing haunted house in London…the House Of Magic! And meet the pioneer of illusionist himself – Master Simon Drake. As you step through the gates, you will be transported into the spooky Enchanted Garden. Beware of what is lurking in the shadows, as you walk through the mist towards the imposing mansion door. Upon entering the gothic splendour of the House Of Magic, you will be greeted by our lucky black-rubber kitty cat. Hold out your palm, and she will read your fortune.
Take the severed hand of the resident ghost Rosie and follow her into the Haunted Cellar. Tours run every hour. Just listen for the screams, to locate the entrance. The Master's butler and Betty the Nympo Vampiress will ensure you come out alive.
The Baron von Frankinstein will be conducting more electrical experiments on …YOU! Visit him in his laboratory and offer up parts of your body for experimentation. His Monster has an electrifying personality. Be sure to shake his hand, if you meet him – he could have trick or a treat for you!
Rope shows in the dungeon to 'Hang Out' in and beware of the Mistress who lurks around the equipment waiting for some unwary soul to take a seat. Once the shackles are on, there is no escape…
On stage Marnie Scarlet performs as Poison Ivy, she will leave you aghast, as you see her stab herself and come away unscathed. Ms Scarlet's second offering is the discarded Rubber Dolly who comes to life on stage, and fornicates in front of your very eyes. Plus Strange! Unusual! Bizarre! Arran Shurvinton depicts the 1922 silent movie vampire Nosferatu in a touching, chilling and beautiful parody.
So don't miss out, this will be a Halloween Night you won't forget….
Remember fetish wear is compulsory so don't be a disappointment or disappointed!
(I've been a number of times to the House of Magic and it's an amazing venue, both Simon & Kim are great hosts – it's going to be a fantastic night.)