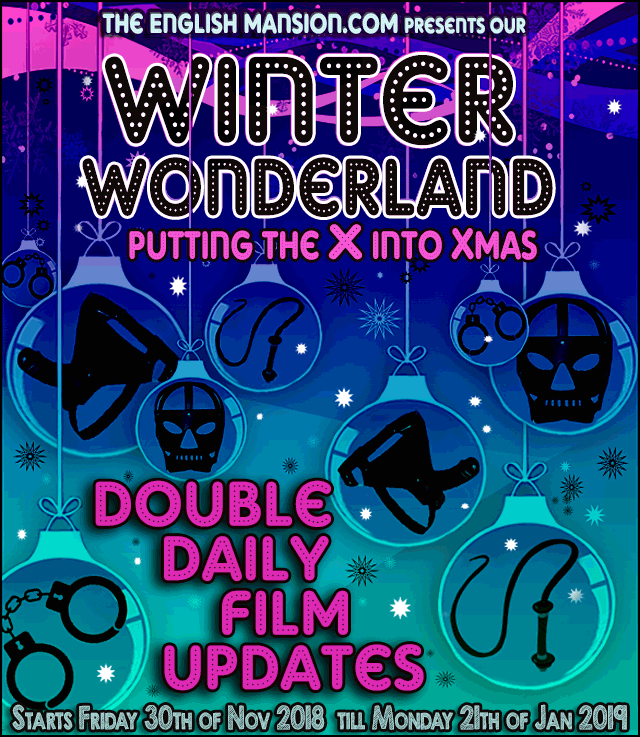 Double Daily Film Updates
We're putting the 'X' into Xmas in our Winter Wonderland of Festive Daily Double Film Updates. And it starts this week…

So from Friday 30th of Nov 2018 till Monday 21st of Jan 2019 we'll be updating Two New & Exclusive Femdom & Fetish films Every Day!

Over 50 days, totaling over 12 hrs of New footage for our members including 9 New VR experiences
& featuring over 30 elite real-lfe Dominatrixes & Dominant Women.
This is a special pressie for our loyal members… even more real femdom!
Membership Has Its Benefits
So don't miss out Join Here Now
And as a little tease, here's a tiny peek at just some of the fabulous dominas & new films we're showing…

Xmas 2018 Teaser Gallery
Red Hot Boot Sex

with Mistress T & Mistress Sidonia

Femdom Crime & Punishment

with Mistress Nikki Whiplash

Kept As Courtney's Slave

with Mistress Courtney

Kiana's Sex Pet

with Mistress Kiana

Pegged & Pounded

with Cybill Troy & Dominant Dolly

My Sex Bots

with Miss Zara du Rose

Her Chastity Sex Slaves

with Miss Vivienne l'Amour & Miss Suzie Best

Useless Puny Cunt

with Dominatrix An Li & Mistress Lola

Pet Girl

with Miss Eve Harper

Trophy Wife's Surprise

with Miss Foxx

Lycra Bound

with Mistress Amrita

Rubber Bound & Filled

with Dominant Dolly & Miss Jade Jones

Auto Milk Tease

with Miss Annaliza

Princess's Picnic Persuasion

with Princess Aurora

Rubber Clinic Penetrations

with Cybill Troy

Sendep Dungeon Drill

with Mistress Sidonia

Pit Pony

with Mistress Sidonia

Sarah Jessica's Bitch Boy

with Mistress Sarah Jessica

The Fuck Factor

with Miss Marilyn & Mistress Inka

Punishment 28 - The Rack

with Lady Nina