In Blood Red
The artist Ariel B turns her photographs into individual artworks: gothic fairy tales, dances macabre, distant memories, otherness, otherworldliness, times gone by, death and decay are all preoccupations. Currently she has started on a new project producing portraits of prodoms and dominant women, she says dommes are the perfect subjects – creative, unique and exceptional individuals who deserve to be documented and memorialized through art. This series of images is loosely based around sexual deviance, repressed female violence and the divine sacred feminine. Part 3 has an emphasis Stories, Myths & Fairytales. See Part 1 here  &  See Part 2 here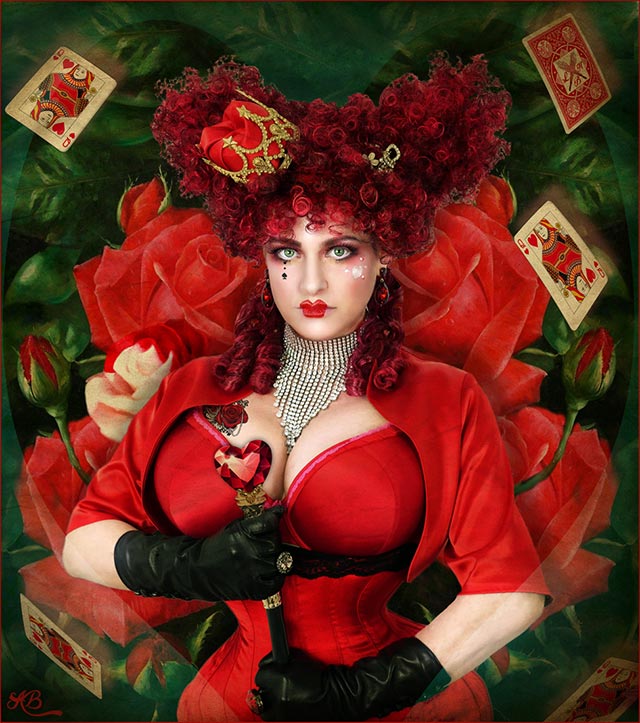 Queen of Hearts featuring Lady Nina Birch. "Off with their heads!" is the alternate title for this image as it has such a sinister connotation for my femdom leaning version of Caroll's infamous queen 😉 Plus other details, she has an Ace of Spades teardrop which when combined with a 'Q' is a symbol for cuckolding (Queen of Spades). There is a partially painted rose, in Alice In Wonderland having accidentally planted a white rose-bush the spade cards are so fearful of the queen's wrath they are painting the roses red; this is such a potent reminder of the insanity and tyranny of total power – as dommes we have a responsibility to those in our charge. I also designed the back of the playing cards with Lady Nina's initials and crossed birches.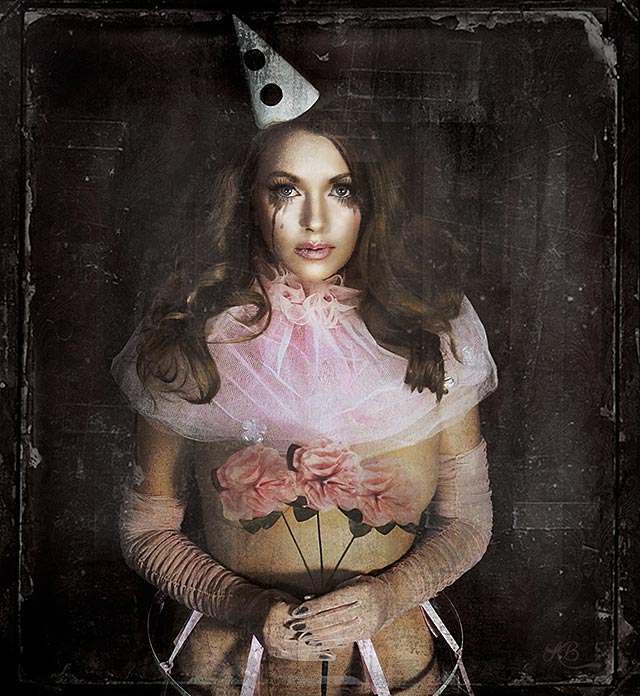 Tortured Artist featuring Mistress T as Pierrot, the sad clown behind the smile, representing the duality of being a sex worker in recognising the performance we play renders us two-dimensional and masks our real lives and tribulations.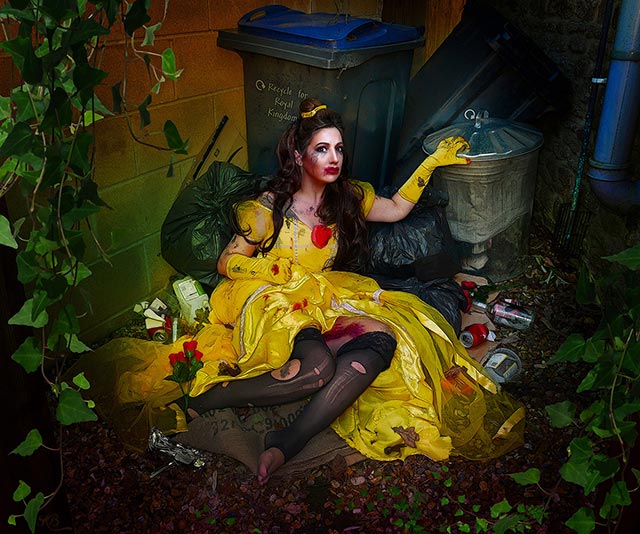 Not a Fairy Tale – La Belle et la Bête featuring Mistress Evilyne. I wanted to address the pervading notions that seeped into me growing up watching Disney films – that a princess (woman) needs to find a prince (man) to be happy or to swoop in and save her. Men are strong, heroic and rich there to save the day; women are domestic and nurturing valued for their looks and must wear pretty dresses to be special. Both men and women are constrained by these outdated stereotypes. As women we are intelligent, capable, beautiful in and out, complex beings who don't need a man to save us or complete us. You can be self-sufficient, single and have a great time! The darker reality is that some men are beasts who intimidate, control and hold women back; who sexually assault and make aggressive, unwarranted advances to women. My Beauty, who does resemble Mistress Evilyne, has come up against a beast. There's also a reference to Cinderella, a single glass slipper in the picture inferring she has lost the other earlier somewhere; because if we found a woman's single shoe we'd be concerned. There's also a little joke on the bin – reminding us it's a man's world.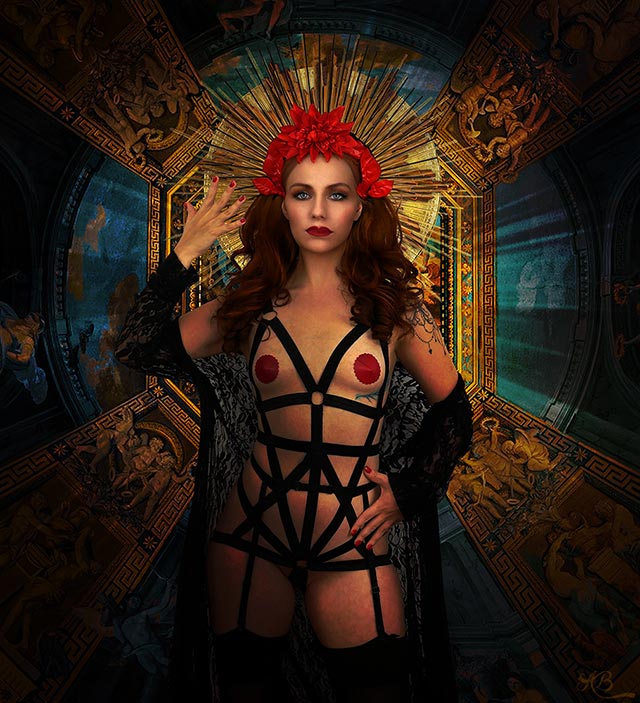 Nemesis featuring Mistress Lola Ruin, the Goddess of Divine Retribution bringing the downfall, destruction & ruin to men for their crimes. The background is supposed to be reminiscent of an hourglass reminding us that there is no escape from her, time is running out.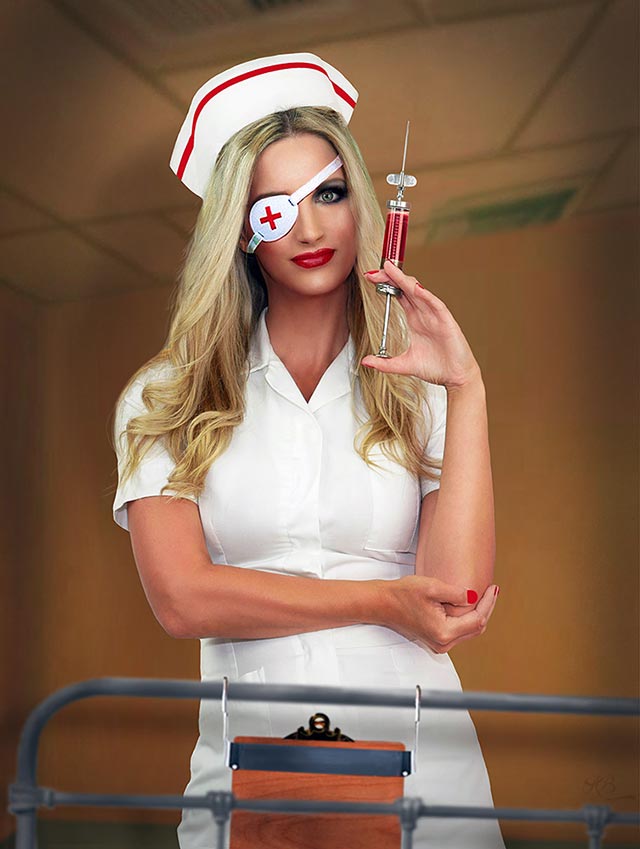 Elle (Elle Driver from Kill Bill) featuring Mistress Nikki Whiplash. As a cruel and skilled assassin she makes the perfect femdom 'fantasy' Executrix.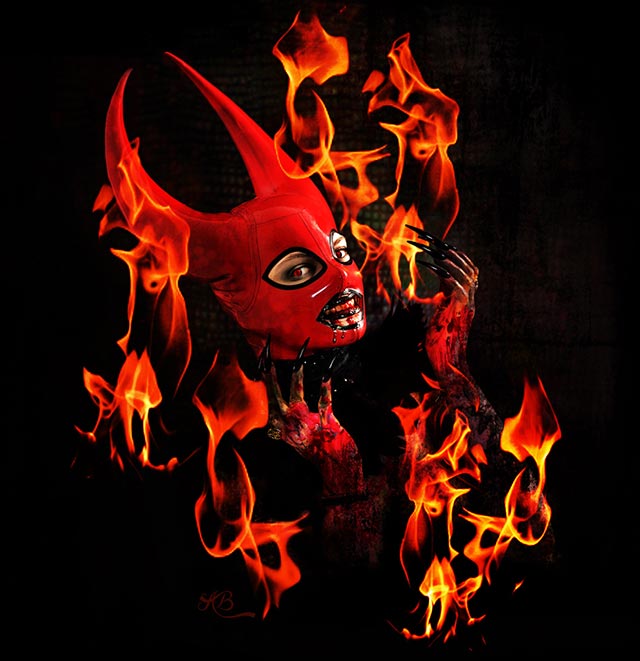 Spinning in his Grin featuring Miss Marilyn as the Devil. Horns or the horned beast have always been a symbol of unfettered sexuality.