I'm going to pick out my favourite English Mansion toys and tell you all about them in a series of blogs called 'A Few of My Favourite Things'. So in no particular order:
No. 12 – The Doxy Die Cast & The Doxy No. 3

Doxy Die Cast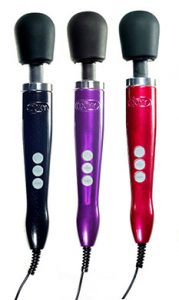 The Doxy Die Cast is the gold standard of vibrating wands – it's quality gadgetry, utterly desirable and beautiful to behold. (This is no cheap plastic, easily broken import.) It's the luxury edition of their classic Doxy wand massager, slightly heavier, cast in aluminum and comes in 4 metalic colours: black, aluminium, red & purple.
Like the Doxy, you can either switch on the vibration and then increase or decrease the power with the + & – buttons; or by holding the power button down for 4 seconds switch on the escalating pulse modes again using the + & – button to scroll through these settings.
For the absolute ultimate in wands they also produce a gold-plated 24 karat Doxy Die Cast that comes in a beautiful walnut case, a steal at £1k 🙂
Doxy No.3 – Highly Recommended

Alongside the Doxy is a new addition to the family, its super cute little brother: the Doxy No.3  – a mini compact version of the Doxy Die Cast. For me this is one of the best vibrating wands available, I highly recommend it. It has the elegant aesthetic of the Die Cast but is smaller, lighter and quieter but just as powerful… and it brilliantly has a super long cable! It also has a detachable head allowing a number of different attachments to be screwed onto it including a: rabbit, masturbator sleeve, clit stimulator & prostate stimulator.
At the moment Doxy have a deal where if you buy a Doxy No.3 you receive a free head attachment – see here.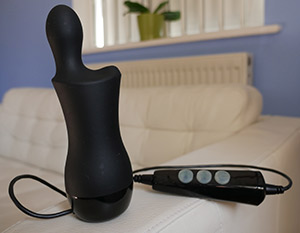 Also check out their Doxy Don, we have one, it's like a vibrating thumb and can be used externally or internally and is excellent for tie and tease sessions.
Brand Doxy

The original Doxy was launched in 2013 and was designed, engineered and assembled at their factory in Cornwall, South West England. Doxy is the only UK based vibrator manufacturer and a company committed to producing beautiful, powerful sex toys that give an exceptional experience. They offer free shipping on all orders which come discreetly packaged, have excellent customer support and offer a year-long warranty on their products.
Note: I'm not affiliated to this company and I only give my genuine opinion about all the toys featured in my Favourite Things series.
So, a game you can all play – Spot the Doxy at The English Mansion