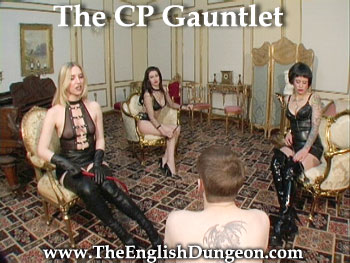 Mistress Sidonia, Domina Daria & Mistress Lola make hard task masters for a slave in this upcoming movie – The CP Gauntlet
Mistresses Lola's musings on her visit to The English Mansion
Having just returned from an exhilarating 3 week journey to London, Paris and Rome, I'm feeling rather horny…ready to pick up where I left off with Gotham City Kink. In France and Italy, I traveled as a mere tourist, savoring the European flavor and visiting sights like famous museums, monuments, ruins and relics. In London, I enjoyed the kinked-out experience of a lifetime working with the English Dungeon! Aside from getting my rocks off administering extreme torments and titilations unto English slaves during our S&M forays, I realized that I'm a total exhibitionism whore and I was born to be in front of a movie camera!
TheEnglishMansion.com offers a SINtillating variety of fetish Domination movies and photo galleries to membership viewers. They are constantly updating the site, adding new kinky material for voyeurs to get off on! For curious initial onlookers, there are fun pics, kinks and links from which you may get an idea of what the English Dungeon does best: IT KICKS ARSE!
My new friend, Sidonia Von Bork is largely the creative power and spirit behind theEnglishMansion.com. She is a devious, deviant diva and truly a Female Force to be reckoned with! I met Sidonia through my dear Parisian friend Domina Daria (recently in the US in the Dungeon of Mistress Jasmine NYC) and I was absolutely ecstatic when Daria and I were invited to London to shoot scenes with her. Together we are truly a wicked, tyrannical triumvirate! The scenes we shot involved seduction, drugging, kidnapping, brainwashing and incarceration of slaves in our Dungeon Realm; an isolated harem compound. As rulers in our own Dungeon paradise, the 3 of us luxuriate throughout our days, receiving massages and champagne from our minions; devising and dealing out devilish, exquisite torments! Perhaps my favorite: A scene in which our Female Supremacy Sisterhood enacts a dark pagan ritual to initiate a supplicant. We command him to recite oaths that he will bow down to us for all eternity, relinquishing his self-possession utterly. Then, we pierce his cock and make him sign the slavery contract in his own blood. His bloodied penis is stamped down upon the parchment beneath a cruel stilletoed heel.
How many of you cybersluts like to peruse kinky movies on video and the net? I'm definitely interested in doing more work and play along these lines and would be grateful for any information from anyone in Maxland about such projects and endeavors!
MISTRESS LOLA "your flesh is My Dominion. Sense, feel and OBEY Me!"