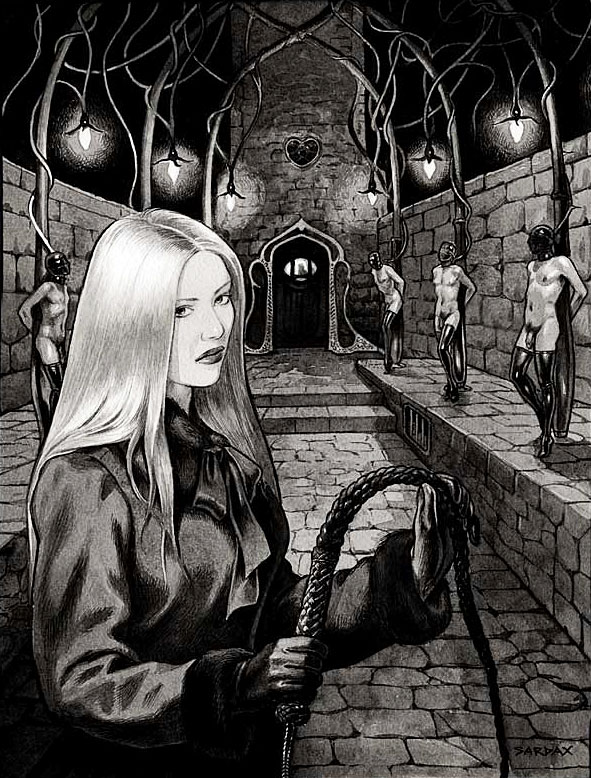 Portrait of Mistress Sidonia von Bork by Sardax. I love the symbolism of the doorway, taking centre stage here, and to where our eyes are drawn (after admiring the stunning Mistress is the foreground, obviously 🙂 ) Doorways open new possibilities, hide secrets, or can be frightening, we don't know who or what's behind a door.
I always wanted to own a male sex slave. I used to fantasize about going to a slave auction and buying a slave to train up as my own. I would walk up and down the chained line of goods looking carefully at each in turn. Making them open their mouths to examine their tongues, or bend them over to view their bottoms. I loved imagining how embarrassed they'd look and their humiliation as I paid particular attention to inspecting their genitals. I would eventually choose a slave and bid for him in the auction, nothing would prevent me from obtaining the slave I had chosen. After paying I would walk up to my new purchase, attach a chain to his neck and drag him off. Then my fun would really start…
For me, domination is not a lifestyle but a liaison. A secret time and space where I can let the dark part of myself roam free. I use those who wish to become initiates into my world. This is a universe where my laws, desires and wishes rule. Here eroticism is bound up with power and femininity. I dominate men because I am a woman, because that is my power, to seduce, to tease, to manipulate – all men are weak when it comes to gratification. It is a scent that is irresistible to them; it intoxicates and turns them into faithful, obedient 'lap' dogs. My title of Mistress comes later for I am a woman, and my slaves will learn firstly, to kneel and worship at that altar.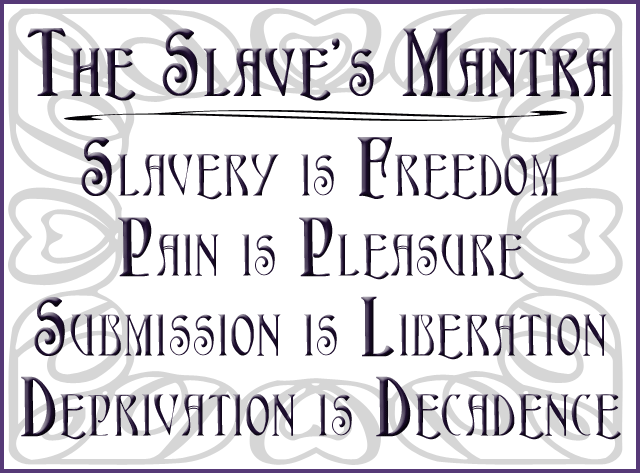 Women are magnificent, intelligent, intuitive creatures with intense, dark depths rippling beneath their exteriors. Men will always be merely toys to use and abuse as I wish. They are only truly happy once they are dangling like puppets on a woman's invisible string; mesmerized by her all-inspiring beauty and perfection, something he must strive always to obtain but knows he never shall.
The male of the species must learn to control his desires through guidance or, if necessary, chastity devices. His seed shall only be spent for my pleasure, draining him of his life force and leading him unto 'le petit mort'. I find the period before his release the moment when I am most able to captivate him. To control and train him to my exacting, strict and high standards. He must learn that he has become a mere object for my pleasure. He no longer has needs or desires of his own but must put me, my whims and desires foremost in his thoughts and actions.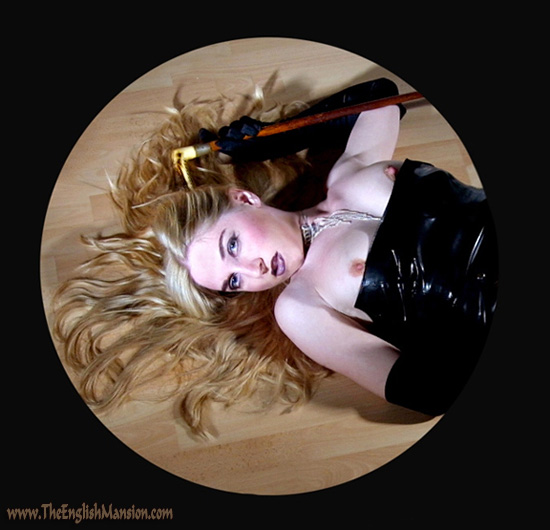 It is thrilling to have a slave so completely bound that he cannot move; even to breathe he is at my mercy. Now I can torment freely until he begs – yet still I ignore. I can use completely and then discard once I am satisfied or bored. He lives lost in the darkness awaiting me so that he might live again. To hood and collar the slave is to take away his last sense of self – his face is gone, covered. He becomes a new creature at the end of my chain, no longer anything except that which I wish him to become. I will change his name and torment him until he is broken to my will. He no longer remembers his life outside my world, it is a blur. He jumps when I snap my fingers, a Pavlovian success. His training has been long and arduous and has remade him into my ideal. Indoctrinated into my law with painful remonstrations that have seeped into his very psyche, he no longer thinks but obeys.
Mistress Sidonia's musing continue in The Song of the Siren coming soon.