Bond-Ball-Busting
The is something rather kinky about James Bond – perhaps it stems from the fact Ian Fleming, the author was a practitioner of S&M (according to his letters), with a love of spanking in particular. This SM influence is also evident throughout Fleming's books and the subsequent movies. There is the famous scene in the book Casino Royal,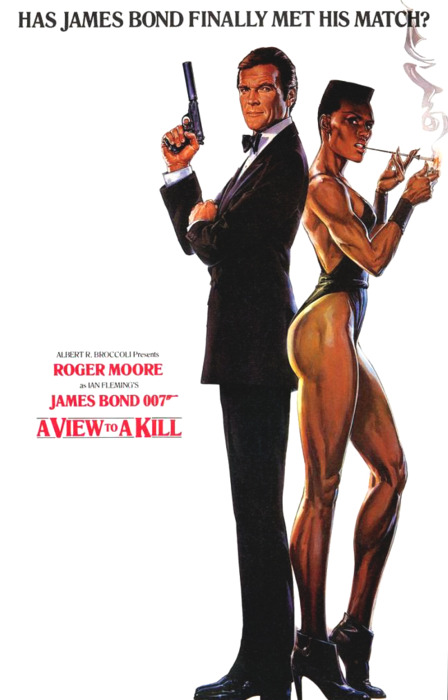 where James Bond's testicles are tortured by being beaten with a paddle. In the recent movie version Daniel Craig has his balls beaten (rather homoerotically) with a knotted rope whip.
To continue the kinky theme, two of our favourite leathered-up kick-ass women from The Avengers both left the series to appear in Bond movies, Honour Blackman in Goldfinger & then Diana Rigg in On Her Majesty's Secret Service. Honour Blackman played the infamously named Pussy Galore, a lesbian who runs an all female crime gang who masquerade as a circus act.
So I thought I'd consider which of the bond girls make my Top Three of the women who Kicked Bond's Ass (and Busted his Balls).

My Top Three Women Who Kicked Bond's Ass
1st) Xenia Onatopp in Golden Eye
2nd) Bambi & Thumper from Diamonds Are Forever
3rd) May Day in A View to a Kill

Bambi & Thumper
I've always been rather fond of this scene with Bambi & Thumper in Diamonds Are Forever (see the clip below) where Bond get his balls-busted, is scissored & then beaten up. Ignore the ridiculous end, he had no chance against these two!
Xenia Onatopp
The bond girl, however, who wins hands down is Famke Janssen as the sadist henchwoman Xenia Onatopp in Golden Eye. (Yes, she's called 'On-a Top', they do love those innuendo names.) She's a beautiful, seductive, psychopath who derives sexual satisfaction from killing especially while using her strong thighs to do this. In one scene, she lures a Canadian admiral onto a yacht engaging in violent sexual intercourse with him. While crushing him to death; she moans in pleasure as he moans in pain, and reaches orgasm as he dies. This girl really 'takes your breath away'.
Mayday
And lastly, also very worthy is Grace Jones as Mayday (a distress call) in A View to a Kill she possesses a superhuman strength which she uses on the hapless males around her. Apparently while filming the bedroom scene with Bond (Roger Moore) where she insists on going on top, she secretly wore a huge strapon:) I'd say he met his match.