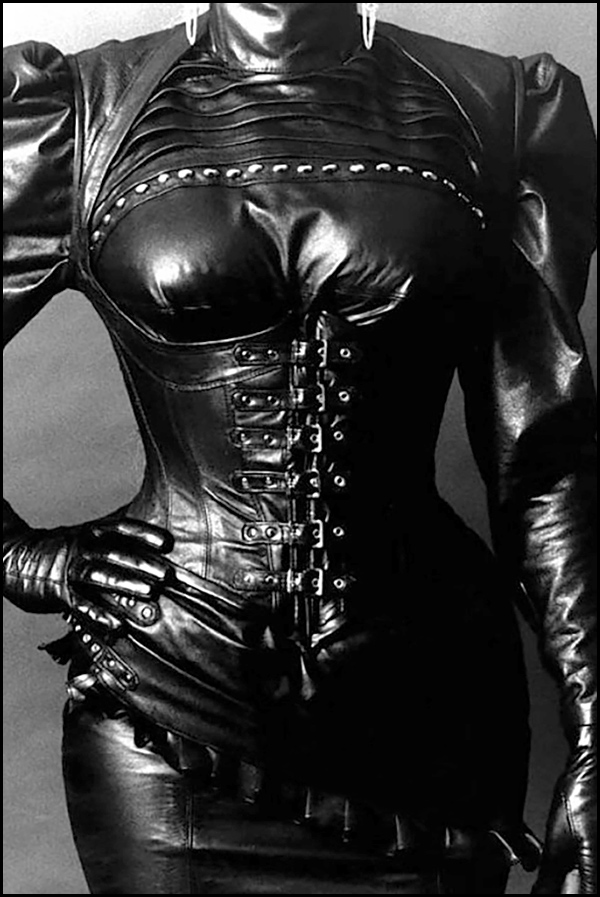 The corset is an article of clothing developed purely to accentuate femininity. Designed to be worn around the torso, it consists of two halves which are fixed at the front and then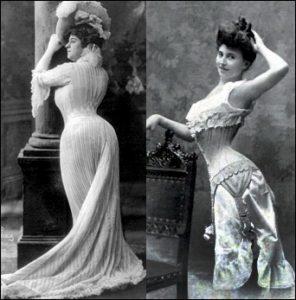 tightened by lacing at the back. This process reduces the waist accentuating both the breasts and bottom thus enhancing feminine curves by shaping the body. Later marketing purported medical benefits for both men and women claiming it improved posture but this was a thinly veiled dressing up of the corset's image trying to move it from fashion to function.
Generally we used to think of corsets as undergarments worn by Edwardian & Victorian ladies to obtain tiny waists, though they have been around since the Romans. Unfortunately the wearing of them severely restricted the movement of the wearer and even induced fainting spells – thus the corset became a garment that acted to both subjugate and subdue women.

Over the last 25 years the corset has undergone a revival from its origins as secret underwear to today's sexy outer-wear.  The turning point came in the very early 1990s when Madonna infamously donned one with conical breasts, designed by Jean-Paul Gaultier and wore it as a top. Another worthy mention is the Thierry Mugler Motorcycle corset made of metal – she's gonna ride all over you baby! Now days you can find corsets in every colour and every material, they are no longer shape-wear or lingerie for the bedroom; and are rarely used to reduce waist size but to accentuate it.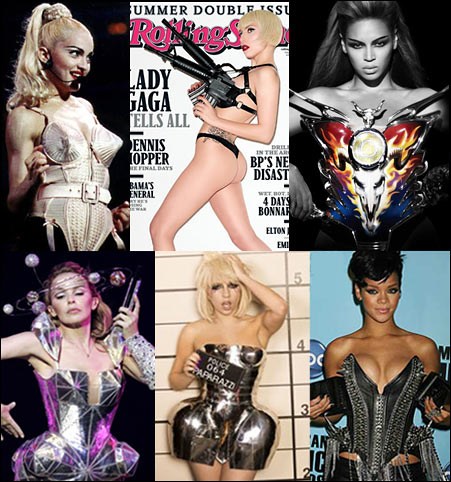 Female Armour

So it seems ironic that an item that once subjugated women has become empowering to wear and often conveys power and even sexual aggression. Today's corsets are more akin to body armour, accentuating extreme femininity and worn as weapons – conical breasts are called bullet bras. (Lady Gaga wore a machine gun bra for the cover of Rolling Stone magazine, July 2010.) So now women are empowered by their extreme feminine curves. They can use their bodies, this ultra femininity and overt sexiness as a weapon to both frighten and manipulate men.
The prevailing image of the 'dominatrix' is of a whip-welding woman in a mean looking tight-leather corset and it's certainly a standard in the outfit repertoire of dominant women. It's sexy amour worn before the ensuing battle; it covers her up yet still titillates by exaggerating her curves, slaves can look but can't see flesh and can't touch.
Coming Soon: Pt 2 Corsets – Body Modification, Male to Female Transformations & Bondage