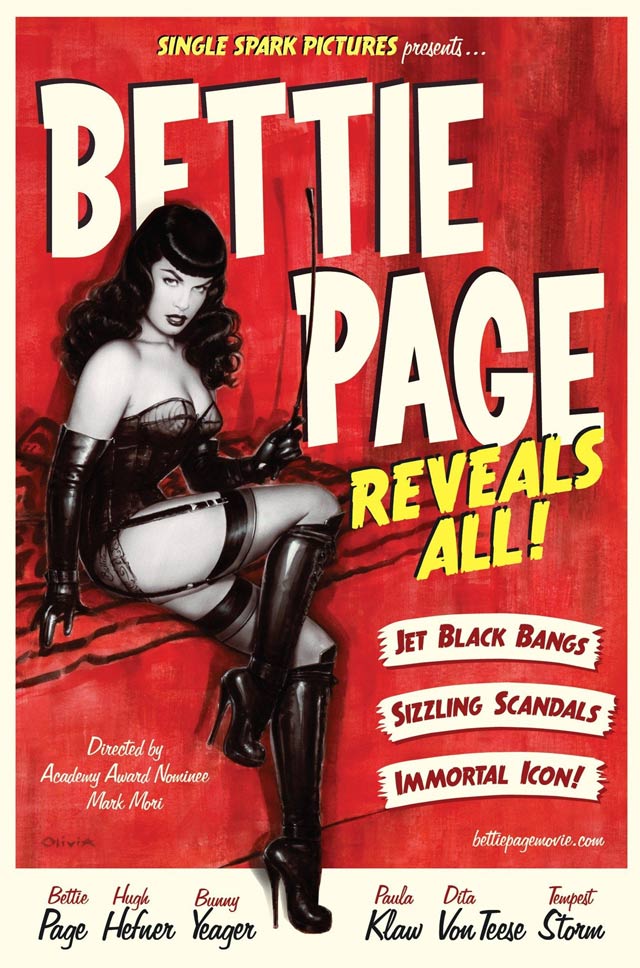 I noticed on Forbes Magazine's lists and rankings of the world's wealthiest people, that featured in the Top Earning Dead Celebrities of 2016 was Bettie Page. Her estate earned over 11 million dollars last year, ranking her no. 10, her income source being labelled clothing accessories (see here). That's pretty good going for a woman who stopped modelling in the '50s and a clear indicator of just how powerful and iconic the 'Bettie Page' brand is.
Bettie Page (1923 -2008) was an American model from the 1950s who was famous for her classic pin-ups photos. She is also the first famous fetish & bondage model. Today we might consider these images quite mild but for strait-laced middle America they would have been considered salacious and totally risqué. Over half a century later she is now a cult figure in pop culture influencing artists, fashion and sexuality. She is also without doubt the 'Queen of the Fetish Scene' a fetish cultural icon, our standard-bearer under whose banner all perves must surely rally 🙂
What is most memorable about Bettie was her now iconic look, her super sexy curves, her jet black hair and blue eyes combined with her trademark bangs (slightly rounded, short fringe), now often called 'Bettie bangs'. When you see her in photos and films what always strikes me is her huge natural smile, how comfortable she is with her body, she embodies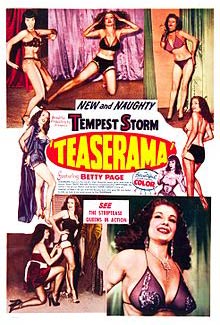 sexual freedom and joy – and shares this with the viewer. We should also bear in mind this is also an era before plastic surgery, Photoshop, clever editing and over produced perfection. It shows the innocent fun of enjoying your body and sexuality.
Today she is still adored by lovers of 1950s lingerie, burlesque aficionados and those who enjoy dressing for pleasure. While her cult bondage and fetish photos are etched into the fetish psyche and have powerfully  influenced the 'look' of todays kink scene.
I particularly loved her in 'the maid dressing her Mistress scene' in Teaserama directed by Irving Klaw (much-loved by the CD/TV/Tgirl/Sissy community). A 1955 film that documents a compilation of 'variety style' burlesque performances. Also starring the gorgeous femdom and burlesque icon Tempest Storm and has a scene with a drag queen/xdresser.
See here to watch Teaserama (Irving Klaw) 1955, highly recommended.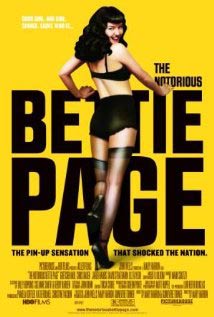 The end of the story is somewhat sad, Klaw was put under investigation by a senate committee enquiry looking into juvenile corruption and delinquency. He destroyed most of his negatives and Bettie Page's career came to sudden end.
In the last decade there have been two notable movies about her life The Notorious Bettie Page (2005) starring Gretchen Mol which follows her life from the mid-1930s through the late-1950s. And, Bettie Page Reveals All (2012) was an authorised biography documentary which includes a narration from Bettie Page herself, prior to her death. (See Youtube trailer above.)
Note: In most of the work she appeared in she was credited as Betty Page with a 'Y' but her actual name was Bettie which is why you come across both versions of her name.