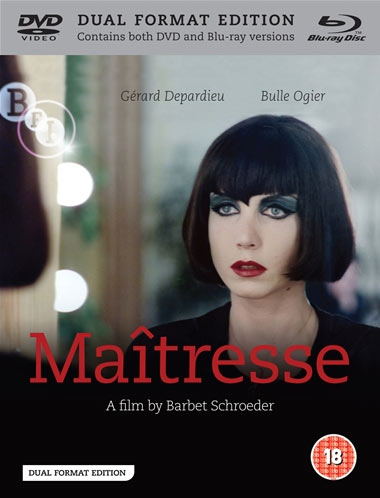 Barbet Schroeder's Maîtresse (1975) must be one of the first films to explore the world of the professional domina. Starring a young Gérard Depardieu and Bulle Ogier as leather-clad dominatrix Ariane. It's a subversive love story that was both shocking and ground breaking as it gave viewers their first glimpse into the secret world of fetishism and BDSM.
Olivier (Depardieu) is a small-time crook who breaks into a Paris apartment only to discover he's in a dungeon, even finding a gimp in a cage. He is caught by prodom Ariane (Ogier) who offers him money to assist her with the scene – it's not exactly clear but he either masturbates or pisses into the gimp's face. This leads to a relationship between the two and with him assisting her in some wild scenes, we the viewer are like Olivier – innocent eyes discovering this strange hidden world for the first time.
Maitresse Ariane's dominatrix costumes were designed by Karl Lagerfeld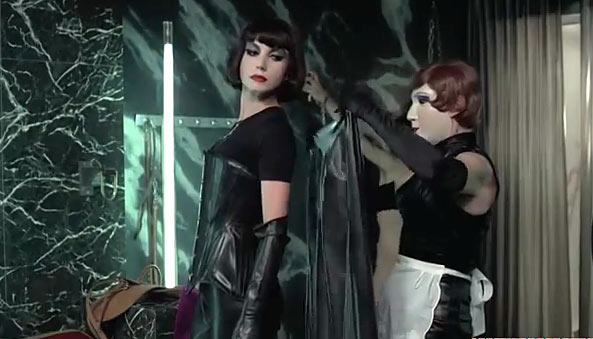 A real life domme doubled for some of the BDSM scenes, including the infamous cock nailing scene, along with some of her genuine clients.

It also explores the great paradox of professional domination as Olivier questions that she is not really in control as she is playing out her clients fantasies – doing what they want. It looks at power play which is more prevalent in the 'real' world as Ariane seems to be controlled by an older man, while Olivier wants to save her or is it to control her himself.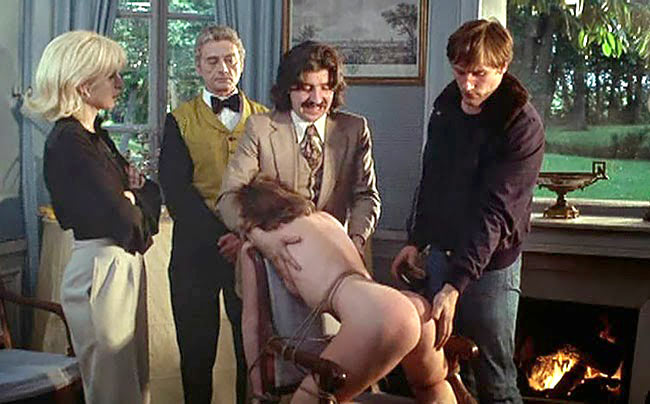 I wish Gérard Depardieu would come to one of my parties 🙂
There's a theme of double lives running throughout the film, all the characters have alter egos, there's the two rooms of light and dark, respectability above, while below a subterranean punishment chamber; two telephones of business and personal (again one white, one black); black and blonde hair depending on Ariane's role. All demonstrating the dark underbelly behind the façade of polite bourgeoise society, reminiscent of David Lynch's Blue Velvet (1986). For me the most shocking (and yet beautiful) scene in the film again comes from the 'real' world, after an argument a wild Olivier wanders into an abattoir where he watches a horse being slaughtered. This was filmed for real and as the horse is dying it gallops while hanging on meat hooks. Again, it seems to be the real world where horror exists not in the fantasy world of fetishism. Ultimately, there is much that will shock us if we peek behind closed doors.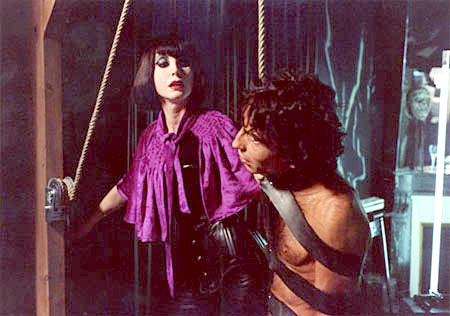 In 1976 the film was banned in the UK due to the sadomasochistic content and nudity – most notably the scene of a man having his penis nailed to a board (for his pleasure of course) this was not faked and a real-life prodom doubled for the actress. Later in 1980 approx. 5 mins were cut and it was given a limited release, the fully uncut version was finally passed in 2003.
Perhaps more french art film than commercial fair but it is still very well-known and respected, it's not for everyone but does earn a place in the annals of female domination.