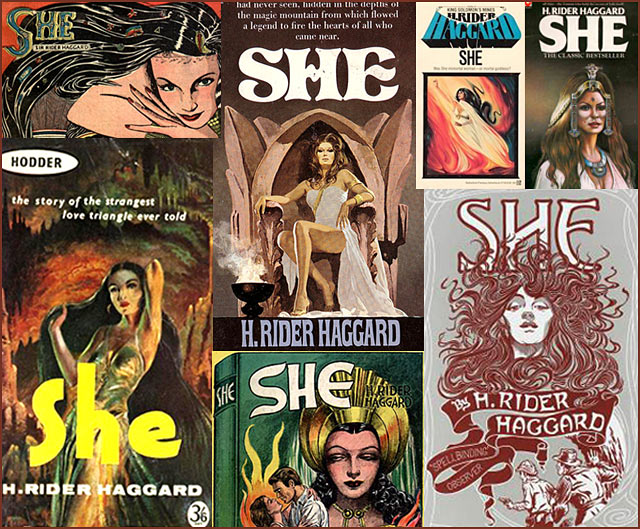 Influential to Femdom: Yes – Of Value Today: No
She is an adventure novel written by Henry Rider Haggard in 1887. It is considered a classic having sold over 83 million copies worldwide and was once one of the best-selling books of all time! (It is even cited in the psychoanalytical theories of Sigmund Freud.)
Most critiques skim over the sexual titillation of the novel which revolves around femdom themes. (Something I might argue may have been a huge part of its appeal in the constrained 19th century.) The tribe, the adventurers meet, is female led these partially naked young female natives choose or change men as sexual partners at will. The tribe is ruled by the all-powerful and ruthless 'She who must be obeyed'. 'She' is a seductive femme fatale whose beauty puts men totally under her spell. One of the main male characters is throughout the book indifferent to the charms of women but instantly falls in love with her. While another should hate her because she murders a native girl devoted to him but he too cannot help but kneel before her in awe.
Today, its appeal has waned, in fact you are probably more likely to remember another of Haggard's books King Solomon's Mines featuring the adventurer Allan Quatermain. Think Raiders of the Lost Ark and you'll get the basic premise for Haggard's stories, he was obviously a huge influence on the Indiana Jones franchise.

I don't recommend reading this book. This is a deeply racist (managing to offend many races and religions) and despite its central character, misogynistic book. It does expound an insightful, if distasteful, look into the Victorian Gentleman's mindset of superiority and imperialism over foreign barbarism. Dark-skinned 'primitive' races that need the Empire to impose British rule in order to civilize them. Even 'She' is a white queen ruling over natives (reminiscent of Queen Victoria and her Empire.)
I wanted to read this novel as I've been looking at cultural influences that have shaped our concept of the 'dominant or alpha woman'. And, there is no doubt this book was hugely influential and has its place on the path that has brought us to today's notions of femdom. However, its innate sexism and racism (though we can recognise they must be seen in the context of when the book was written) leave it of little value for modern readers or today's femdom world.